End game: Tipping point for planet Earth?
25 November 2015, 6.30 PM - 25 November 2015, 7.30 PM
The Peel lecture theatre, School of Geographical Sciences, University of Bristol
By 2050, there will be 10 billion people on Earth, according to conservative estimates. That is billions more than our planet can sustain without big changes to how we use and manage our resources. So what will happen when vast populations endanger the world's food supplies? Or water? Or our energy needs? Or the planet's biodiversity? And what happens if all these become critical at once? Life would go on, but with obvious decreases in the good things and an obvious increase in the negatives. We would have to accept as 'new normal' a world that we would now consider abnormal and undesirable.
How do we know it's not too late? If we act now, we can still avoid the global tipping point that would see us living and dying in a very different world from the one we were born into. However, the window of opportunity will shut within the next ten to 20 years.
For nearly 25 years world-renowned scientists Anthony Barnosky and Elizabeth Hadly have been working together to uncover the scientific underpinnings that will help ensure a viable future for humanity and our planet. They offer real, achievable solutions to the vital questions we need to be asking now.
Their latest book, End Game: Tipping Point for Planet Earth?, provides the basis for Mélanie Laurent's new film Tomorrow (Demain) premiering at the UN Climate Change Conference in Paris, December 2015.
Booking
This event is free, but booking is required. Online booking is via Eventbrite and managed by Festival of Ideas. Please use the contact function in Eventbrite orget in touch with any online booking queries.
Events start punctually and, out of consideration to other audience members and speakers, our policy is not to admit latecomers. Please make sure to arrive before the advertised start time to take your seat/s.
The Festival of Ideas endeavours to hold its events in venues that are accessible to all. There is level access from Priory Road and there are also lifts in the building. There is a hearing loop in the lecture theatre. If you have specific access concerns, please do contact us with any questions.
We sometimes film and photograph Festival of Ideas events. Please let us know if you do not wish to be filmed or photographed.
This Bristol Festival of Ideas event is being supported by the Cabot Institute.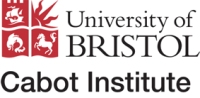 Contact information
http://www.ideasfestival.co.uk/events/anthony-barnosky-and-elizabeth-hadly/