A debate on badger culling in the United Kingdom
15 May 2014, 6.30 PM - 15 May 2014, 6.30 PM
LT1, School of Chemistry, Cantocks Close, Bristol, BS8 1TS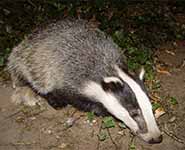 Dominic Dyer (CEO, Badger Trust), Adam Quinney (livestock farmer and former Vice-President, National Farmers' Union) and Simon King (Broadcaster/Naturalist) will be debating the motion:
''This House believes that culling badgers is necessary to eradicate bovine tuberculosis in the United Kingdom.''
The debate will be chaired by Cabot Institute member Professor Peter Coates, Professor of Environmental and American history in the School of Historical Studies at Bristol.
Booking
Tickets are free and this event is open to all UoB staff and students but you must book your place.
This event will run from 6.30 pm - 8.30 pm.
Image credit: Badgerhero