View all news
Introducing the world's first Reality Emulator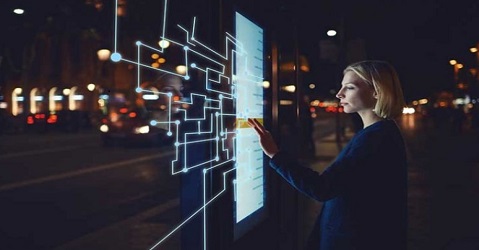 Press release issued: 24 June 2020
With its Reality Emulator, Bristol Digital Futures Institute will be able to test new technologies in alternative futures.
Bristol's state-of-the-art Temple Quarter Enterprise Campus, opening in 2023, will host Bristol Digital Future Institute's Reality Emulator – a groundbreaking, world-first experiential environment that allows researchers to design digital technologies and explore them in future scenarios. In this environment, future sociotechnical changes can be investigated in real-time.
"By doing this, early enough and periodically throughout the digital innovation process, you learn and adapt outcomes," says BDFI Co-Director, Professor Simeonidou.
"Hopefully, what you end up with is digital technology that is going to be better accepted and used. It is being co-created in a way that considers who you are creating this technology for, and which sector you are innovating for. The Reality Emulator is based on the idea of sociotechnical innovation through continuous engagement and is trying to systematise it and generalise the process."
With the Reality Emulator, technologies developed could be transferable at any scale. This could be a smart city application, a digital solution that is tested in a compact urban environment such as Bristol and rolled out to a larger area such as London or Singapore.
In this dynamic testing environment, the impact of a new digital intervention can be examined in complex sociotechnical contexts, which can drive technological and social innovation for economic and social value. For example, how might a new technology affect those with disabilities? How might older populations react to new digital solutions? The Reality Emulator uses huge amounts of real-time and historical data to create its interactive multisensory experiences that can be used for research across many disciplines.
Myriad scenarios can be emulated. It could be a civil infrastructure initiative relating to future smart buildings, or one specific to industry – such as automating a factory floor, understanding the implications of new digital technologies or tools for workplace skills and organisation – or even health and social care, but in each scenario researchers are afforded a unique perspective on the intersections of technology and society.
"If you are, for example, researching educational change, and you wanted to explore how new technologies might interact with pedagogy or the social dynamics between students, we can take data and we can visualise and create an immersive experience of future classrooms or online learning," BDFI Co-Director Professor Halford says.
The Reality Emulator could also help researchers understand social responses to pandemics and therefore drive effective digital mitigation strategies, or to understand consumption practices to help architects design more energy-efficient buildings. It is not about predicting the future, but rather about exploring hypothetical futures in which immersive and practical research can be conducted.
Professor Simeonidou believes we are beyond the point of thinking about the digital sector as an entity apart from other industries. After all, there is no digital sector when every sector is digital, and this only underscores the importance of the Bristol Digital Futures Institute's multidisciplinary approach.
"How we innovate for the future is becoming very, very important," says Professor Simeonidou. "Innovating holistically, taking into account not only how we design technologies but for whom and why, is becoming more important. Gaining such understandings can be critical in situations in which we need to move social aspects of our lives to a digital environment, such as with the extremes we are currently experiencing through the Covid-19 pandemic."
The Temple Quarter Enterprise Campus will also house interdisciplinary spaces in which academics, researchers and industry partners can collaborate freely. There will be a cyber suite to facilitate research into cyber-attack prevention, data and trust, and a space to enable public and private sector collaborations to enhance digital interventions in healthcare.
"The aim of the new campus is to create new forms of research, new ways of teaching and also new ways of engaging the city," says Professor Halford. "That includes all the different actors in the city, from business through to government and civic groups. We will create an ecosystem of active research which will not only allow curated groups to come together and collaborate on digital futures work but will also create serendipitous interactions and grow new kinds of research between people who are co-located within that physical space."
Further information
For further information please contact Tamsin Denbigh, Marketing Manager - tamsin.denbigh@bristol.ac.uk