MSc
Education (Open Pathway)
Find a programme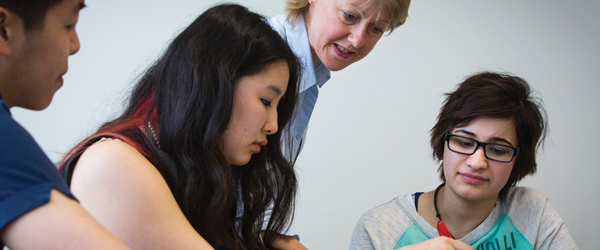 Programme overview
The MSc Education Open Pathway allows you to design your own programme of study based on your areas of interest, rather than tying you in to a particular subject area. You can therefore pick and choose units from across the seven different specialist pathways as well as from our wider bank of optional units. For example, if your interests spanned both educational policy and the use of technology in education you might combine units from the Leadership and Policy Pathway with units from the Learning, Technology and Society Pathway.
A very diverse range of students take this pathway, attracted by the freedom that it offers. Many students are international drawn from a range of countries beyond Europe having recently completed their undergraduate studies. Many of these students nonetheless have some experience of teaching, volunteering or some other work experience in schools or education more broadly.
Other students, are more mature and returning to education after a longer period of work and so bring a wider wealth of experiences, yet wish to formalise their learning. All this diversity in backgrounds and experiences creates a rich learning environment and sharing of ideas among students and academics alike.
After completing the MSc, most students want to work in education in some form. But here too there is range in students' goals and aspirations. Other students want to use the Masters year to develop their skills as educational researchers in order to go on to study for a PhD with us or elsewhere.
Fees for 2022/23
We charge an annual tuition fee. Fees for 2022/23 are as follows:
UK: full-time

£9,300

UK: part-time (two years)

£4,650

UK: part-time (three years)

£3,100

Overseas: full-time

£21,300
Following the recent changes to fee assessment regulation, Channel Islands and Isle of Man students will no longer be charged a separate tuition fee. From the 2021/22 academic year they will be charged the same fees as Home students.
Fees are subject to an annual review. For programmes that last longer than one year, please budget for up to a five per cent increase in fees each year. Find out more about tuition fees.
Alumni discount
University of Bristol students and graduates can benefit from a 25% reduction in tuition fees for postgraduate study. Check your eligibility for an alumni discount.
Funding for 2022/23
Further information on funding for prospective UK, EU and international postgraduate students.
Programme structure
The single core unit is Introduction to Educational Inquiry (20 credits) which provides an introduction to the variety of methods used to conduct research in education. You then choose a number of optional units (100 credits) from across the different specialised MSc Education pathways and from our wider bank of optional units. Visit the Open Pathway Programme Catalogue to see the wide range of optional units you can pick from. You then complete your masters by completing a supervised research Dissertation (60 credits) project in an educational area you are interested in.
Entry requirements
An upper second-class honours degree (or international equivalent) and a minimum of one week's full-time (or part-time equivalent) paid or voluntary work experience undertaken within the last five years in an education/teaching setting. Non-traditional qualifications/routes will also be considered.
See international equivalent qualifications on the International Office website.
English language requirements
If English is not your first language, you need to meet this profile level:
Profile C
Further information about English language requirements and profile levels.
Admissions statement
Read the programme admissions statement for important information on entry requirements, the application process and supporting documents required.
Careers
We offer academic and personal development opportunities to equip you for the intellectual, social and personal challenges you will encounter during your career.
Our overarching goal is to enable our education graduates to display the following characteristics:
equipped to demonstrate impact, excellence and distinctiveness in your chosen field;
visionary, imaginative, innovative, reflective and creative;
high ideals and values, including a strong sense of social justice;
highly employable throughout the world;
adaptable, with the potential to be a leader in work and in the community.
Read more about the careers of some of our education graduates.
Expected application closure date
Applications for 2022 have now closed and will reopen for 2023 entry in October 2022.
Find out more about becoming a student at Bristol, applying for a visa and the support we offer to international students.
REF 2021 results
The University of Bristol is ranked fifth for research in the UK (Times Higher Education), with 94% of our research assessed as world-leading or internationally excellent.
Full REF 2021 results for the University of Bristol.