Geographical Sciences (Physical Geography)
Find a programme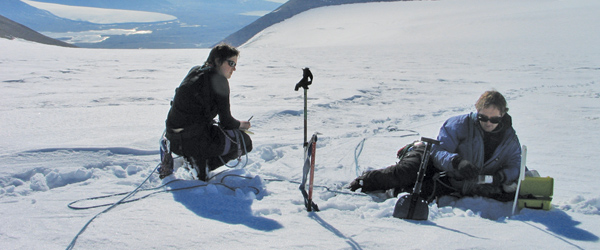 Run by
Faculty of Science

Awards available
PhD
Programme length
PhD: Three years full-time or equivalent part-time (minimum period of study).

Location of programme
Clifton campus
Part-time study available
Yes
Part-time study requires daytime weekday attendance
Start date
Most students will start in September 2022, however other dates can be considered. Please contact the postgraduate student administrator to discuss the options available.
Programme overview
Join a University ranked #1 in the UK for 'Geography and environmental studies' research (THE analysis of REF 2021). The graduate school is integral to this success.
We have a large and vibrant graduate research community, with students following PhD and MSc by research (MScR) programmes. The graduate community has a strong international and interdisciplinary flavour, and offers an exceptional academic environment for postgraduate research.
Research opportunities encompass a wide range of subjects at the leading edge of geographical research. There are also many exciting possibilities for interdisciplinary research, spanning research groups and departments. Visit the School of Geographical Sciences web pages for more information about our research staff and collective research interests.
Alternatively, you may be interested in our Master's by Research in Global Environmental Challenges, or our PhD in Geographical Sciences (Human Geography).
Fees for 2022/23
We charge an annual tuition fee. Fees for 2022/23 are as follows:
UK: full-time

£4,565

UK : part-time

£2,283

Overseas: full-time

£24,600
Bench fees: For postgraduate research students who are not funded by UK Research Councils or (specific) UK charities, it is usual to charge a bench fee. A bench fee covers the costs of laboratory consumables, specialist equipment and other relevant costs (eg training) for the duration of the programme. The bench fee charged can vary considerably depending on the nature of the programme being undertaken. Details of specific bench fee charges can be provided on request and will made clear in the offer letter sent to applicants.
Following the recent changes to fee assessment regulation, Channel Islands and Isle of Man students will no longer be charged a separate tuition fee. From the 2021/22 academic year they will be charged the same fees as Home students.
Fees are subject to an annual review. For programmes that last longer than one year, please budget for up to a five per cent increase in fees each year. Find out more about tuition fees.
Alumni discount
University of Bristol students and graduates can benefit from a 25% reduction in tuition fees for postgraduate study. Check your eligibility for an alumni discount.
Funding for 2022/23
If you wish to be considered for NERC GW4+ DTP funding for this programme please refer to the NERC GW4+ DTP prospectus page for guidance in making a PhD application.
Each year the school is usually awarded between two and three NERC studentships (including CASE awards), and several China Scholarship Council, EU, and industry-funded studentships. Applicants should also check the School of Geographical Sciences website.
Further information on funding for prospective UK, EU and international postgraduate students.
Entry requirements
An upper second-class honours degree (or an equivalent qualification) in a relevant subject.
See international equivalent qualifications on the International Office website.
English language requirements
If English is not your first language, you need to meet this profile level:
Profile E
Further information about English language requirements and profile levels.
Admissions statement
Read the programme admissions statement for important information on entry requirements, the application process and supporting documents required.
Research groups
The school's physical geography research is focused on a number of themes. These are based on UK Research Council priority areas and the interests of industrial and other stakeholders. Our three research groups are:
Global Environmental Change
The Bristol Research Initiative for the Dynamic Global Environment (BRIDGE) group aims to improve the understanding of natural climate and environmental variability and the relationship between global carbon cycling and climate. This knowledge is used to improve our predictions of future change and its impact on all aspects of ecosystems and human society.
Glaciology
The Bristol Glaciology Centre leads world-class research into ice sheet processes, subglacial environments and sea level change. Its aim is to increase understanding of the present, past and future behaviour of ice sheets and glaciers, and the links between the cryosphere, oceans and atmosphere under changing climatic conditions.
Hydrology
The Hydrology Research Group focuses on research into the modelling of hydrologic and hydraulic problems using advanced numerical methods. In particular, it specialises in modelling river flooding, water quality monitoring, uncertainty analysis techniques, catchment and hillslope transport processes, combined with field monitoring and large-scale experimental work.
Careers
Students who complete a PhD in Physical Geography typically move on to careers in academia (post-doctoral research, lectureships), further research in government or private institutes, environmental consultancy, teaching, the civil service, computer programming, IT consultancy, and many others.
Staff profiles
Glaciology
Professor Jonathan Bamber, (Professor), Applications of remote sensing data to problems in climatology, in particular, related to the polar regions.
Dr Rory Bingham, (Lecturer), Understanding the drivers of sea level change, including large-scale ocean dynamics, ocean heat changes and mass exchange with the ice sheets.; Using gravity to observe the ocean's circulation, with a focus on the polar oceans.
Professor Tony Payne, (Professor), Numerical modelling of environmental systems and glaciology.
Professor Jemma Wadham, (Professor), Geochemistry and hydrology of Arctic and Alpine regions.; Hydrochemistry of polythermal glaciers and chemical weathering mechanisms in subglacial runoff.
Dr Christopher Williamson, (Lecturer), Algae in a time of rapid environmental change.; Algal calcification and skeletal mineralogy.; Algal life in the cryosphere.; Genomic approaches to algae and microbiomes.; Taxonomy, phylogenetics and conservation of algae.; The photophysiology of algae.
Global Environmental Change
Dr Oliver Andrews, (Lecturer), Impact of present and future climate change on physical and biogeochemical processes in the ocean.
Professor Rachel Flecker, (Professor), Ancient climates.; Environmental technology.; Isotope geochemistry.; Marginal marine systems.; Sedimentology.
Dr Anita Ganesan, (Lecturer), Quantifying emissions of greenhouse gases and ozone-depleting substances to the atmosphere atmospheric measurements data assimilation methods
Dr Jo House, (Reader in Environmental Science and Policy), Climate policy.; Land and climate interactions.
Dr Rachel James, (Lecturer in Climate Science)
Professor Dan Lunt, (Professor), The Earth system from the Pliocene to the Eocene, with a focus on Antarctica.
Professor Dann Mitchell, (Lecturer), Global and regional climate change.
Dr Fanny Monteiro, (NERC Fellow), Linking marine ecosystem, biogeochemical cycles and climate.
Professor David Richards, (Senior Lecturer), Geochronology.; Isotope geochemistry.; Landscape evolution.; Quaternary sea-level and climate change.
Dr Patricia Sanchez-Baracaldo, Biogeochemical cycles.; Cyanobacteria evolution.
Professor Paul Valdes, (Professor), Climate and environmental change, with a particular emphasis on understanding past changes in the Earth system and how this relates to future environmental changes and their impacts.
Dr Peter Watson, (Research Fellow and Proleptic Lecturer)
Hydrology
Professor Paul Bates, (Professor), Hydraulic and hydrologic modelling.; Uncertainty analysis and fluvial geomorphology.
Dr Gemma Coxon, (Lecturer), Integrating drought hydrology to the national scale
Professor Penny Johnes, (Professor), Adaptation.; Biogeochemistry of inland and coastal waters.; Environmental pollution.; Policy and management.; Risk.
Dr Katerina Michaelides, (Senior Lecturer), Dryland processes.; Hillslope hydrology and geomorphology.; Laboratory experimentation.; Modelling.; Nutrient and contaminant transport.; Sediment transport.
Dr Jeffrey Neal, (Lecturer), Data assimilation.; Flood risk.; Hydraulic modelling.
Apply now
Application deadline
Not fixed, but funding application deadlines will usually be between January and March.
Find out more about becoming a student at Bristol, applying for a visa and the support we offer to international students.
The Bristol Doctoral College facilitates and supports doctoral training and researcher development across the University.
REF 2021 results
The University of Bristol is ranked fifth for research in the UK (Times Higher Education), with 94% of our research assessed as world-leading or internationally excellent.
Full REF 2021 results for the University of Bristol.