Earth Sciences
Find a programme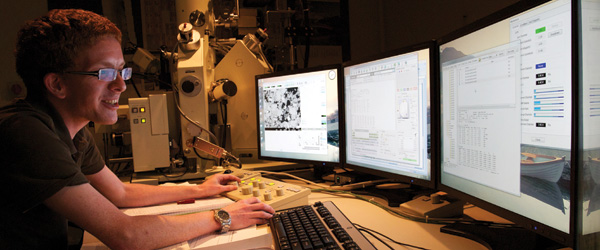 Run by
Faculty of Science

Awards available
PhD, MSc by research
Programme length
PhD: Three years full-time or equivalent part-time (minimum period of study);
MScR: One year full-time or equivalent part-time (minimum period of study)
Location of programme
Clifton campus
Part-time study available
Yes
Start date
Not fixed
Programme overview
Join a University ranked #2 in the UK for 'Earth systems and environmental sciences' research (THE analysis of REF 2021) with an excellent reputation for teaching and learning.
The School of Earth Sciences has strong international links and the presence of researchers from all over the world makes for an exciting and stimulating environment. Research involves the full breadth of the earth sciences and has benefited from major investment in new laboratories and equipment in the past few years. Important initiatives include experimental and theoretical studies of physical, chemical and biological processes of the Earth.
Please note: If you are applying for this programme, you need to select Geology PhD as the programme choice when completing your online application form.
Fees for 2022/23
We charge an annual tuition fee. Fees for 2022/23 are as follows:
UK: full-time

£4,565

UK : part-time

£2,283

Overseas: full-time

£24,600
Bench fees: For postgraduate research students who are not funded by UK Research Councils or (specific) UK charities, it is usual to charge a bench fee. A bench fee covers the costs of laboratory consumables, specialist equipment and other relevant costs (eg training) for the duration of the programme. The bench fee charged can vary considerably depending on the nature of the programme being undertaken. Details of specific bench fee charges can be provided on request and will made clear in the offer letter sent to applicants.
Following the recent changes to fee assessment regulation, Channel Islands and Isle of Man students will no longer be charged a separate tuition fee. From the 2021/22 academic year they will be charged the same fees as Home students.
Fees are subject to an annual review. For programmes that last longer than one year, please budget for up to a five per cent increase in fees each year. Find out more about tuition fees.
Alumni discount
University of Bristol students and graduates can benefit from a 25% reduction in tuition fees for postgraduate study. Check your eligibility for an alumni discount.
Funding for 2022/23
If you wish to be considered for NERC GW4+ DTP funding for this programme you need to apply for Geology PhD. Please also refer to the NERC GW4+ DTP prospectus page for guidance in making a PhD application.
Typically, around 20 new PhD students start their studies in the school each year. A group of these are funded by the NERC GW4+ DTP, but there are many other possible sources of funding such as BBSRC, EPSRC, STFC or industry funding, China Scholarship Council studentships, and other country-specific schemes.
Applications from self-funded students are welcomed. In the first instance, applicants should look for current opportunities on the school website or contact potential supervisors to discuss projects and funding.
Further information on funding for prospective UK, EU and international postgraduate students.
Entry requirements
An upper second-class honours degree (or equivalent) in a discipline related to the PhD project for which you are applying, such as geology, biological sciences, environmental sciences, chemistry or mathematics.
See international equivalent qualifications on the International Office website.
English language requirements
If English is not your first language, you need to meet this profile level:
Profile E
Further information about English language requirements and profile levels.
Admissions statement
Read the programme admissions statement for important information on entry requirements, the application process and supporting documents required.
Research groups
The research programme at Bristol is characterised by an expanding range of exciting subject areas. Research in the School of Earth Sciences encourages interdisciplinary collaboration between its six research groups, which in turn nurtures revolutionary research.
Geochemistry
The Geochemistry group uses fundamental chemical techniques to understand natural processes on a range of temporal and spatial scales. This can be from single atoms on mineral surfaces and the environmental geochemistry of the modern Earth to the large-scale chemical structure of planets and the birth of the solar system. The group has considerable expertise in isotopic measurements, spectroscopy and first-principles calculations.
Geophysics
Geophysics uses physical properties of the solid Earth to measure structure and processes on scales from the single crystal to the entire planet. Members of the Bristol Geophysics group use gravity, seismic and satellite data to image the Earth in a variety of different contexts. These include the Earth's core, mantle and tectonic processes, volcanoes, oil and gas reservoirs and mines.
Environments
The MATES (Marine and Terrestrial Environments) research group uses a wide range of techniques and facilities across the school to understand processes of relevance to any and all environments (surface, subsurface, marine) or that take place in an environmental context. MATES is highly interdisciplinary in both membership and the research that is undertaken, and spans the fields of Earth surface processes, environmental geochemistry and mineralogy, marine geosciences, fluid-rock interaction and geomicrobiology.
Palaeobiology
The Palaeobiology group uses the fossil record to study the history of life. Research focuses on major diversifications, mass extinctions, dating the tree of life, phylogenomics and molecular palaeobiology, morphological innovation, biomechanics, and links between evolution and development; the organisms of interest range from foraminifera to dinosaurs.
Petrology
The Petrology group uses a combination of high-pressure and high-temperature experiments, petrology, geochemistry and mineral physics to attack a wide range of problems in the solid Earth - from the core to the surface.
Volcanology
The Volcanology group at Bristol aims to understand the physical processes underlying volcanic phenomena and develop methods of hazard and risk assessment that can be applied to volcanoes worldwide.
Recent case studies and collaborators include the Met Office, Montserrat Volcano Observatory, Eyjafjallajökull, Iceland and INGEOMINAS in Columbia.
Research centres
The School of Earth Sciences is involved in a number of collaborative research groups on an international level. Inter-faculty research centres such as the Biogeochemistry Research Centre and the Cabot Institute involve collaboration across several departments and faculties.
Centre for Environmental and Geophysical Flows
This interdisciplinary research centre brings together expertise from the Schools of Earth Sciences, Geographical Sciences, Mechanical Engineering and Mathematics. This creates diverse research activities and interests, from traffic flow to explosive volcanic flows, meteorology to oceanography.

Biogeochemistry Research Centre
The Biogeochemistry Research Centre involves staff from the Schools of Earth Sciences, Geographical Sciences and Chemistry. The research aims to develop our understanding of the biogeochemistry of modern-day and ancient environments and the way that it is affected by natural processes and the actions of mankind.

Bristol Isotope Group
The Bristol Isotope Group is a world-class research facility for isotope measurements directed at understanding natural processes, from the formation of the solar system and the origin of Earth - its deep structure and atmosphere - through to the evolution of that atmosphere and contemporary climate change.

Interface Analysis Centre
The Interface Analysis Centre specialises in the application of a wide range of analytical techniques and is used by the Schools of Chemistry, Earth Sciences and Physics.

The Cabot Institute
The Cabot Institute carries out fundamental and responsive research on risks and uncertainty in a changing environment. Interests include climate change, natural hazards, food and energy security, resilience and governance, and human impacts on the environment.
Coral Reef Research at Bristol (CRAB)
The research group reflects the interdisciplinary nature of coral reef science and strives to understand these beautiful, complex and highly important ecosystems, combining perspectives from biology, chemistry, geology and geography. Members of the group span the Faculties of Science and Life Sciences, coming from the Schools of Biological Sciences, Earth Sciences and Geographical Sciences.
Bristol Oceans Past and Present (BOPP)
BOPP's main focus is to further understand the chemical and physical conditions of the oceans, both past and present. Our study of the oceans is made possible through the use of a diverse range geochemical techniques applied to geological, biological and oceanographic samples.
Careers
A large proportion of our graduating PhD students continue to post-doctoral research and an academic career. Previous students have taken up post-doctoral positions in national and international laboratories, for example in New Zealand, Switzerland, Germany, the US and China. A number of recent alumni now have permanent lectureship positions in institutions including the University of St Andrews, University of Liverpool and Harvard University.
Some of our students embark on industrial careers in an area that relates to their PhD studies. Other careers include teaching, publishing and management consultancy.
Staff profiles
Professor Michael Benton, (Professor of Vertebrate Paleontology), Systematics, cladistics and large-scale phylogeny reconstruction; vertebrate palaeontology, macroevolution, mass extinctions, biotic replacements.
Professor Juliet Biggs, (Professor of Earth Sciences), Arc volcanism; continental rift formation; earthquake cycle; measuring and modelling active tectonic processes using geodetic techniques.
Dr Casey Bryce, (Lecturer), Biogeochemical cycling in peatlands and permafrost; Geomicrobiology and microbe-mineral interactions; Microbial controls on water quality and greenhouse gas emissions
Dr Heather Buss, (Associate Professor in Biogeochemical Weathering), Biogeochemistry of soils; mineral nutrient cycling; rates and mechanisms of chemical and physical weathering.
Dr James Byrne, (Senior Lecturer), Environmental mineralogy and magnetism; Metal remediation and recovery ; Microbe-mineral interactions
Professor Katharine Cashman, (Professor of Volcanolog), Crystallisation and vesiculation kinetics; geologic hazards; igneous petrology; lava flow emplacement; volcanology.
Dr Christopher Coath, (Senior Research Fellow), Inorganic mass spectrometry technique and instrument development; ion optics.
Dr Frances Cooper, (Senior Lecturer), Geochronology; isotope geochemistry; large-scale continental deformation and the evolution of orogenic systems; paleomagnetism; petrology; satellite remote sensing; structural geology; thermal modelling.; thermochronology.
Professor Philip Donoghue, (Professor of Palaeobiology), Establishment of animal bodyplans; evolution and development; molecular clocks; origin and radiation of vertebrates.
Professor Tim Elliott, ('Professor of Isotope Geology), Applications of geochemical ' tools' from major elements to radiogenic isotopes; chemical structure of the Earth and its evolution.
Professor Joachim Gottsman, (Professor of Volcanology), Volcano geophysics.
Dr Kate Hendry, (Royal Society Research Fellow, Reader in Geochemistry), Investigation of modern biogeochemical cycling and past ocean processes, focusing on biogenic opal and silicon cycling in seawater.
Dr Erica Hendy, (Senior Lecturer in Biogeochemical Cycles), High-resolution palaeoclimate records in corals and speleothems.
Dr Jessica Irving, (Senior Lecturer), Seismic techniques to understand the structure and properties of the deep Earth and other planetary bodies using seismic signals to investigate long- and short-scale structures within the mantle and core how seismology can provide insights into our environment and human behaviour.
Dr Stuart Kearns, (Senior Lecturer), Electron beam interactions with geological materials.
Professor Simon Kohn, (Professor of Mineral Sciences), Experimental mineralogy; silicate melts; volatile components in the Earth' s mantle.
Professor Heidy Mader, (Professor of Geophysical Fluid Dynamics), Geophysical fluid dynamics with particular emphasis on volcanic and glaciological flows and multiphase phenomena.
Professor Rich Pancost, (Professor of Biogeochemistry, Head of School of Earth Sciences), Geomicrobiology; Preservation of Organic Matter; Proxies for Paleoclimate Reconstruction
Dr Ian Parkinson, (Reader), Climate change and the evolution of oxygen in the atmosphere; evolution of seawater chemistry; geochemistry; isotopes; mantle geochemistry; petrology.
Dr Jeremy Phillips, (Reader in Physical Volcanology), Dynamics of geophysical two-phase flows and granular flow; experimental volcanology; theoretical modelling of volcanic processes.
Professor Davide Pisani, (Professor of Phylogenomics), Molecular methods for resolving the Tree of Life; molecular palaeobiology; phylogenomics.
Professor Emily Rayfield, (Professor of Palaeobiology), Biomechanics and evolution of fossil vertebrates; finite element analysis, CT scanning and 3D reconstruction of fossils.
Professor Laura Robinson, (Professor of Geochemistry), Chemical oceanography and palaeoclimate; low-temperature geochemistry to earth surface processes.
Professor Alison Rust, (Professor of Physical Volcanology), Physical volcanology and fluid dynamics.
Professor Daniela Schmidt, (Professor in Palaeobiology), Biological influences on climate; effects of climate change on plankton ecology and evolution; micropalaeontology.
Dr Nicholas Teanby, (Reader in Planetary Science), Geophysical and planetary processes.
Dr Jakob Vinther, (Senior Lecturer), Cambrian explosion; evolution; invertebrates; macroevolution; melanin; melanosomes; molecular clocks; taphonomy; Tree of Life.
Professor Matthew Watson, (Professor of Volcanoes and Climate), Satellite and ground-based detection of volcanic gases and aerosols.
Dr Maximilian Werner, (Associate Professor of Geophysics and Natural Hazards), Earthquakes; evolution of the crust; geophysics; natural hazards; risk.
Professor Fiona Whitaker, (Professor of Earth Sciences), Hydrogeological, diagenetic, sedimentary evolution of carbonate rocks; numerical modelling; process-based field and experimental studies of modern carbonates.
Professor James Wookey, (Professor of Geophysics), Linking mineral physics to seismic observations; seismic observations and modelling of the deep Earth.
Apply now
Application deadline
Self-funded applicants: no fixed deadline.
Please check the school website for details of funding application deadlines.
Get in touch
Postgraduate Administrator Phone: +44 (0) 117 954 5400 Email: earth-postgrad@bristol.ac.uk
Postgraduate Admissions
School of Earth Sciences
University of Bristol
Wills Memorial Building
Queens Road
Bristol BS8 1RJ
School website: School of Earth Sciences
Find out more about becoming a student at Bristol, applying for a visa and the support we offer to international students.
The Bristol Doctoral College facilitates and supports doctoral training and researcher development across the University.
REF 2021 results
The University of Bristol is ranked fifth for research in the UK (Times Higher Education), with 94% of our research assessed as world-leading or internationally excellent.
Full REF 2021 results for the University of Bristol.