MSc
Palaeobiology
Find a programme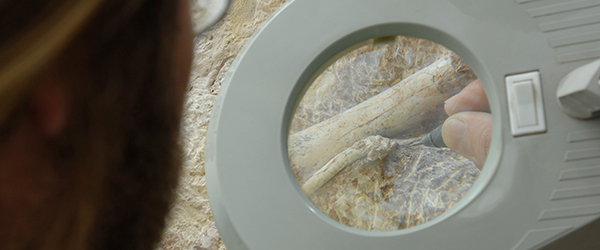 Faculty
Faculty of Science

Awards available
MSc
Programme length
One year full-time;
two years part-time
Location of programme
Clifton campus
Part-time study available
Yes
Part-time study requires daytime weekday attendance during the taught elements of the course.
Start date
September 2022
Programme overview
This interdisciplinary MSc programme is for students who are passionate about early life, mass extinctions, macroevolution, climate change and fossil preservation. It bridges the biology-geology divide. You will learn the latest techniques in phylogenetics, biomechanics and macroevolution, providing you with a strong foundation for independent research to PhD level or for a career in museum curation, science education, science policy, management or the media.
Bristol is ranked #2 in the UK for 'Earth systems and environmental sciences' research (THE analysis of REF 2021) and #1 in the world for Palaeontology (Center for World University Rankings 2017). You will join Bristol's established palaeobiology research group and engage in current debates in evolution, systematics and palaeobiology. You will learn how to analyse problems quantitatively and design experimental approaches to resolving questions in macroevolution and the study of both ancient and living organisms.
A key aspect of the programme is preparing your research project for publication, and many of our previous students' projects have been published in leading international journals. Recent research project topics include the origin of cellular life, the preservation of colours in dinosaurs and the evolution of culture in humans.
This programme gives you the opportunity to develop a wide range of professional skills, including research planning, problem-solving and communication. You will learn to present palaeontological data through talks, visual displays and formal written reports. You will also develop computing skills in data handling, phylogenetics, macroevolution, function and 3D digital modelling.
Find out more about the programme and hear from current and former students on our Palaeobiology MSc blog.
Fees for 2022/23
We charge an annual tuition fee. Fees for 2022/23 are as follows:
UK: full-time

£10,700

UK: part-time (two years)

£5,350

Overseas: full-time

£25,500
Additional fees
Bench fee

£500
Following the recent changes to fee assessment regulation, Channel Islands and Isle of Man students will no longer be charged a separate tuition fee. From the 2021/22 academic year they will be charged the same fees as Home students.
Fees are subject to an annual review. For programmes that last longer than one year, please budget for up to a five per cent increase in fees each year. Find out more about tuition fees.
Alumni discount
University of Bristol students and graduates can benefit from a 25% reduction in tuition fees for postgraduate study. Check your eligibility for an alumni discount.
Funding for 2022/23
Further information on funding for prospective UK, EU and international postgraduate students.
Programme structure
The first part of the programme consists of lectures, practical classes, tutorials and visiting speakers, designed to provide a firm foundation in the theory and methodology of the subject.
The taught element of the programme comprises core units which all students take, and a number of optional units from which students may choose. We recommend that students with a background in biology take some of the more geologically orientated optional units, and those with a background in geology take some of the biological optional units. Advice is given when choosing optional units.
The final part of the programme consists of a research project leading to a written thesis. For further information on research projects in the Palaeobiology Research Group, please see the School of Earth Sciences website.
Visit our programme catalogue for full details of the structure and unit content for our MSc in Palaeobiology.
Entry requirements
An upper second-class honours degree (or international equivalent) in geology, biological sciences, environmental sciences, archaeology, anthropology or a related discipline.
See international equivalent qualifications on the International Office website.
English language requirements
If English is not your first language, you need to meet this profile level:
Profile E
Further information about English language requirements and profile levels.
Admissions statement
Read the programme admissions statement for important information on entry requirements, the application process and supporting documents required.
Careers
The degree is research-based and many of our graduates go on to academic careers, usually starting with a PhD. The MSc is focused on methods and you will learn the latest quantitative and analytical techniques which are highly sought after by PhD supervisors across the world.
The training in professional skills, including writing scientific papers, is also highly regarded. Some students have used the MSc as a means to go on to careers in museums, science policy, the media and education and now hold senior positions as curators and collection managers in national and regional museums. Graduates also work in making scientific documentaries, or are involved in science education at all levels.
Finally, some graduates have gone into commercial work in marketing, consultancy, industry and computing, where their practical skills in palaeobiology and communication have proved invaluable.
Expected application closure date
Applications for 2022 have now closed and will reopen for 2023 entry in October 2022.
Find out more about becoming a student at Bristol, applying for a visa and the support we offer to international students.
REF 2021 results
The University of Bristol is ranked fifth for research in the UK (Times Higher Education), with 94% of our research assessed as world-leading or internationally excellent.
Full REF 2021 results for the University of Bristol.