Biological Sciences
Find a programme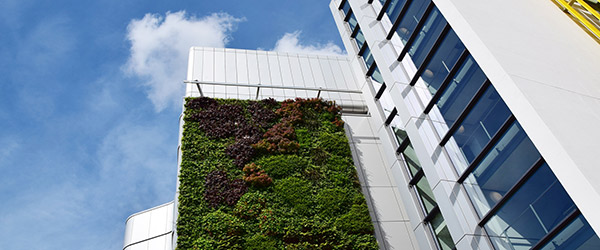 Run by
Faculty of Life Sciences

Awards available
PhD, MSc by research
Programme length
PhD: Three years full-time; eight years part-time, with one further year to write up;
MScR: One year full-time; four years part-time, with one further year to write up
Location of programme
Clifton campus
Part-time study available
Yes
Start date
Not fixed. Preferable start dates January 2022, April 2022, July 2022.
Programme overview
Researchers in the School of Biological Sciences conduct cutting-edge research across a broad range of biological disciplines, including genomics, biotechnology, cell biology, sensory biology, animal behaviour and evolution, population biology, host-disease interactions and ecosystem services.
The school is based in the £54 million state-of-the-art Life Sciences building. Our laboratory facilities are among the best in the world with critical '-omics' technologies and associated computing capacity (bioinformatics) a core component. The building is designed to foster our already strong collaborative and convivial environment and includes a centre for evolutionary biology research in collaboration with key researchers from earth sciences, biochemistry, social medicine, chemistry and computer sciences. The school has strong links with local industry, including BBC Bristol, Bristol Zoo and the Botanic Gardens.
We offer two research programmes, a PhD and an MSc by research, in many aspects of biology. We have a lively postgraduate community of approximately 150 research students. Our stimulating environment and excellent graduate school training and support provide opportunities to develop your future career.
Our postgraduates make a vital research contribution, while developing skills and receiving training in communication, outreach, statistics, scientific writing and career planning.
We strongly encourage all applicants to contact an academic supervisor before starting their application. Scroll down to the bottom of this page to see a list of potential supervisors and their areas of research interest.
Fees for 2022/23
We charge an annual tuition fee. Fees for 2022/23 are as follows:
UK: full-time

£4,565

UK: part-time

£2,283

Overseas: full-time

£24,600
Bench fees: For postgraduate research students who are not funded by UK Research Councils or (specific) UK charities, it is usual to charge a bench fee. A bench fee covers the costs of laboratory consumables, specialist equipment and other relevant costs (e.g. training) for the duration of the programme. The bench fee charged can vary considerably depending on the nature of the programme being undertaken. Details of specific bench fee charges can be provided on request and will made clear in the offer letter sent to applicants.
Following the recent changes to fee assessment regulation, Channel Islands and Isle of Man students will no longer be charged a separate tuition fee. From the 2021/22 academic year they will be charged the same fees as Home students.
Fees are subject to an annual review. For programmes that last longer than one year, please budget for up to a five per cent increase in fees each year. Find out more about tuition fees.
Alumni discount
University of Bristol students and graduates can benefit from a 25% reduction in tuition fees for postgraduate study. Check your eligibility for an alumni discount.
Funding for 2022/23
If you wish to be considered for NERC GW4+ DTP funding for this programme please refer to the NERC GW4+ DTP prospectus page for guidance in making a PhD application.
Research is supported by BBSRC, MRC, NERC, the ERC, the Royal Society, the Wellcome and Leverhulme Trusts, the Wolfson Foundation, Defra and other government agencies, charities and industry. All studentships and openings are advertised on the School of Biological Sciences website.
Further information on funding for prospective UK, EU and international postgraduate students.
Entry requirements
An upper second-class honours degree (or equivalent) in biological sciences or related discipline.
See international equivalent qualifications on the International Office website.
English language requirements
If English is not your first language, you need to meet this profile level:
Profile E
Further information about English language requirements and profile levels.
Admissions statement
Read the programme admissions statement for important information on entry requirements, the application process and supporting documents required.
Research groups
The underlying theme of our research is the search for an understanding of the function, evolution, development and regulation of complex systems, pursued using the latest technologies, from '-omics' to nanoscience, and mathematical modelling tools. Our research is organised around four main themes that reflect our strengths and interests: evolutionary biology; animal behaviour and sensory biology; plant and agricultural sciences; and ecology and environmental change.
Evolutionary biology
The theme of evolutionary biology runs through all our research in the School of Biological Sciences. Research in this theme seeks to understand organismal evolution and biodiversity using a range of approaches and study systems. We have particular strengths in evolutionary genomics, phylogenetics and phylogenomics, population genetics, and evolutionary theory and computer modelling.
Members of this research group are listed on the school website.
Animal behaviour and sensory biology
Research is aimed at understanding the adaptive significance of behaviour, from underlying neural mechanisms ('how', or proximate, questions) to evolutionary explanations of function ('why', or ultimate, questions). The approach is strongly interdisciplinary, using diverse physiological and biomechanical techniques, behavioural experiments, computer modelling and molecular biology to link from the genetic foundations through to the evolution of behaviour and sensory systems.
Members of this research group are listed on the school website.
Plant and agricultural sciences
The global issue of food security unifies research in this theme, which ranges from molecular-based analysis of plant development, signal transduction and disease, to ecological studies of agricultural and livestock production systems. We have particular strengths in functional genomics, bioinformatics, plant developmental biology, plant pathology and parasite biology, livestock parasitology and agricultural systems biology. Our research is helped by the LESARS endowment, which funds research of agricultural relevance.
Members of this research group are listed on the school website.
Ecology and environmental change
Research seeks to understand ecological relations between organisms (plant, animal or microbe) at individual, population and community levels, as well as between organisms and their environments. Assessing the effect of climate change on these ecological processes is also fundamental to our research. Key research areas within this theme include community ecology, restoration ecology, conservation, evolutionary responses to climate change and freshwater ecology. Our research has many applied angles, such as ecosystem management, wildlife conservation, environmental and biological control, agricultural practice and informing policy.
Members of this research group are listed on the school website.
Careers
Many postgraduate students choose a higher degree because they enjoy their subject and subsequently go on to work in a related area.
Postgraduate study is often a requirement for becoming a researcher, scientist, academic journal editor and for work in some public bodies or private companies. Around 60 per cent of biological sciences doctoral graduates continue in research.
We have a strong track record in supporting the careers of young researchers by helping them to find post-doctoral positions or develop fellowship applications.
Staff profiles
Dr Andy Bailey BSc (Bristol), PhD (Sheff.), (Reader in Molecular Mycology), Molecular genetic studies on fungi, including edible mushrooms, pathogens of plants and insects, or pathways for secondary metabolite production.
Dr Gary Barker, (Senior Lecturer), Bioinformatics approaches to crop diversity and microbial ecology of arctic soils and marine biofilms.
Dr Ulrike Bauer Dipl. Biol. (Wuerzburg, Germany), PhD (Cantab.), (Royal Society University Research Fellow), Bio-mechanics and ecology of plant-insect interactions structural adaptations and functional surfaces of carnivorous plants.
Professor Mark Beaumont BSc (Manc.), PhD (Nott.), (Professor of Statistics), Statistical aspects of population genetics and conservation genetics.
Professor Tim Caro BA (Cantab), PhD (St Andrews), (Professor), Adaptive significance of coloration in mammals, colour polymorphisms in terrestrial crabs, conservation strategies in tropical ecosystems.
Dr Chris Clements BSc, PhD, (Lecturer), Testing and developing conservation theory using experimental systems and modelling global change population ecology community ecology predictive ecology.
Professor Innes Cuthill MA (Cantab.), DPhil (Oxon.), (Professor of Behavioural Ecology), Behavioural and sensory ecology, particularly of birds but also other taxa.
Dr Sinead English BA (Cantab), MSc (Oxon), PhD (Cantab), (Royal Society Dorothy Hodgkin Fellow, Proleptic Senior Lecturer), Studying life history evolution, mother-offspring interactions and social behaviour using interesting model insects (viviparous tsetse and cockroaches) and theoretical modelling. Linking mechanisms to adaptive function, and considering consequences of life history patterns for populations and species: e.g. how vector ecology shapes disease transmission dynamics.
Professor Gary Foster BSc (QUB), PhD (QUB), (Professor of Molecular Plant Pathology), Molecular plant pathology, including plant viruses and development of transgenic resistance, as well as fungal biotechnology, including mushroom science and drug discovery.
Professor Kerry Franklin BSc (Bristol), MRes (Wales), PhD (Soton.), (Professor of Plant Signalling), Light and temperature signalling in plant development, signal crosstalk in plant environmental adaptation.
Professor Martin Genner BSc (Liv.), MSc (Aberd.), PhD (Soton.), (Professor in Evolutionary Ecology), Behaviour, ecology and evolution of fishes, including ecological and evolutionary responses to environmental change.
Professor Wendy Gibson BSc, PhD., DSc (Lond.), (Professor of Protozoology), Molecular analysis of genetics and evolution of trypanosomes, tsetse-trypanosome interactions.
Dr Thomas Gorochowski PhD (Bristol), MRes (Bristol), MEng (Warw.), (Royal Society University Research Fellow), Using synthetic biology approaches to reprogram cells to better understand how biology works and create new functionalities never seen before.
Professor Claire Grierson BSc (Warw.), PhD (Cambridge), (Professor / Head of School), Development and function of plant roots, including interdisciplinary approaches to root biology, spatial and temporal patterning of molecules and cells in natural and synthetic systems.
Dr Christoph Grueter MSc (Bern), PhD (Bern, Buenos Aires), (Senior Lecturer), Behaviour, ecology and evolution of social insects, mostly honeybees, tropical bees and ants. Communication and decision-making, using a combination of field experiments, modelling and behavioural genomics.
Dr Jill Harrison BSc (St.And.), MSc (Edin.), PhD (Edin.), (Senior Lecturer), Plant evolution and development, the origin of vascular plants, plant shape.
Professor Alistair Hetherington BSc, PhD (St.And.), (Melville Wills Chair in Botany), Signal transduction pathways responsible for coupling the perception of environmental signals, such as drought, carbon dioxide and light to alterations in stomatal aperture and stomatal development.
Dr Marc Holderied PhD (Erlangen), (Associate Professor in Biological Sciences), Behavioural acoustics, sensory ecology and conservation – how animals acquire and utilize information in sound signals in natural habitats Acoustic camouflage Bio-inspiread acoustic solutions from sound absorbers to ultrasonic vision and robotics navigation conservation research with Bristol Zoo in Madagascar and South Africa.
Dr Martin How BA (Oxon), MSc, PhD, (Royal Society University Research Fellow), Visual ecology of marine and intertidal crustaceans, motion camouflage in biological and artificial vision systems, methodology for automation of animal behaviour experiments.
Dr Christos Ioannou BSc (U.C.Lond.), PhD (Leeds), (Associate Professor (Reader) in Behavioural Ecology), Group living and predator behaviour, collective behaviour, personality and anthropogenic effects. Particularly in fish, but not exclusively.
Professor Gareth Jones BSc (Lond.), PhD (Stir.), (Professor of Biological Sciences), Conservation biology, molecular ecology and bioacoustics, ecology and echolocation behaviour of bats.
Dr Tommaso Jucker BSc, MSc, PhD, (NERC Research Fellow), Understanding how the world' s forests are responding to rapid global change by integrating empirical field ecology with remote sensing and modelling.
Dr Stephanie King PhD (St Andrews), MRes (St Andrews), BSc (Leeds), (Senior Lecturer), Animal communication and cognition, cooperation, social complexity, impacts of anthropogenic disturbance on animal behaviour, particular emphasis on marine mammals.
Professor Jane Memmott BSc, PhD (Leeds), (Professor of Ecology), Agroecology, food webs, invasion ecology, pollination biology, restoration ecology and ecosystem services, urban ecology.
Dr Stephen Montgomery BA, PhD, (Senior Research Fellow / Proleptic Senior Lecturer), Evolution of brains and behaviour, including comparative genomics, anatomy and development, sensory and neuro-ecology, and phylogenetic methods.
Dr Jordi Paps Montserrat BSc, MSc, PhD, (Lecturer), Comparative genomics of major evolutionary transitions in the Tree of Life (origin of animals, emergence of parasites, etc.), molecular phylogenetics, gene family evolution, Animal Kingdom, plants, eukaryotes, and others.
Professor Davide Pisani BSc (Parma), PhD (Bristol), (Professor of Phylogenomics), Phylogenomics – the use of sequence information to understand animal evolution and phylogenetic relationships between animals.
Professor Andy Radford MA (Cantab), MSc (Oxon.), PhD (Cantab.), (Professor of Behavioural Ecology), Impacts of anthropogenic noise on marine and terrestrial species, social interactions, vocal communication, cooperation, decision-making and consequences of conflict in vertebrates.
Dr Sean Rands BSc ARCS (Imperial, London), PhD (Bristol), FHEA, (Senior Lecturer), Behavioural and evolutionary ecology of biological interactions, social behaviour and group behaviour.
Professor Daniel Robert Dipl.Biol.(Neuchatel), PhD (Basle), (Professor of Bionanoscience), Sensory ecology, bio-mechanics, hearing and electro-reception in arthropods, evolution of sensory systems, bio-inspired sensor technology.
Professor Nicholas Roberts MPhys (Manc.), PhD (Manc.), (Professor of Sensory Ecology), Light and colour in nature, visual ecology, novel optics in animals, structural colouration and light pollution.
Dr Imogen Sparkes BA (Cantab.), MA (Cantab.), PhD (Leeds), (Senior Lecturer), Molecular and biophysical characterisation of plant organelles dynamics including biogenesis, movement, morphology and interaction of organelles.
Dr Nathalie Stroeymeyt BSc (ENS Ulm), MSc (ENS Ulm), PhD (Bristol / Toulouse), (Senior Lecturer), Collective behaviour and collective intelligence cooperation and conflicts social interaction networks disease transmission dynamics and social and personal immunity in social insects.
Dr Jakob Vinther BSc (Copenhagen), MSc (Copenhagen), PhD (Copenhagen), (Senior Lecturer), Early evolution of invertebrates, palaeocolor and the reconstruction of original colour patterns in extinct mammals and birds, macroevolution, molecular paleobiology.
Professor Richard Wall BSc (Dunelm.), MBA (Open), PhD (Liv.), (Professor of Zoology), Control of ectoparasites of veterinary importance, sustainable management of livestock production systems, the ecology of arthropod pests, parasites and vectors.
Dr Heather Whitney BSc (Lond.), PhD (Bristol), F.L.S., (Reader in Plant Interactions), Interdisciplinary approaches to investigating plant biology including plant iridescence and photonics plant bionics and nanotechnology plant-pollinator interactions
Dr Tom Williams PhD (Dub.), BA (Dub.), (Senior Research Fellow / Proleptic Senior Lecturer), Phylogenetics, comparative genomics and bioinformatics understanding how molecules, genomes and microbes evolve reconstructing and testing ideas about the tree of life.
Professor Marian Yallop BSc, PhD (Lond.), (Professor of Aquatic Microbial Ecology), Impacts of stressors on the structure and functioning of biota in aquatic ecosystems, quantifying impacts of engineered nanomaterials in the environment Impacts of heavy metals on estuarine diatoms and freshwater algae, control of cyanobacterial blooms, the role of ice algae in ice sheet melt in Greenland.
Apply now
Application deadline
We welcome applications at any time of year.
Find out more about becoming a student at Bristol, applying for a visa and the support we offer to international students.
The Bristol Doctoral College facilitates and supports doctoral training and researcher development across the University.
REF 2021 results
The University of Bristol is ranked fifth for research in the UK (Times Higher Education), with 94% of our research assessed as world-leading or internationally excellent.
Full REF 2021 results for the University of Bristol.