Biochemistry
Find a programme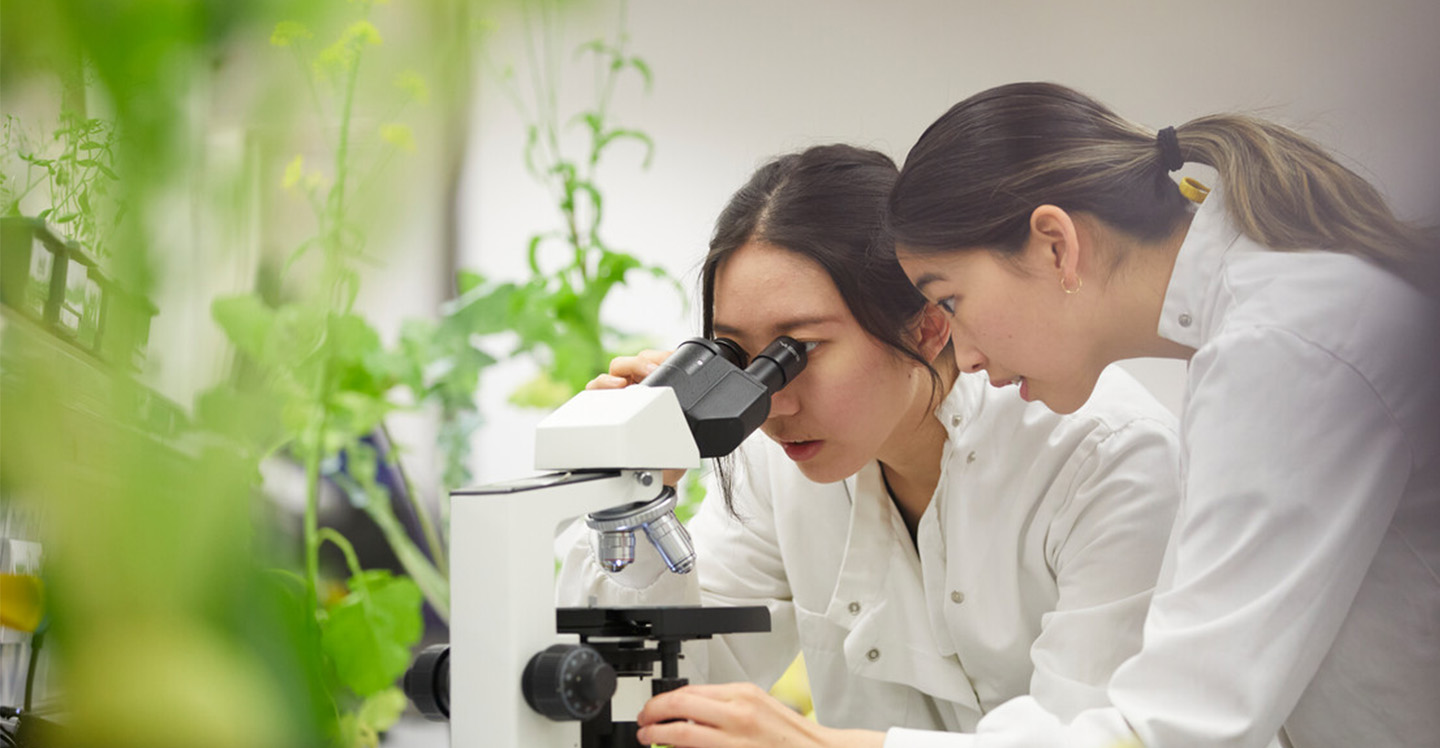 Run by
Faculty of Life Sciences

Awards available
PhD, MRes, MSc by research
Programme length
PhD: three or four years full-time, or part-time equivalent;
MRes: one year full-time, or two years part-time

MRes and PhD (part-time and full-time) then have one further year to write up.
Location of programme
Clifton campus
Part-time study available
Yes
Start date
Not fixed. Preferable start dates Sept 2022, January 2023, April 2023.
Programme overview
As a school, we believe that part of our mission is to train the next generation of life scientists. We take great pride in the standard of our postgraduate provision and offer both three- and four-year PhD programmes. It is also possible to pursue a one-year master's by research (MRes). Competition for places on our postgraduate programmes is high, but we believe that we offer a unique and nurturing environment for talented students.
You will receive extensive research training that covers methodology, critical interpretation and problem-solving, as well as transferable skills training in communication, presentation, teamwork, time management and teaching. You will also be encouraged to participate in personal development planning, which is considered a valuable adjunct of your professional development. Training is also available in enterprise and entrepreneurship.
You will have access to the world-class Wolfson Bioimaging Facility and GW4 high-resolution cryoEM facility, which provides a suite of state-of-the-art light and electron microscopes. In addition, the Proteomics Facility offers bespoke proteomics services for researchers.
Fees for 2022/23
We charge an annual tuition fee. Fees for 2022/23 are as follows:
UK: full-time

£4,565

UK: part-time

£2,283

Overseas: full-time

£24,600
Bench fees: For postgraduate research students who are not funded by UK Research Councils or (specific) UK charities, it is usual to charge a bench fee. A bench fee covers the costs of laboratory consumables, specialist equipment and other relevant costs (e.g. training) for the duration of the programme. The bench fee charged can vary considerably depending on the nature of the programme being undertaken. Details of specific bench fee charges can be provided on request and will made clear in the offer letter sent to applicants.
Following the recent changes to fee assessment regulation, Channel Islands and Isle of Man students will no longer be charged a separate tuition fee. From the 2021/22 academic year they will be charged the same fees as Home students.
Fees are subject to an annual review. For programmes that last longer than one year, please budget for up to a five per cent increase in fees each year. Find out more about tuition fees.
Alumni discount
University of Bristol students and graduates can benefit from a 25% reduction in tuition fees for postgraduate study. Check your eligibility for an alumni discount.
Funding for 2022/23
Funding to support postgraduate studentships is provided by the BBSRC, BHF, MRC and the Wellcome Trust (eligibility criteria apply). A limited number of University scholarships are also available for exceptional UK, EU and overseas students, although international students are usually either self-funded or supported by funds from their own governments.
Details about funded places and scholarships are listed on the Faculty of Life Sciences website.
Further information on funding for prospective UK, EU and international postgraduate students.
Entry requirements
A first or upper second-class honours degree (or international equivalent) in a biomedical science discipline is required for entry to the PhD programme. We may consider MSc by research applications from candidates with a lower second-class degree (or international equivalent).
See international equivalent qualifications on the International Office website.
English language requirements
If English is not your first language, you need to meet this profile level:
Profile C
Further information about English language requirements and profile levels.
Admissions statement
Read the programme admissions statement for important information on entry requirements, the application process and supporting documents required.
Research groups
Research in the school covers all aspects of modern biochemistry and this is reflected in the wide range of postgraduate projects available.
The school has an international reputation in cell biology, and enjoys an association with the Wolfson Bioimaging Facility and GW4 high-resolution cryoEM facility, which houses the state-of-the-art light and electron microscopes. Our work in this area of dynamic molecular cell biology covers intracellular trafficking, cell shape and movement, and the control of cell death and proliferation.
We have also earned an international reputation for our research in structural biology and biophysics, including rational drug design, mathematical modelling of protein structure and folding, pioneering work on the interactions between DNA and proteins, and structural biology of complex systems including membrane proteins and complexes. Synthetic biology is another key area of active research within the school, which is supported by the BrisSynBio Centre and the Bristol BioDesign Institute –world-class flagships for multi-disciplinary studies in this area.
The fundamental research supported by the school is often translated into practical applications aimed at understanding disease mechanisms and improving human health. Our research has made significant contributions towards understanding cardiovascular disease, diabetes, cancer and malaria, and many other aspects of clinical research.
Careers
Most of our postgraduate students become highly productive researchers, publishing in leading peer-reviewed biomedical journals. Over 75 per cent of our students go on to postdoctoral research in academia and industry.
Other students use the transferable skills gained during their study to enter postgraduate-level employment, including publishing, management and administration. We are committed to promoting the advancement of women and under-represented minorities in science, engineering and technology.
Staff profiles
Professor Josephine Adams MA(Cantab.), PhD(Lond.), (Professor of Cell Biology), Role of signalling to the cytoskeleton by the extracellular matrix in cell motility processes.
Dr Ross Anderson BSc, PhD(H.-W.), (Associate Professor in Biological Chemistry), Design and construction of artificial oxidoreductases.
Professor Imre Berger MSc (Hannover, Germany), PhD (Cambridge, USA and Hannover, Germany), HDR (ETH Zurich, Switzerland), (Professor of Biochemistry)
Professor Christiane Berger-Schaffitzel MSc(Hannover), PhD(Zurich), Habiliation (E.T.H.Zurich), (Professor of Biochemistry), Translation, protein and mRNA quality control.
Professor Leo Brady B.Sc.(Macq.), D.Phil.(York), (Professor of Biochemistry), Structural biology of pathogenesis.
Dr Steve Burston B.Sc. (Hons.), PhD, (Senior Lecturer), Mechanisms of AAA+-ATPases in protein quality control.
Dr Bernadette Carroll PhD, (Wellcome Trust Research Fellow)
Dr Anna Chambers MBiochem(Oxon.), PhD(Bristol), (CRUK Career Development Fellow), Chromatin remodelling and genome stability.
Dr Alan Cheung M.Biochem(Oxon.), PhD(Sheffield), (Senior Research Fellow)
Professor Ian Collinson B.Sc.(Warw.), Ph.D.(Cantab.), (Professor of Biochemistry), Understanding the mechanism of protein secretion and mitochondrial import.
Professor Pete Cullen B.Sc., Ph.D.(E.Anglia), (Royal Society Noreen Murray Research Professor), Endosomal sorting and signaling.
Dr Paul Curnow B.Sc.(Lond.), Ph.D.(Bristol), (Senior Lecturer), Membrane proteins: biochemistry and synthetic biology.
Dr Chris Dempsey B.Sc.(St.And.), Ph.D.(Lond.), (Senior Lecturer), Structure and function of membrane ion channel proteins.
Professor Mark Dillingham B.Sc.(Bristol), Ph.D.(Oxon.), (Professor of Biochemistry), Molecular machines for DNA break repair.
Dr Mark Dodding BSc, PhD, (Associate Professor in Cell Biology)
Professor Jan Frayne B.Sc.(Nott.), Ph.D.(Bristol), (Professor in Molecular Cell Biology), The molecular analysis of erythroid cells generated in vitro from different stem cell sources.
Dr Adam Grieve, (Sir Henry Dale Fellow)
Professor Jonathan Hanley B.A.(Cantab.), Ph.D.(U.C.Lond.), (Professor in Molecular Neuroscience), The molecular mechanisms of synaptic plasticity.
Professor Jeremy Henley B.Sc.(Aston), Ph.D.(Lond.), (Professor of Molecular Neuroscience), Neurotransmitter receptor trafficking in plasticity and disease.
Professor Mike Jones B.Sc., Ph.D.(Wales), (Reader in Biochemistry), Structure, mechanism, stability and device applications of photovoltaic reaction centres.
Professor Patricia Kuwabara B.A.(Johns Hopkins), Ph.D.(Penn.), (William P. Coldrick Chair in Genomics), Functional genomic analysis of signalling pathways in " C elegans" .
Dr Jon Lane B.Sc.(Soton.), Ph.D.(Exon.), (Reader in Cell Biology), Molecular regulation of apoptosis and autophagy.
Professor Paul Martin B.Sc.(Sus.), Ph.D.(Lond.), (Professor of Cell Biology), Inflammation in repair and cancer.
Professor Harry Mellor B.Sc.(Edin.), Ph.D.(Bristol), (Professor of Biochemistry), Endothelial cell dynamics in angiogenesis.
Dr Binyam Mogessie PhD, BSc, (Sir Henry Dale Research Fellow), Mechanisms of chromosome segregation in mammalian eggs.
Dr Fabio Parmeggiani PhD (Zurich), MSc (Bologna), (BrisSynBio Fellow in Synthetic Biology)
Professor Paul Race BSc(Leeds), PhD(Birm.), (Professor of Biological Chemistry), Structure, function and engineering of cell migration by ephrin-mediated contact repulsion.
Professor Nigel Savery B.Sc., Ph.D.(Birm.), (Professor of Biochemistry), Transcription and DNA repair.
Professor David Stephens B.Sc., Ph.D.(Lond.), (Professor of Cell Biology), Membrane trafficking and cytoskeletal dynamics.
Professor Mark Szczelkun B.Sc.(Liv.), Ph.D.(Soton), (Professor of Biochemistry), Prokaryotic immunity systems: mechanisms and applications.
Professor Ashley Toye B.Sc., Ph.D.(Bristol), (Professor of Cell Biology), Red blood cell development in health and disease.
Dr Marc Van der Kamp M.Sc.(Wageningen), PhD(Bristol), (Senior Lecturer)
Professor Paul Verkade M.Sc., Ph.D.(Utrecht), (Professor of Bioimaging), Understanding intracellular transport through imaging.
Dr Helen Weavers PhD(Cantab.), (Sir Henry Dale Fellow), Understanding the cell biology of tissue resilience during development, inflammation and wound repair.
Professor Dek Woolfson B.A.(Oxon.), Ph.D.(Cantab.), (Professor of Chemistry and Biochemistry), Protein design, protein-structure prediction and synthetic biology.
Apply now
Application deadline
We welcome applications at any time of year.
Find out more about becoming a student at Bristol, applying for a visa and the support we offer to international students.
The Bristol Doctoral College facilitates and supports doctoral training and researcher development across the University.
REF 2021 results
The University of Bristol is ranked fifth for research in the UK (Times Higher Education), with 94% of our research assessed as world-leading or internationally excellent.
Full REF 2021 results for the University of Bristol.