Veterinary Sciences
Find a programme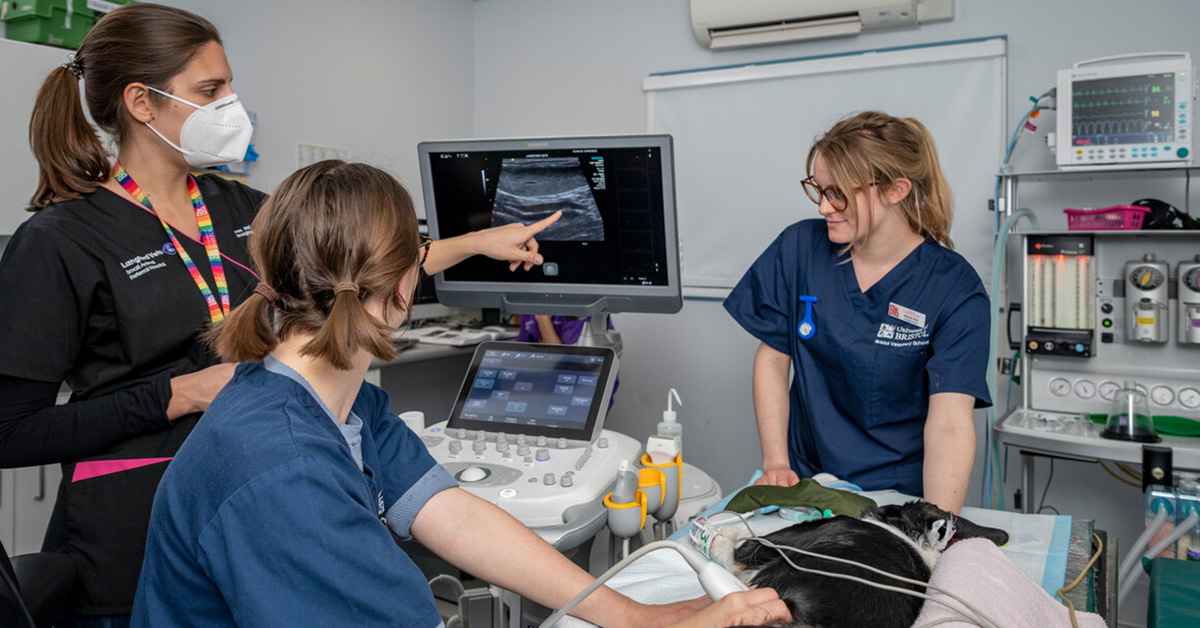 Run by
Faculty of Health Sciences

Awards available
PhD, MSc by research
Programme length
PhD: three to four years full-time; up to eight years part-time
MScR: one year full-time; part-time available

All programmes have an additional optional year for writing up.
Location of programme
Langford campus
Part-time study available
Yes
Part-time study requires regular supervisory meetings at times convenient to both supervisor and student. We would usually anticipate that such meetings would take place during normal weekday working hours.
Start date
Not fixed, but in order to fully benefit from the induction process we encourage students to start in September each year. This research degree is also available via distance learning.
Programme overview
Postgraduate research in the Bristol Veterinary School is largely based at the Langford campus, which houses a large number of research groups along with Langford Veterinary Services and the University farm.
The strength of the school's research programme is greatly enhanced by its position within the Faculty of Health Sciences. Our research extends from the fundamental to the applied and we collaborate with other research groups in the faculty and beyond, building on a policy of integration of basic science with veterinary activities.
Our postgraduate students are members of the Faculty of Health Sciences graduate school and benefit from the training opportunities this provides. We welcome enquiries and applications from prospective MScR and PhD students.
Fees for 2022/23
We charge an annual tuition fee. Fees for 2022/23 are as follows:
UK: full-time

£4,565

UK: part-time

£2,283

Overseas: full-time

£24,600
Bench fees: For postgraduate research students who are not funded by UK Research Councils or (specific) UK charities, it is usual to charge a bench fee. A bench fee covers the costs of laboratory consumables, specialist equipment and other relevant costs (eg training) for the duration of the programme. The bench fee charged can vary considerably depending on the nature of the programme being undertaken. Details of specific bench fee charges can be provided on request and will made clear in the offer letter sent to applicants.
Following the recent changes to fee assessment regulation, Channel Islands and Isle of Man students will no longer be charged a separate tuition fee. From the 2021/22 academic year they will be charged the same fees as Home students.
Fees are subject to an annual review. For programmes that last longer than one year, please budget for up to a five per cent increase in fees each year. Find out more about tuition fees.
Alumni discount
University of Bristol students and graduates can benefit from a 25% reduction in tuition fees for postgraduate study. Check your eligibility for an alumni discount.
Funding for 2022/23
Further information on funding for prospective UK, EU and international postgraduate students.
Entry requirements
An upper second-class degree (or equivalent qualification) in a relevant subject.
See international equivalent qualifications on the International Office website.
English language requirements
If English is not your first language, you need to meet this profile level:
Profile C
Further information about English language requirements and profile levels.
Admissions statement
Read the programme admissions statement for important information on entry requirements, the application process and supporting documents required.
Research groups
Research activities in the school are focused on two research themes, aligned with cross-cutting critical mass across the University of Bristol, and encompass both clinical excellence and strong basic science.
Our themes
This theme embodies a multidisciplinary approach to studying the health of populations, spanning molecules to communities of animals including the human animal through One Health approaches.
Research in this theme addresses major challenges to sustainable intensification of livestock production, including epidemiology, infectious disease, nutrition and management, 'One Health', parasitology, veterinary public health, animal behaviour and animal welfare.
Our underpinning research communities
Interdisciplinary and cross-theme/group research is encouraged and supported. There are four Research Communities underpinning our two main themes:
This spans fundamental studies of cognition and emotion, through validation of animal welfare assessment methodologies, identifying and quantifying welfare problems and their causes in farm, laboratory, companion and working animals, to implementing research-based solutions in the 'real world'.
The community brings together several research strengths ranging from the fundamental to more applied research with potential for impact and all collectively benefit from being part of a university-wide infection and immunity research theme. The research areas include: immunology, microbiology, epidemiology, mathematical modelling, infectious diseases, zoonoses, parasitology and social science approaches.
This community focuses on naturally-occurring diseases within the clinical caseload and is directed towards the prevention and treatment of animal and human diseases. This community brings together veterinary clinical specialists engaged in high-quality clinical research, working in new clinical and imaging facilities, with biomedical scientists who study fundamental physiological mechanisms and disease processes
Research is promoted and facilitated by the "AMR Force", an active and inclusive group of enthusiastic researchers. Work is carried out in the South West, nationally and internationally, and the team are interested in decreasing antibiotic use while improving animal health through a plurality of approaches addressing differing styles and attitudes.
Data platforms and infrastructure
The school has a coordinated multidisciplinary approach to realising 21st-century veterinary research and is developing platform technologies, data analytics and biobanking facilities to support cohort studies and high-quality clinical trials. With the completion of both the CIEL poultry research facility and the John Oldacre Farm Platform, a highly instrumented dairy farm on site, a wide range of data-intensive studies are possible to tackle grand challenges in both animal and human health. These studies are supported by strong links to data-intensive research and facilities across the University.
Interdisciplinary research is a major strength of the school and is reflected by our participation in these University and UK initiatives:
Careers
We recruit both veterinary and basic science students to our postgraduate programme and this may have an impact on subsequent careers. Many of our graduates go on to pursue academic roles in universities, performing a range of research, teaching and clinical roles. Other graduates have been recruited by research institutes (eg BBSRC), government bodies (eg Defra) or industry (pharmaceutical, animal feed, etc) where they perform research and advisory roles. A number of veterinary graduates now perform specialist clinical activities in veterinary practices.
Apply now
Application deadline
We welcome applications at any time of year.
Find out more about becoming a student at Bristol, applying for a visa and the support we offer to international students.
The Bristol Doctoral College facilitates and supports doctoral training and researcher development across the University.
REF 2021 results
The University of Bristol is ranked fifth for research in the UK (Times Higher Education), with 94% of our research assessed as world-leading or internationally excellent.
Full REF 2021 results for the University of Bristol.