Civil Engineering
Find a programme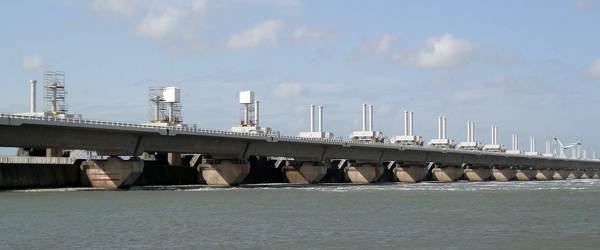 Run by
Faculty of Engineering

Awards available
PhD, MSc by research
Programme length
MScR: One year full-time; four years part-time
PhD: Three years full-time; eight years part-time

Both programmes (part-time and full-time) then have one further year to write up.
Location of programme
Clifton campus
Part-time study available
Yes
Start date
Not fixed
Programme overview
Our multidisciplinary research addresses the global need for delivering long-term, sustainable performance of existing and new infrastructure systems. We are leaders in modelling and managing the impacts of extreme natural and human hazards, such as earthquakes, climate change, flooding, industrial processes, traffic and crowds.
Our application studies range from complete national and regional systems (such as national hydrological models, water systems, electricity and transport networks) through individual artefacts (such as nuclear facilities, offshore wind farms, underground services, dams, long-span bridges and buildings), down to local scale buckling models of reinforcing bars in concrete or mechanical characterisation of small-scale soil elements.
Much of our research requires numerical and experimental investigations across the length scales, from micro and macro to large, from particulate to continuum. It also includes monitoring of prototypes, for example the dynamics of cable-stayed bridges such as the Second Severn Crossing, analysis of deep excavations and flood prediction based on real-time radar detection of rainfall.
We collaborate widely with academic and industrial partners from across the engineering, science and social science disciplines, and from around the world.
Applicants should contact a potential academic adviser to discuss available projects before submitting an application.
Fees for 2022/23
We charge an annual tuition fee. Fees for 2022/23 are as follows:
UK: full-time

£4,565

UK: part-time

£2,283

Overseas: full-time

£24,600
Following the recent changes to fee assessment regulation, Channel Islands and Isle of Man students will no longer be charged a separate tuition fee. From the 2021/22 academic year they will be charged the same fees as Home students.
Fees are subject to an annual review. For programmes that last longer than one year, please budget for up to a five per cent increase in fees each year. Find out more about tuition fees.
Alumni discount
University of Bristol students and graduates can benefit from a 25% reduction in tuition fees for postgraduate study. Check your eligibility for an alumni discount.
Funding for 2022/23
A number of funded studentships are available each year, supported by research council, industry, University or other funds. View the faculty website for a list of currently available funded projects or visit jobs.ac.uk.
Self-funded or sponsored students are also very welcome to apply.
Further information on funding for prospective UK, EU and international postgraduate students.
Entry requirements
PhD applicants must hold/achieve a minimum of a master's degree (or international equivalent) in a relevant discipline. Applicants without a master's qualification may be considered on an exceptional basis, provided they hold a first-class undergraduate degree. Please note, acceptance will also depend on readiness to pursue a research degree.
MSc by research applicants must hold/achieve a minimum of an upper second-class honours degree (or international equivalent) in a relevant discipline and demonstrate readiness to pursue a research degree.
See international equivalent qualifications on the International Office website.
English language requirements
If English is not your first language, you need to meet this profile level:
Profile E
Further information about English language requirements and profile levels.
Admissions statement
Read the programme admissions statement for important information on entry requirements, the application process and supporting documents required.
Research groups
Earthquake and Geotechnical Engineering
This area encompasses structural engineering, advanced composite materials and geomechanics. Based around BLADE (the £20 million Bristol Laboratories for Advanced Dynamics Engineering) and the Earthquake Engineering Research Centre, the group focuses on the non-linear performance and reliability of civil engineering infrastructure. It develops techniques for theoretical and numerical analysis, physical testing of infrastructure in the field and laboratory, advanced structural and geotechnical material behaviour characterisation and modelling, structural vulnerability and overall non-linear dynamic performance assessment. The research also benefits from the new National Soil-Foundation-Structure lnteraction Laboratory, based on a £12 million investment that allows large prototype scale experiments for use by both academics and industry in the field of earthquake engineering and infrastructure resilience.
The Earthquake Engineering Research Centre has made notable advances in several areas, including the mechanisms of wind and pedestrian-induced vibrations, the non-linear dynamics of masonry and other buildings, dynamics of long-span bridges, cable structures, wind turbines, and seismic response of bridges and large dams. The research group also works on analysis, design and assessment of earthquake-resistant structures, including novel numerical and analytical methods, retrofit techniques, risk studies, and on-site inspection of buildings, bridges and critical infrastructure.
The group has an active interest in solving geotechnical problems using a multi-scale approach, combining advanced laboratory testing, constitutive modelling, physical modelling, field observation and numerical simulation. Recent research has focused on measurements of deformation properties of soils using novel techniques of laboratory geophysics at very small strains for stiffness; dynamic soil-structure interaction, with an emphasis on piles and retaining walls; and foundations of offshore wind turbines.
The group also has a strong interest in the characterisation of treated geomaterials: mixtures of soil with various inclusions such as fibres, cement, fly ash and soft tyre chips. The Soil Mechanics Laboratory possesses a series of triaxial and a unique set of multiaxial soil test apparatus: true triaxial apparatus (independent variation of three principal stresses, rigid boundaries), cubical cell (independent variation of three principal stresses, flexible boundaries) and hollow cylindrical torsional apparatus (independent control of four stress variables).
Water and Environment
The Water and Environmental Engineering research group is concerned with characterising and simulating the water environment in a changing world. We advance the sustainable use of water resources, provide design variables for infrastructure and enhance the security of society regarding floods and other environmental hazards. Focus areas include: hydrology, water and health, climate change impacts, human impacts, water quality, risk from natural hazards, and new observational methods.
Water and environmental security is crucial for the sustainable and safe existence of both people and nature. Ensuring water security requires protection from floods and water scarcity, and the sufficient supply of fresh water of appropriate quality to ensure environmental and human health. The future of our society is less likely to be threatened by armed conflict than by population growth, climate change, water shortages and pollution, as well as poverty and rising food prices. The water and environment research group focuses on developing the theory and tools needed to address the complex issue of water security in a changing world. The group consists of an interdisciplinary team of engineers and scientists who combine process understanding, mathematical modelling, novel monitoring approaches and engineering principles to solve societal water problems.
Systems and Safety
The Infrastructure Systems research group develops novel, holistic approaches for characterising and managing the safe and sustainable performance of complex socio-technical systems. Key areas of work include sustainable systems, problem structuring methods, the vulnerability and resilience of infrastructures, infrastructure interdependencies, smart cities and communities, and safety and vulnerability of embedded software systems.
Within the research group, the Safety Systems Research Centre performs novel research into the safe and resilient performance of complex systems, including computational and organisational factors. The centre is also part of the Bristol-Oxford Nuclear Research Centre, and Bristol's strategic relationship with EDF.
The Group also hosts the Infrastructure Collaboratory, Bristol's UKCRIC Urban Observatory facility, responsible for deploying testbeds across the city and developing novel solutions for monitoring traffic, air pollution, energy consumption, water quality and many other aspects or urban life.
Careers
Civil engineering PhD graduates are found in a variety of careers, including world-leading research. Many also work as consultants or as part of large-scale engineering industries.
Staff profiles
Civil Engineering
Dr Jitendra Agarwal BTech, MTech, PhD, (Senior Lecturer in Structural Engineering), Civil engineering systems; networked infrastructure; non-linear dynamics; structural safety
Dr Nick Alexander BSc(Eng) Lond, PhD(UCLond), CMath MIMA, CSci, (Associate Professor in Structural Engineering), Structural engineering
Dr Neil Carhart MEng, EngD (Bristol), (Lecturer), infrastructure systems; sustainable urban development; systems engineering
Professor Adam Crewe BEng PhD CEng MICE MIStructE,, (Professor of Earthquake Engineering), Bridges; earthquake engineering; seismic testing; soil dynamics; steel and concrete design.
Dr Flavia De Luca MSc in Structural and Geotechnical Engineering (Italy), PhD in Seismic Risk (Italy), (Senior Lecturer in Civil Engineering), modelling and damage analysis of reinforced concrete structures; Performance Based Earthquake Engineering; structural reliability; Structures and Earthquakes
Dr Raffaele De Risi BSc(Civil Engineering, Federico II, Napoli), MSc(Structural and Geotechnical Engineering, Federico II, Napoli), PhD(Materials and Structural Engineering, Federico II, Napoli, (Lecturer), Catastrophe Modelling; Multi-Hazard Risk; Performance-Based Engineering; Structural Engineering
Dr Andrea Diambra BSc, MSc(Marche), PhD(Bristol), (Associate Professor in Geotechnics), Advanced soil laboratory testing; computational geotechnics; ground improvements; offshore geotechnics; soil-structure interaction.
Professor Dawei Han BEng, MSc(Huabei), PhD(Salf), CEng, FCIWEM, (Professor of Hydroinformatics), big data; Flood risk management; hydrology; natural hazards; remote sensing; water resources.
Dr Liz Holcombe MSci, PhD(Bristol), (Senior Lecturer), Slope stability.
Professor Guy Howard PhD, BSc, (Professor, Global Research Chair Environmental and Infrastructure Resilience), Building resilience of communities and the services they rely on to short-term shocks and long-term environmental risks; Policy responses to environmental changes; Water, sanitation, hygiene and health
Professor Nicholas Howden MEng(Dunelm), DIC PhD(Lond), FGS, FRGS, (Professor of Water & Environmental Engineering), Hydrogeology; hydrology.
Professor Erdin Ibraim PhD (INSA/ENTPE Lyon), (Professor of Experimental Geomechanics), Advanced soil laboratory testing; granular materials; soil mechanics; soil reinforcement; soil-structure interaction.
Dr Dimitris Karamitros MSc(Greece), PhD(Greece), (Senior Lecturer in Geotechnical Engineering), Advanced numerical methods; constitutive modelling; geotechnical and earthquake engineering; liquefaction; non-linear soil-structure interaction; pipelines
Prof. John Macdonald MA(Cantab), PhD(Bristol), (Professor in Structural Dynamics), Bridges; human-structure interaction; structural dynamics; wind engineering.
Dr John May BSc Engineering Mathematics, PhD, (Reader in Safety Systems), Organisational safety; reliability of digital systems; safety systems.
Professor George Mylonakis DIPL(Greece), PhD(New York), (Chair in Geotechnics and Soil-Structure interaction), Analytical and computational geomechanics; earthquake engineering; static and dynamic soil-structure interaction.
Professor James Norman MEng(Nots) PhD(Bristol) CENG MICE FHEA, (Professor of Sustainable Design), Structural Engineering and Sustainable Construction.
Dr Francesca Pianosi BSc, MSc (Milan), PhD (Milan), (Senior Lecturer in Water and Environmental Engineering), Modelling and optimisation; uncertainty and sensitivity analysis; water resources management.
Dr Maria Pregnolato BSc, MSc (Pavia), PhD (Newcastle), (Lecturer), Bridge engineering; Flood risk assessment; Infrastructure resilience; Network analysis; Urban adaptation
Dr Miguel Rico-Ramirez BEng (Mexico), MEng (Mexico), PhD(Bristol), (Associate Professor of Radar Hydrology and Hydroinformatics), Flood risk management; hydroinformatics; radar hydrology; remote sensing; water resources.
Dr Rafael Rosolem BSc(SPaulo), MSc(SPaulo), PhD(Arizona), (Senior Lecturer in Hydrometeorology), land surface modelling and field observations; Soil-vegetation-atmosphere processes
Dr A S M Mostaquimur Rahman BSc, MSc, PhD(Bonn), (Lecturer in Water and Environmental Engineering), Climate change impacts on freshwater; groundwater hydrology; surface water-groundwater interactions
Professor Anastasios Sextos MSc-DIC, PhD CEng MASCE, (Professor in Earthquake Engineering), bridge engineering; Earthquake engineering; risk assessment.; structural dynamics
Dr Eleni Toumpanaki MEng, MSc, PhD, (Lecturer in Civil Engineering), Concrete and composites (CFRPs and GFRPs); Structural materials; Timber
Professor Theo Tryfonas BSc(Crete), MSc(Athens), PhD(Athens), MBCS CITP, CISA, (Professor of Infrastructure Systems and Urban Innovation), Digital forensics; security penetration testing; systems engineering.
Dr Paul Vardanega BE(Hons), MEngSc (QldUT), PhD (Cantab), MIEAust, MASCE, (Associate Professor in Civil Engineering), Geotechnical engineering.
Dr Ross Woods BSc(Cant), MComm(Cant), PhD(WAust), (Reader in Water & Environmental Engineering), Catchment hydrology.
Find out more about becoming a student at Bristol, applying for a visa and the support we offer to international students.
The Bristol Doctoral College facilitates and supports doctoral training and researcher development across the University.
REF 2021 results
The University of Bristol is ranked fifth for research in the UK (Times Higher Education), with 94% of our research assessed as world-leading or internationally excellent.
Full REF 2021 results for the University of Bristol.