Quantum Engineering
Find a programme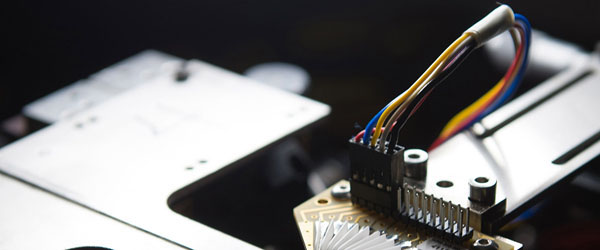 | | |
| --- | --- |
| Run by | Faculty of Science |
| Awards available | PhD |
| Programme length | Four years full-time |
| Location of programme | Clifton campus |
| Part-time study available | No, full-time only |
| Start date | September 2022 |
Programme overview
Bristol's Quantum Engineering Centre for Doctoral Training offers a unique training and development experience for those wishing to pursue a career in the quantum technologies industry. It supports the understanding of sound fundamental scientific principles and much more.
You will be given the opportunity to put your knowledge of science and engineering into practice from the outset. From the first year of study, you will work in a state-of-the-art laboratory environment and asked to undertake both individual and group research projects.
This cohort approach to learning - through peer-to-peer teaching, group lab projects and research challenges - creates an environment that is both stimulating and empowering. It supports the development of leadership skills and the creation of personal support networks, and offers a first-class foundation for developing and completing a PhD project.
The centre's core staff are world-leading scientists and engineers with a proven track record in passing that knowledge and expertise on to others.
This is supplemented by access to a broad technology base, as well as a network of academic and industrial partners across the world with whom students actively collaborate through secondments and attendance at conferences.
Together with training in a variety of complementary skills (eg entrepreneurship, project management), this provides an unrivalled opportunity to learn and understand the foundations of quantum physics and then apply them to real-world situations.
Fees for 2022/23
We charge an annual tuition fee. Fees for 2022/23 are as follows:
UK: full-time

£4,565

Overseas: full-time

£24,600
Bench fees: For postgraduate research students who are not funded by UK Research Councils or (specific) UK charities, it is usual to charge a bench fee. A bench fee covers the costs of laboratory consumables, specialist equipment and other relevant costs (eg training) for the duration of the programme. The bench fee charged can vary considerably depending on the nature of the programme being undertaken. Details of specific bench fee charges can be provided on request and will made clear in the offer letter sent to applicants.
Following the recent changes to fee assessment regulation, Channel Islands and Isle of Man students will no longer be charged a separate tuition fee. From the 2021/22 academic year they will be charged the same fees as Home students.
Fees are subject to an annual review. For programmes that last longer than one year, please budget for up to a five per cent increase in fees each year. Find out more about tuition fees.
Alumni discount
University of Bristol students and graduates can benefit from a 25% reduction in tuition fees for postgraduate study. Check your eligibility for an alumni discount.
Funding for 2022/23
Enhanced EPSRC studentships covering fees and living costs are available to UK/EU students.
Self-funding students are encouraged to apply.
Further information on funding for prospective UK, EU and international postgraduate students.
Entry requirements
An upper second-class degree (or international equivalent) in physics, electrical engineering, computer science, maths, chemistry or in other relevant physical sciences.
See international equivalent qualifications on the International Office website.
English language requirements
If English is not your first language, you need to meet this profile level:
Profile E
Further information about English language requirements and profile levels.
Admissions statement
Read the programme admissions statement for important information on entry requirements, the application process and supporting documents required.
Research groups
See the Quantum Engineering CDT web pages for further information about the centre's areas of research:
Quantum computing and simulation
Quantum communications
Quantum sensing and metrology

Foundations of quantum information
Careers
Underpinned by world-class research and industrial expertise, our four-year doctoral programme offers a stimulating experience for those seeking academic excellence and a route into the growing quantum technologies industry. Our extensive network of academic and industrial partners provides the opportunity to collaborate on cutting-edge science.
You will also be supported to develop a range of complementary skills including entrepreneurial business skills, knowledge of commercialisation, creative thinking, teamwork, communication skills and project management.
Staff profiles
Dr Jorge Barreto, (Lecturer), light emission; nanoparticles; photodetectors; silicon technologies; ultra-fast optics
Dr Krishna Coimbatore Balram, (Lecturer in Photonic Quantum Engineering), Nanoscale Opto-electro-mechanical devices for information processing and sensing
Professor Noah Linden, (Professor of Theoretical Physics)
Professor David May, (Professor of Computer Science), Computer Architecture; Robotics
Dr Dara McCutcheon, (Lecturer in Quantum Engineering)
Dr Ashley Montanaro, (Reader in Quantum Computation), theory of quantum computing
Professor Ruth Oulton, (Professor of Quantum Photonics), Solid state spin physics and polarization-engineered nanophotonics for quantum technologies
Professor John Rarity, (Professor of Optical Communication Systems), optical communications; photons; quantum gate design
Dr Dondu Sahin, (Lecturer in Quantum Engineering), integrated photonic filters; integrated photonics; single-photon detection; superconducting nanowire single photon detectors
Dr Peter Turner, (Senior Lecturer), Group representation theory; Quantum estimation; Quantum information theory; Quantum optics
Find out more about becoming a student at Bristol, applying for a visa and the support we offer to international students.
The Bristol Doctoral College facilitates and supports doctoral training and researcher development across the University.
REF 2021 results
The University of Bristol is ranked fifth for research in the UK (Times Higher Education), with 94% of our research assessed as world-leading or internationally excellent.
Full REF 2021 results for the University of Bristol.