Dynamic Molecular Cell Biology (Wellcome Trust)
Find a programme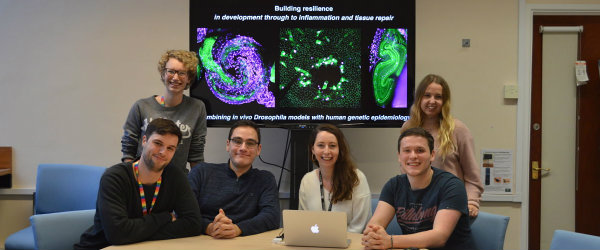 | | |
| --- | --- |
| Run by | Faculty of Life Sciences |
| Awards available | PhD |
| Programme length | Four years full-time |
| Location of programme | Clifton campus |
| Part-time study available | No, full-time only |
| Start date | September 2022 |
Programme overview
This programme brings together the skills and expertise of more than 30 internationally recognised molecular cell biologists who provide training in a broad range of cell biology topics and techniques; from analysing dynamic behaviour of cells in organisms to studies of intracellular behaviour and now progression into single molecules and high-resolution electron microscopy. Training also covers the spectrum from the purest studies of fundamental cell biology through to direct and translational applications to human disease.
We are looking for talented and motivated students who are willing to take up the many varied challenges in cell biology and are open to learning about new disciplines and working across different fields.
Visit the Dynamic Molecular Cell Biology web pages to read profiles of current students and find out more about the programme.
Fees for 2022/23
We charge an annual tuition fee. Fees for 2022/23 are as follows:
UK: full-time

£4,565

Overseas: full-time

£24,600
Bench fees: For postgraduate research students who are not funded by UK Research Councils or (specific) UK charities, it is usual to charge a bench fee. A bench fee covers the costs of laboratory consumables, specialist equipment and other relevant costs (eg training) for the duration of the programme. The bench fee charged can vary considerably depending on the nature of the programme being undertaken. Details of specific bench fee charges can be provided on request and will made clear in the offer letter sent to applicants.
Following the recent changes to fee assessment regulation, Channel Islands and Isle of Man students will no longer be charged a separate tuition fee. From the 2021/22 academic year they will be charged the same fees as Home students.
Fees are subject to an annual review. For programmes that last longer than one year, please budget for up to a five per cent increase in fees each year. Find out more about tuition fees.
Alumni discount
University of Bristol students and graduates can benefit from a 25% reduction in tuition fees for postgraduate study. Check your eligibility for an alumni discount.
Funding for 2022/23
This programme is fully funded by the Wellcome Trust. The trust provides funding to cover PhD programme fees at UK student rate, research expenses, a stipend for living expenses, contribution towards travel and a contribution towards transferable-skills training. International students are welcome to apply.
Further information on funding for prospective UK, EU and international postgraduate students.
Programme structure
First year
You will have the opportunity to study a range of research topics with different supervisors and undertake three ten-week lab-based research projects.
Your first rotation will be in a cellular lab, where you will gain experience in cell culture and standard wide-field/confocal cell imaging alongside super-resolution imaging.
Your second rotation will be in a disease/model organism lab to extend your skills into in vivo applied context and in techniques such as multiphoton imaging.
Finally, your third rotation will be in a molecular lab enabling you to become familiar with in vitro biochemical and biophysical methods, including protein production, complex assembly, functional reconstitution, high-resolution electron microscopy and single molecular imaging.
Write-ups, posters and presentations on the three rotation projects are completed by the end of June, providing you with three months in which to select your full PhD laboratory and focus on your proposed research project before the second year starts.
Second to fourth years
You will join a single laboratory for the remaining years of your PhD. On occasions there may be collaborative projects between two participating labs.
After your first year, you will be integrated into the PhD programme of your host school, which will depend on your chosen topic. These school programmes are similar to one another but not identical. In general, they involve submission of an end-of-year progress report to the departmental postgraduate tutor and an afternoon of seminars presented by your year cohort in that school, and subsequently an informal interview/viva with the postgraduate tutor or another senior academic. You will also remain under the wing of the Dynamic Molecular Cell Biology programme itself, which has its own monitoring procedure.
Entry requirements
A first or upper second-class honours degree or master's degree in a biomedical or life science discipline.
See international equivalent qualifications on the International Office website.
English language requirements
If English is not your first language, you need to meet this profile level:
Profile C
Further information about English language requirements and profile levels.
Admissions statement
Read the programme admissions statement for important information on entry requirements, the application process and supporting documents required.
Research groups
Core research areas are:
multiprotein complexes in gene maintenance and expression;
dynamic organisation, regulation and re-modelling of the cytoskeleton;
molecular complexes involved in protein translocation and trafficking;
cell organisation, morphogenesis and tissue function;
cancer, neuroscience, infection and immunity, cardiovascular biology.
Group leaders:
Cellular

Professor Peter Cullen
Dr Jon Hanley
Professor Jeremy Henley
Dr Jon Lane
Dr Binyam Mogessie
Professor David Stephens
Dr Bernadette Carroll
Professor Jan Frayne

Molecular

Professor Ian Collinson
Professor Christiane Berger-Schaffitzel
Professor Rafael Carazo Salas
Professor Mark Dillingham
Dr Mark Dodding
Professor Nigel Savery
Professor Mark Szczelkun
Dr Alan Cheung

Disease/model organism

Professor Paul Martin
Dr Borko Amulic
Dr Chrissy Hammond
Dr Eugenia Piddini
Professor Alastair Poole
Professor Anne Ridley
Dr Beck Richardson
Dr Ash Toye
Dr Helen Weavers
Professor Ann Williams
Professor Christoph Wuelfing
Dr Yohei Yamauchi
Careers
The vast majority of graduates go on to perform post-doctoral research in world-leading laboratories in the UK, Europe and the US. Some students have taken graduate-level entry to study medicine or entered teacher training programmes.
Staff profiles
Cellular
Dr Bernadette Carroll PhD, (Wellcome Trust Research Fellow)
Professor Peter Cullen BSc, PhD (E.Anglia), (Professor of Biochemistry / Royal Society Wolfson Research Merit Award Holder), Endosomal sorting and signaling
Dr Jon Hanley BA (Cantab.), PhD (U.C.Lond.), (Reader in Molecular Neuroscience), The molecular mechanisms of synaptic plasticity
Dr Jon Lane BSc (Soton.), PhD (Exon.), (Reader in Cell Biology), Molecular regulation of autophagy
Professor Harry Mellor BSc (Edin.), PhD (Bristol), (Professor of Biochemistry)
Dr Binyam Mogessie PhD, BSc, (Sir Henry Dale Research Fellow)
Professor David Stephens BSc, PhD (Lond.), (Professor of Cell Biology), Membrane and cytoskeleton dynamics in health and disease.
Disease/Model organism
Dr Borko Amulic, (Lecturer in Immunology), Neutrophil NETosis
Professor Jan Frayne B.Sc.(Nott.), Ph.D.(Bristol), (Professor in Molecular Cell Biology)
Dr Chrissy Hammond MBiochem (Oxon.), PhD (Lond.), (Senior Research Fellow), Modelling osteoarthritis in zebrafish: looking at cell ' decision making' in the joint
Professor Paul Martin BSc (Sus.), PhD (Lond.), (Professor of Cell Biology), Inflammation in repair and cancer
Dr Parthive Patel, (Sir Henry Dale Research Fellow)
Dr Eugenia Piddini PhD, BSc, MSc, (Professorial Research Fellow in Cell Biology)
Professor Alastair Poole Vet.M.B., MA, PhD (Cantab.), M.R.C.V.S., (Professor of Pharmacology and Cell Biology), Platelet Cell Biology
Dr Beck Richardson BSc (UMIST), MPhil (Manch.), PhD (Manch.), (BHF Intermediate Research Fellow), The role of inflammatory cell signalling in tissue repair
Professor Anne Ridley BA Hons (Cantab.), PhD (London), (Professor / Head of School)
Dr Ash Toye BSc, PhD (Bristol), (Reader in Cell Biology), Red blood cell development in health and disease.
Dr Helen Weavers PhD (Cantab.), (Research Fellow), Cell resilience in repair and development
Professor Ann Williams BSc, PhD (Bristol), (Professor of Experimental Oncology), Colorectal tumour cell survival mechanisms and chemoprevention
Professor Christoph Wuelfing Dip (Munich), PhD (Munich), (Professor of Immunology), The spatiotemporal organization of lymphocyte signalling as a regulator of function
Dr Yohei Yamauchi, (Reader in Viral Cell Biology)
Molecular
Professor Imre Berger MSc (Hannover, Germany), PhD (Cambridge, USA and Hannover, Germany), HDR (ETH Zurich, Switzerland), (Professor of Biochemistry)
Professor Christiane Berger-Schaffitzel MSc (Hannover), PhD (Zurich), Habiliation (E.T.H.Zurich), (Professor of Biochemistry), Ribosomal complexes in protein targeting, translocation and quality control
Professor Rafael Carazo Salas PhD (Paris VII), DEA/MSc (Paris VII), CAS/MSc (Cantab.), BSc (Concordia), (Chair in Biomedical Sciences), Integrative cell biology of pluripotency and differentiation
Dr Alan Cheung PhD, MSc, BSc, (Senior Research Fellow, Scholl of Biochemistry)
Professor Ian Collinson BSc (Warw.), PhD (Cantab.), (Professor of Biochemistry), Understanding the mechanism of protein secretion and mitochondrial import
Professor Mark Dillingham BSc (Bristol), PhD (Oxon.), (Professor of Biochemistry), Helicases as modular components of DNA processing machines
Dr Mark Dodding BSc, PhD, (Senior Lecturer in Cell Biology)
Professor Nigel Savery BSc, PhD (Birm.), (Professor of Biochemistry)
Professor Mark Szczelkun BSc (Liv.), PhD (Soton), (Professor of Biochemistry), Molecular mechanisms of genome processing and maintenance
Find out more about becoming a student at Bristol, applying for a visa and the support we offer to international students.
The Bristol Doctoral College facilitates and supports doctoral training and researcher development across the University.
REF 2021 results
The University of Bristol is ranked fifth for research in the UK (Times Higher Education), with 94% of our research assessed as world-leading or internationally excellent.
Full REF 2021 results for the University of Bristol.