Advanced Composites
Find a programme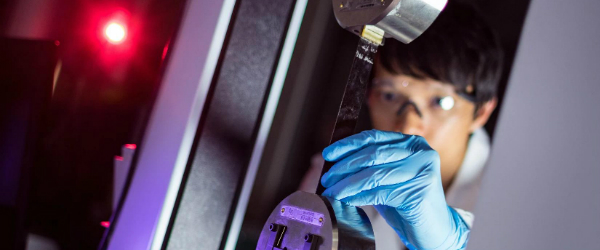 Run by
Faculty of Engineering

Awards available
PhD
Programme length
Four years full-time; part-time option available
Location of programme
Clifton campus
Part-time study available
Yes
Before applying for part-time study please contact the Centre to discuss further.
Start date
September 2022
Programme overview
Composites are replacing traditional materials for lightweight structures at an unprecedented rate due to global demand (eg in the aircraft, wind turbine, construction and automotive industries). Composites additionally offer benefits to functionalise both materials and structures making them integral to any design considerations, including cost, sustainability, fuel efficiency, emissions reduction, and improved operational performance. The growth in the use of composites is expected to be rapid, in the region of 5-10% each year.
The composites sector is contributing significantly to industry developments and advanced composites are critical in enabling lighter, smarter structures and cheaper, more abundant energy. With the imminent and very present effects of climate change, composite materials and structures have an important role to play in contributing to reductions in CO2 emissions and the development of a more sustainable planet.
The UK has invested heavily in the science, engineering, and technology of composite materials, including establishing the National Composites Centre at the University of Bristol. A highly skilled workforce and technical leadership are required to support the industry. This leadership requires a radical and innovative mindset that encompasses engineering as well as the physical sciences.
The development of future composites and their applications will require doctoral students with underpinning knowledge of advanced materials science and engineering, sustainability, and practical experience of the resulting composites and structures. These highly skilled engineers not only need to understand technical subjects but should also be able to apply acquired knowledge within the context of the modern world.
This CDT produces highly skilled and collaborative leaders. Taught modules lay the foundations and stretch your understanding of materials, engineering, manufacturing and computational analysis, including experimental and theoretical elements of composites engineering and science. An integrated transferable skills training programme is also included, covering communication, career development and translational research skills. Collaborating with industrial partners (eg Rolls-Royce, Vestas) and world-leading international expertise (eg University of Limerick), produces an exciting integrated programme enabling you to become a leader in this field.
Fees for 2022/23
Enhanced EPSRC studentships covering fees and living costs are available to UK, EU and international students.
Further information on funding for prospective UK, EU and international postgraduate students.
For those without funding, we charge an annual tuition fee. Fees for 2022/23 are as follows:
UK: full-time

£4,565

Overseas: full-time

£24,600
Following the recent changes to fee assessment regulation, Channel Islands and Isle of Man students will no longer be charged a separate tuition fee. From the 2021/22 academic year they will be charged the same fees as Home students.
Fees are subject to an annual review. For programmes that last longer than one year, please budget for up to a five per cent increase in fees each year. Find out more about tuition fees.
Alumni discount
University of Bristol students and graduates can benefit from a 25% reduction in tuition fees for postgraduate study. Check your eligibility for an alumni discount.
Funding for 2022/23
Further information on funding for prospective UK, EU and international postgraduate students.
Programme structure
The structure of the four-year PhD programme is shown below; please also view the CDT website for more information. Throughout the degree you will have access to world-leading experts and industrial engagement, providing you with the opportunity to learn about real-world challenges and how they are tackled by industry.
Year One – Taught/Research Component
Years Two to Four – Research Component
PhD research project – we offer a wide choice of cutting-edge PhD projects, practically spanning bench to component; from nanomaterials to wind turbine blade design.
International placement opportunities with over 12 leading universities.
Transferable skills training and public engagement activities.
Entry requirements
An upper second-class degree in a relevant subject (or equivalent qualification).
See international equivalent qualifications on the International Office website.
English language requirements
If English is not your first language, you need to meet this profile level:
Profile E
Further information about English language requirements and profile levels.
Admissions statement
Read the programme admissions statement for important information on entry requirements, the application process and supporting documents required.
Research groups
All CDT students are based in the Bristol Composites Institute (ACCIS) research group, which is within the Faculty of Engineering and has links to the Faculties of Science and Health Sciences. Its vision is to be a world-leading institute for composites research, combining cutting-edge fundamental science with strong industrial links for exploitation and technology transfer. It is a focus for collaboration - internally, nationally and internationally - and led to the establishment of the UK's National Composites Centre, which is now a recognised focus of national capability in composites.
Careers
Recent graduates from the programme have gone on to careers in industry (eg the aerospace, automotive, civil engineering, engineering consultancy, and wind energy sectors) and academia (eg to take up academic and research positions in UK and international universities, such as MIT).
Staff profiles
Please view the Bristol Composites Institute (ACCIS) research pages for full information about our research outputs
Dr Giuliano Allegri MSc, PhD, (Reader), Fracture & fatigue, delamination suppression, uncertainty quantification.
Professor Janice Barton Sc, PhD, CEng, CPhys, (Professor), Full-field imaging techniques for strain measurement, assessment and performance of lightweight and composite structures, assessment of joints, development of imaging approaches for structural integrity assessment, large composite structures, defect identification, classification and analysis.
Professor Ian Bond BSc, PhD(Bath), (Professor, Dean of the Faculty of Engineering), Development of novel and multifunctional composite materials.
Professor Stephen Eichhorn BSc(Leeds), MSc(Manchester), PhD(Manchester), (CDT Director, Professor), Natural fibres, nanocellulose, nanocomposite materials, stress and strain sensing using spectroscopy, sustainable materials, multifunctional materials (eg energy storage, structural colour).
Dr Ian Farrow BSc(Soton), PhD(CranIT), (Senior Lecturer), Design of composite structures.
Professor Stephen Hallett BSc(Cape Town), DPhil(Oxon), (Professor), Mechanics of composite materials and structures, numerical and experimental aspects of manufacture and failure.
Professor Ian Hamerton BSc(Sur), PhD(Sur), (CDT Co-Director for Research, Professor), High performance polymers and sustainable composites, smart materials and structures, multifunctional nano composites, polymer stabilisation and degradation, molecular modelling, flame retardant materials, extreme environments, space..
Dr Paul Harper MEng, PhD, MSc, (Lecturer), Design and analysis of composite structures renewable energy systems.
Dr Dmitry Ivanov BSc(Perm), PhD(Leuven), (Senior Lecturer), Innovative approaches to composites manufacture and modelling.
Dr Luiz Kawashita BEng, PhD(Lond), (Lecturer), Composite failure mechanisms and numerical modelling.
Dr BC(Eric) Kim BEng, MSc, PhD(KAIST), (Lecturer), Composite product design, automated fibre placement, axiomatic design, computer-aided design, experimental mechanics.
Dr James Kratz BEng(Carleton), MEng(McGill), PhD(McGill), (Lecturer), Thermochemical properties of epoxies, in-process measurement of composites, sustainable manufacturing.
Dr Terence Macquart MSc, PhD, (Lecturer), Design and Optimisation of Composite Structures, Aeroelastic Tailoring of Wind Turbine Blades and numerical modelling.
Dr Alberto Pirrera MSc(Palermo), PhD, (CDT Co-Director for the Taught Programme, Senior Lecturer), Structural analysis, design and optimisation, shell structures, wind turbine blades, morphing, buckling and post-buckling.
Dr Jemma Rowlandson MChem(Soton), MRes(Bath), PhD(Bristol), (Lecturer), Functional porous materials and bio-based structures, experimental design for process optimisation, sustainable applications.
Professor Fabrizio Scarpa Laurea, PhD(Torino), (Professor), Auxetic materials, smart materials and structures, morphing structures, multidomain design of components, damping technologies, nanostructures.
Dr Mark Schenk MSc(Delft), PhD(Cantab), (Lecturer), Structural analysis, deployable structures, morphing structures.
Professor Ole Thomsen MSc, PhD, (Professor), Analysis/modelling, design, experimental characterisation and validation, and manufacturing of lightweight composite materials and structures.
Professor Valeska Ting BSciTech (Victoria University of Wellington), PhD (Australian National University), (Reader and Research Director for the School of Civil, Aerospace and Mechanical Engineering), Smart, functional nanomaterial composites, porous composite materials.
Dr Eleni Toumpanaki MEng, MSc, PhD, (Lecturer), Concrete and composites (CFRPs and GFRPs), structural materials, timber.
Professor Richard Trask BEng, MSc, PhD(Soton), (Professor), Biologically inspired multifunctional composite materials: 3D additive manufacture, novel fibre architecture, self-healing networks, adaptive colour and shape change
Dr Carwyn Ward BEng(Hons), MRes(Swan), PhD(Bristol), (Lecturer), Composites manufacture, automation for composites, factory processes/operations, process optimisation, costs, recycling, assembly & repair.
Professor Paul Weaver BSc, PhD(N'cle), (CDT Co-Director, Professor), Composite plates and shells, buckling, cellular structures and morphing composites, stiffness tailoring.
Professor Michael Wisnom BSc(Lond), PhD(Bristol), FIMechE, FREng, (Director of the Bristol Composites Institute (ACCIS), Professor), High performance ductile composites, failure mechanisms, predicting the behaviour of composite structures and materials.
Dr Ben Woods BS(Maryland), MS(Maryland), PhD(Maryland), (Lecturer), Compliant morphing aerostructures, composite truss structures, novel composite manufacturing methods, adaptive structures, actuators, human powered flight, design optimisation.
Find out more about becoming a student at Bristol, applying for a visa and the support we offer to international students.
The Bristol Doctoral College facilitates and supports doctoral training and researcher development across the University.
REF 2021 results
The University of Bristol is ranked fifth for research in the UK (Times Higher Education), with 94% of our research assessed as world-leading or internationally excellent.
Full REF 2021 results for the University of Bristol.