Future Innovation in Non-Destructive Evaluation
Find a programme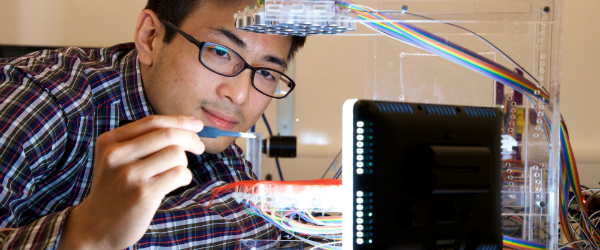 | | |
| --- | --- |
| Run by | Faculty of Engineering |
| Awards available | EngD, PhD |
| Programme length | Four years full-time, part time options are also considered |
| Location of programme | Clifton campus |
| Part-time study available | Yes |
| Start date | September 2022 |
Programme overview
The EPSRC Centre for Doctoral Training in Future Innovation in Non-Destructive Evaluation (FIND-CDT) has been created to provide EngD and PhD programmes in the vital field of non-destructive evaluation: an underpinning technology that encompasses a wide range of sensing, imaging and analysis techniques.
FIND-CDT connects universities with industry. The result is research that makes a difference – EDF, Airbus and E.ON are just a few of the companies our students have worked with to create real impact.
The University of Bristol leads, alongside centre partners Imperial College London and the Universities of Manchester, Nottingham, Strathclyde and Warwick. The CDT has been co-created by a consortium of 49 companies, including Airbus, Rolls-Royce, EDF, BAE Systems and Shell.
The CDT has close links to the UK's internationally leading Research Centre for Non Destructive Evaluation with a vibrant network of more than 250 researchers across a range of disciplines based in electrical engineering, mechanical engineering, physics, mathematics and imaging sciences departments in the participating universities.
With these partners, we have developed bespoke cohort-based doctoral training to equip our CDT graduates with the breadth and depth of knowledge that UK industry requires across this multidisciplinary subject. EngD and PhD students will be trained by leading academic and industrial experts through taught modules on the core technical disciplines, as well as in innovation and entrepreneurship and an industrially linked doctoral research project.
This responds to rapidly changing needs of UK industry and a society that demands low costs with high levels of safety and reliability. This need is driven by many factors such as new materials, advanced manufacturing technologies, digitalisation, the Internet of Things, robotic systems, the civil nuclear renaissance and the pressing requirement to extend the life of our ageing national infrastructure.
The combination of breadth and depth of training equips our graduates with the broad interdisciplinary technical skills to deliver innovative solutions across key industrial sectors and the transferable skills needed to become future innovators and industry leaders.
The Bristol group is recognised as a world leader within NDE, having produced several important research outcomes that are now exploited by industry, both in the UK and around the world.
Fees for 2022/23
We charge an annual tuition fee. Fees for 2022/23 are as follows:
UK: full-time

£4,565

Overseas: full-time

£24,600
Following the recent changes to fee assessment regulation, Channel Islands and Isle of Man students will no longer be charged a separate tuition fee. From the 2021/22 academic year they will be charged the same fees as Home students.
Fees are subject to an annual review. For programmes that last longer than one year, please budget for up to a five per cent increase in fees each year. Find out more about tuition fees.
Alumni discount
University of Bristol students and graduates can benefit from a 25% reduction in tuition fees for postgraduate study. Check your eligibility for an alumni discount.
Funding for 2022/23
We have fully-funded studentships available for UK applicants to start in September 2022. Studentships include a tax-free stipend of approximately £17,000, fees and an allowance to support research related activities.
Further information on funding for prospective UK, EU and international postgraduate students.
Programme structure
During the first three years of the programme, students will undertake a range of cohort-based taught units, allowing time to build knowledge and ignite curiosity. This will include advanced technical courses and training on innovation and entrepreneurship. Alongside this, there will be opportunities to get involved in science communication, public engagement and international internships, and to present work at national and international conferences.
Visit our programme catalogue for full details of the structure and unit content for the Future Innovation in Non-Destructive Evaluation CDT programme.
We have a range of projects and industrial sponsors for applicants to choose from and this changes over the year, so please contact us for details. Projects fall into three broad themes:
The Future NDE technologies theme will focus on the physics and engineering of the sensing transducers, imaging and processing methods.
Future infrastructure NDE will be driven by the need to reduce manual inspection through increased use of robotic manipulators and permanently installed systems.
Future manufacturing inspection places speed and automation at its core which must be seamlessly integrated, including into fast-moving production lines.
Entry requirements
Applicants should have or expect to obtain a first class, good 2.1 degree or master's in engineering or physical science. In our experience the best candidates can use their knowledge to solve technical problems, are interested in useful research, are well-organised and are good communicators.
See international equivalent qualifications on the International Office website.
English language requirements
If English is not your first language, you need to meet this profile level:
Profile E
Further information about English language requirements and profile levels.
Admissions statement
Read the programme admissions statement for important information on entry requirements, the application process and supporting documents required.
Research groups
Ultrasonics and Non-destructive Testing
The Ultrasonics and Non-destructive Testing group undertakes research into the fundamentals and applications of ultrasonics. We are particularly active in the following areas: array imaging; materials characterisation (eg nonlinear ultrasonics); NDT of composites; structural health monitoring; ultrasonic particle manipulation (ie acoustic radiation force devices). Our philosophy is to undertake a balance of fundamental engineering science ultrasonics research alongside more applied research. We see this mix of fundamental and applied as incredibly valuable and our aim is to see selected topics through from conception to industrial uptake. This means that most of our projects are collaborative, sometimes with industry and sometimes with other university groups.
Careers
Graduates are found in a variety of careers all over the globe, including world-leading research. Many work as consultants or as part of large-scale engineering industries with excellent employability as a result of studying in the centre.
Staff profiles
http://www.bristol.ac.uk/engineering/research/ndt/
Professor Paul D Wilcox M.Eng.(Oxon.), Ph.D.(Lond.), D.I.C., (Professor of Dynamics)
Dr Robert Hughes MPhys, EngD, (Lecturer in Non-Destructive Testing), Electromagnetic Sensing & Control ; Inductive Sensing / Eddy-Current Testing; Magnetic Particle Manipulation; Non-destructive testing & evaluation (NDT& E) of industrial components
Professor Anthony J Croxford M.Eng., Ph.D.(Bristol), (Professor of Ultrasonics and Dynamics), Defect classification and quantification using ultrasound; Dynamics and control of fluidised beds; Guided wave structural health monitoring
Dr Alexander Velichko M.Sc.(Kuban), Ph.D.(Rostov), (Senior Lecturer)
Professor Bruce W Drinkwater B.Eng., Ph.D.(Lond.), A.C.G.I., D.I.C., C.Eng., F.I.Mech.E., F.Inst.NDT, M.Inst.P., (Professor of Ultrasonics), Non-Destructive Testing (NDT); Ultrasonic arrays; Ultrasonic particle manipulation; Ultrasonics
Apply now
Application deadline
1 August 2022. Early application is advised.
Please contact the FIND CDT before making an application online. For more details and how to apply see https://www.find-cdt.ac.uk or contact find-cdt@bristol.ac.uk.
Find out more about becoming a student at Bristol, applying for a visa and the support we offer to international students.
The Bristol Doctoral College facilitates and supports doctoral training and researcher development across the University.
REF 2021 results
The University of Bristol is ranked fifth for research in the UK (Times Higher Education), with 94% of our research assessed as world-leading or internationally excellent.
Full REF 2021 results for the University of Bristol.