Veterinary Sciences
Find a programme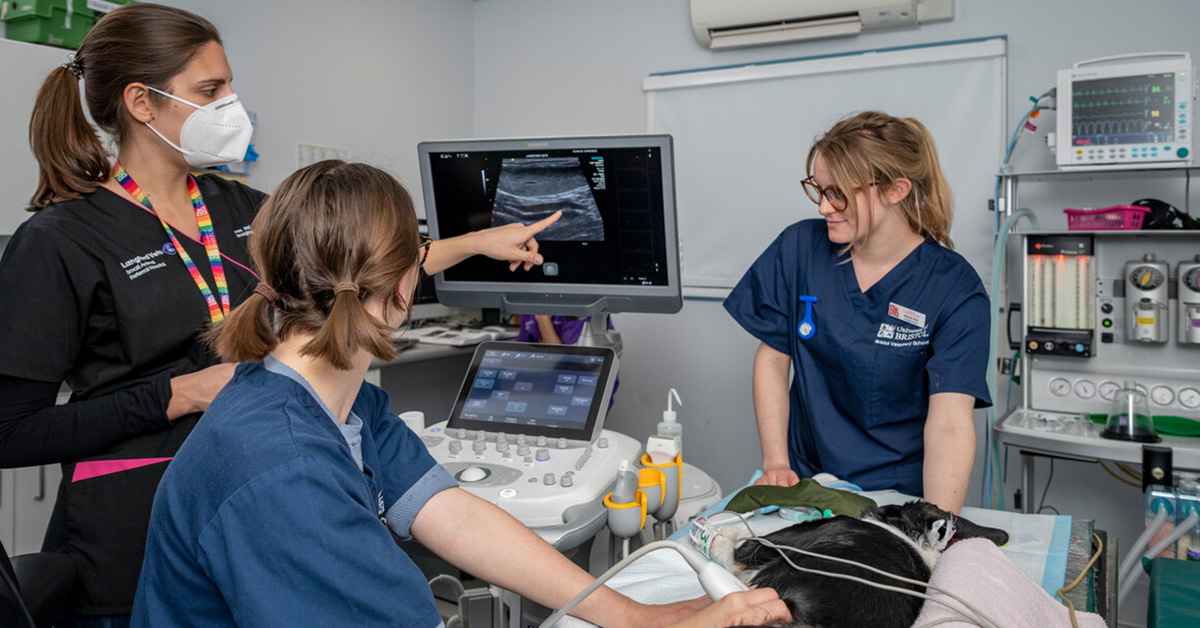 Awards available
PhD, MSc by research
Programme length
PhD: three to four years full-time; up to seven years part-time
MScR: one year full-time; part-time available
Location of programme
Langford campus
Part-time study available
Yes
Part-time study requires regular supervisory meetings at times convenient to both supervisor and student. We would usually anticipate that such meetings would take place during normal weekday working hours.
Start date
Not fixed, but in order to fully benefit from the induction process we strongly encourage students to start in September 2018.
Programme overview
Postgraduate research in the School of Veterinary Science is largely based at the Langford campus, which houses a large number of research groups along with Langford Veterinary Services and the University farm.
The strength of the school's research programme is greatly enhanced by its position within the Faculty of Health Sciences. Our research extends from the fundamental to the applied and we collaborate with other research groups in the faculty and beyond, building on a policy of integration of basic science with veterinary activities.
Our postgraduate students are members of the Faculty of Health Sciences graduate school and benefit from the training opportunities this provides. We welcome enquiries and applications from prospective MSc and PhD students.
Fees for 2018/19
We charge an annual tuition fee. Fees for 2018/19 are as follows:
UK/EU: full-time

£4,235

UK/EU: part-time

£2,118

Overseas: full-time (Non-clinical)

£20,700

Overseas: full-time (Clinical)

£32,200

Channel Islands/Isle of Man: full-time

£9,235
Bench fees: For postgraduate research students who are not funded by UK Research Councils or (specific) UK charities, it is usual to charge a bench fee. A bench fee covers the costs of laboratory consumables, specialist equipment and other relevant costs (e.g. training) for the duration of the programme. The bench fee charged can vary considerably depending on the nature of the programme being undertaken. Details of specific bench fee charges can be provided on request and will made clear in the offer letter sent to applicants.
Fees are subject to an annual review. For programmes that last longer than one year, please budget for up to a five per cent increase in fees each year. Find out more about tuition fees.
Alumni scholarship
University of Bristol students and graduates can benefit from a ten per cent reduction in tuition fees for postgraduate study. Check your eligibility for an alumni scholarship.
Funding for 2018/19
Further information on funding for prospective UK, EU and international postgraduate students.
Entry requirements
An upper second-class degree (or equivalent qualification) in a relevant subject.
See international equivalent qualifications on the International Office website.
English language requirements
If English is not your first language, you need to meet this profile level:
Profile C
Further information about English language requirements and profile levels.
Admissions statement
Read the programme admissions statement for important information on entry requirements, the application process and supporting documents required.
Research groups
Research activities in the school are focused on three research themes and encompass both clinical excellence and strong basic science:
Animal Behaviour and Welfare
Infection and Immunity (including inflammation)
Comparative and Clinical Research
Within each of these themes we incorporate quantitative approaches through our Biostatistics, Epidemiology, Mathematics and Ecology group. Research that goes across these three themes is a major strength of the school and is also reflected by our participation in University initiatives:
Food Research and Land Research Alliance
Bristol One Health
South West Doctoral Programme
Careers
We recruit both veterinary and basic science students to our postgraduate programme and this may have an impact on subsequent careers. Many of our graduates go on to pursue academic roles in universities, performing a range of research, teaching and clinical roles. Other graduates have been recruited by research institutes (eg BBSRC), government bodies (eg Defra) or industry (pharmaceutical, animal feed, etc) where they perform research and advisory roles. A number of veterinary graduates now perform specialist clinical activities in veterinary practices.
Staff profiles
Professor David Main, (Professor), Animal welfare.
Professor Toby Knowles, (Professor), Animal welfare.
Professor Mick Bailey, (Professor), Comparative and mucosal immunology.
Professor Sarah Baillie, (Chair in Veterinary Education), Veterinary education.
Professor Alistair Barr, (Professor), Food; immunity; infection.
Professor David Barrett, (Professor), Bovine medicine, production and reproduction.
Dr Emily Blackwell, (Dogs Trust Lecturer in Canine Behaviour and Welfare), Companion animal behaviour.
Dr Andrew Butterworth, (Senior Lecturer), Animal welfare.
Dr Guillaume Chanoit, (Senior Lecturer in Small Animal Surgery), Cardiovascular surgery; Large animal models of cardiovascular and thoracic diseases
Dr Tristan Cogan, (Lecturer in Infectious Diseases), Microbial pathogenesis.
Professor Mark Eisler, (Chair in Global Farm Animal Health), Epidemiology and control of livestock diseases.
Dr Nicholas Granger, (Senior Lecturer), Veterinary neurology.
Dr Rose Grogono-Thomas, (Senior Lecturer in Farm Animal Science), Microbial pathogenesis.
Professor Edward Hall, (Professor), Canine gastroenterology.
Professor Richard Hammond, (Professor), Veterinary Education
Dr Ross Harley, (Senior Lecturer in Veterinary Pathology), Feline chlamydial disease and veterinary pathology.
Dr Suzanne Held, (Senior Lecturer), Animal behaviour; Animal cognition
Dr Chris Helps, (Senior Research Fellow), Molecular biology; molecular diagnostics.
Professor Sorrel Langley-Hobbs, (Chair in Small Animal Orthopaedic Surgery), Small animal orthopaedic surgery.
Dr Michael Lee, (Professor), Sustainable livestock production and food security.
Dr Emma Love, (Senior Clinical Fellow), Veterinary anaesthesia and analgesia. 
Professor Mike Mendl, (Professor of Animal Behaviour and Welfare), Animal Welfare; Cognition; Emotion
Dr Eric Morgan, (Reader), Parasitology and epidemiology.
Dr Jane Murray, (Research Fellow), Feline epidemiology.
Dr Jo Murrell, (Reader), Veterinary anaesthesia.
Dr Kostas Papasouliotis, (Senior Lecturer), Veterinary clinical pathology.
Dr Liz Paul, (Senior Research Fellow), Animal welfare; cognition; emotion; empathy.
Dr Kristen Reyher, (Senior Lecturer in Farm Animal Science), Farm animal science.
Dr Ian Richardson, (Senior Lecturer), Food animal science.
Miss Veronica Roberts, (Senior Clinical Fellow in Equine Medicine), Equine surgery.
Dr Nicola Rooney, (Research Fellow), Animal behaviour; companion animals.
Dr Louisa Slingsby, (Teaching Fellow), Clinical analgesia in cats and dogs.
Dr John Tarlton, (Reader in Regenerative Medicine), Injury, inflammation and repair.
Dr Séverine Tasker, (Reader in Feline Medicine), Small animal infectious diseases and haematology.
Dr Katy Turner, (Senior Lecturer), Infectious disease modelling.
Dr Ed van Klink, (Senior Lecturer), Veterinary public health.
Dr Claire Weeks, (Senior Fellow), Behaviour and welfare of poultry and other farm animals.
Dr Becky Whay, (Reader in Animal Welfare and Behaviour), Animal welfare Assessment; Dairy cow welfare, lameness and pain experience; Working equine welfare
Dr Doug Wilson, (Senior Lecturer), Equine immunology.
Professor Linda Wooldridge, (Chair in Translational Immunology), Role of T cells in infection, autoimmunity and cancer.
How to apply
Application deadline:
We welcome applications at any time of year.
Find out more about becoming a student at Bristol, applying for a visa and the support we offer to international students.

REF 2014 results
35% of research is world-leading

(4 star)

53% of research is internationally excellent

(3 star)

11% of research is recognised internationally

(2 star)

0% of research is recognised nationally

(1 star)
---
Results are from the most recent UK-wide assessment of research quality, conducted by HEFCE. More about REF 2014 results.
The Bristol Doctoral College facilitates and supports doctoral training and researcher development across the University.