View all news
Webinar: Good Grief: Co-creating a public engagement festival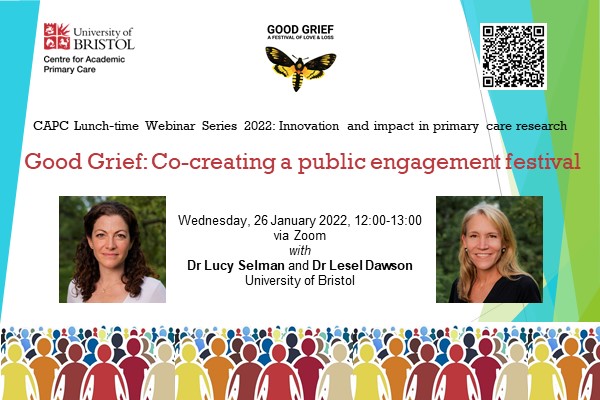 13 December 2021
Wednesday, 26 January 2022, 12:00-13:00, via Zoom
We are delighted to announce the first in a new series of lunch-time research webinars run by the Centre for Academic Primary Care (CAPC) at the University of Bristol.
'Good Grief: Co-creating a public engagement festival' will be led by Dr Lucy Selman, Founding Director of Good Grief Festival, and Dr Lesel Dawson, the festival's Arts and Culture lead.
Good Grief Festival (Twitter: @GoodGriefFest) was launched in October 2020 and aims to provide opportunities for people to learn about, reflect on and share their experiences of grief. Dr Selman and Dr Dawson will describe the development of Good Grief, and reflect on their experiences of creating a festival which has reached an audience of over 20,000. They will share what they have learned by working with non-academic partners and offer insights on how integration of the arts and sciences can help us to reach new audiences.
Register now on Eventbrite.
Download the flyer.
About the contributors
Dr Lucy Selman is Associate Professor of Palliative and End of Life Care at CAPC and a founding member of the Palliative and End of Life Care Research Group, University of Bristol. Dr Lesel Dawson is Associate Professor in Literature and Culture at the Department of English, University of Bristol. The webinar will be chaired by Professor Katrina Turner, co-Lead of CAPC.
About the CAPC Lunch-time Webinar series: Innovation and impact in primary care research
This new webinar series will run throughout 2022 and into 2023. The webinars are free and open to all. They will be of particular interest to healthcare researchers, health professionals and policy makers. Each webinar will focus on our areas of research expertise and provide an opportunity for us to share and discuss important research findings and practices with a wider audience.
The Centre for Academic Primary Care is one of the leading centres for primary care research in the UK and a member of the NIHR School for Primary Care Research. Our goal is to make primary care better for everyone by providing a strong evidence base to improve services, patient outcomes and professional practice.
For more information about who we are and what we do, see www.bristol.ac.uk/capc. Sign up to our research newsletter. Follow us on Twitter: @capcbristol.