View all news
Gap between what is said and what is documented in GP consultations could have medico-legal implications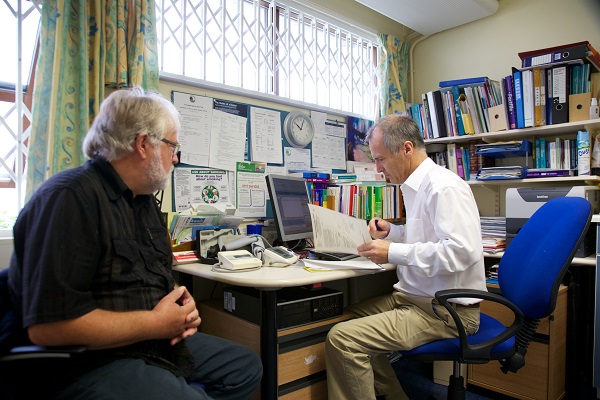 7 September 2021
GPs frequently do not document spoken safety-netting advice – advice given to patients about what to do if symptoms change or worsen – according to researchers from the University of Bristol's Centre for Academic Primary Care. This could lead to higher medico-legal risk in the event of an untoward incident, they warn.
The National Institute for Health Research funded study used the One in a Million archive of GP consultations to compare spoken safety-netting advice with advice documented in patients' medical records.
The researchers found that two-thirds of consultations (192/295) contained spoken safety-netting advice, which applied to less than half of the problems assessed (242/516). However, only one third of consultations had documented advice (94/295), which covered 20% of problems discussed (105/516).
GPs were more likely to document their safety-netting advice for new problems, when a single problem was discussed, and when they gave specific rather than generic safety-netting advice. In consultations where multiple problems were assessed, the frequency of spoken and documented safety netting advice decreased the later into a consultation that a problem was assessed.
There was substantial variation in how often GPs documented their safety-netting advice, which ranged from no documentation to documentation of almost nine out of ten problems.
Dr Peter Edwards, a GP Academic Clinical Fellow at the Centre for Academic Primary Care, said: "Our study highlights a potentially worrying gap between what some GPs say and what they document when giving patients safety-netting advice. This could expose them to increased medico-legal risk if there is subsequently an untoward incident which requires investigation."
"We would urge GPs to consider how safely they can assess, safety-net and document more than one problem in a single consultation. The risk that quality of care may decline if multiple problems are discussed in a consultation, should be shared with patients to help manage expectations.
"There is also an issue here for policy makers to consider. The UK is reported to have shorter consultation times than many economically comparable countries. This means there may not be sufficient time to comprehensively assess, safety-net and document multiple problems in a single consultation. We need to be honest about what we can safely achieve in such a short time period.
"We also need to be clear on what the purpose of medical records are, which are often heavily utilised in medico-legal cases. It is unfeasible to record every single word of a consultation. Many telephone consultations are already routinely recorded, and we invite a discussion about whether audio-recording of face-to-face consultations might offer protection for both patients and GPs.
"Another option for improving documented safety-netting advice is utilising pre-defined templates in mobile phone text messaging systems that are now common practice in general practice. Not only do these messaging services provide a clear audit trail, but they also offer patients access to written safety-netting advice, for which we know there is patient demand, but was rarely observed in our study.
"All options considered must take into account equity of access, and both clinician and public support – for example for routine recording of consultations."
As part of the study, the research team modified a previously developed Excel-based tool for coding safety-netting advice (SaNCoT), which was used to analyse patients' medical records. You can find out more about the tool and how to use it on the Centre for Academic Primary Care website.
Paper: Factors affecting the documentation of spoken safety-netting advice in routine GP consultations by Peter Edwards, Ian Bennett-Britton, Matthew Ridd, Matthew Booker and Rebecca Barnes. Published in British Journal of General Practice.
Watch the video which summarises the research.
Further information
About the Centre for Academic Primary Care, University of Bristol
The Centre for Academic Primary Care (CAPC) at the University of Bristol is a leading centre for primary care research in the UK, one of nine forming the NIHR School for Primary Care Research. It sits within Bristol Medical School, an internationally recognised centre of excellence for population health research and teaching. Follow us on Twitter: @capcbristol.
About the National Institute for Health Research
The mission of the National Institute for Health Research (NIHR) is to improve the health and wealth of the nation through research. We do this by:
Funding high quality, timely research that benefits the NHS, public health and social care;
Investing in world-class expertise, facilities and a skilled delivery workforce to translate discoveries into improved treatments and services;
Partnering with patients, service users, carers and communities, improving the relevance, quality and impact of our research;
Attracting, training and supporting the best researchers to tackle complex health and social care challenges;
Collaborating with other public funders, charities and industry to help shape a cohesive and globally competitive research system;
Funding applied global health research and training to meet the needs of the poorest people in low and middle income countries.
NIHR is funded by the Department of Health and Social Care. Its work in low and middle income countries is principally funded through UK Aid from the UK government.