View all news
Ruby Wax to headline Good Grief Festival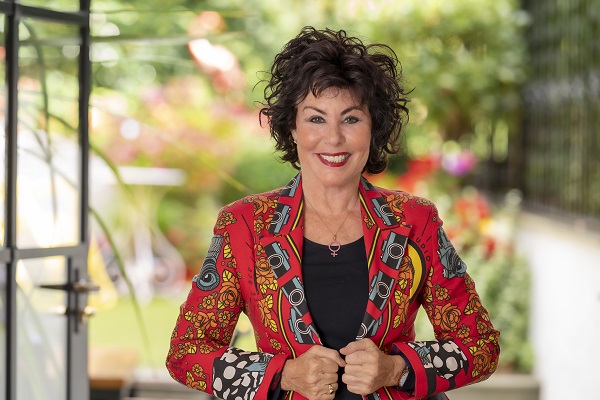 23 September 2021
Good Grief Festival returns this October 30th and 31st with a packed programme of 30 free events. The 'virtual festival of love and loss' explores the universal human experience of grief through panel discussions, conversations and workshops. The festival that started just one year ago has already attracted over 20,000 people to its events.
Over 70 speakers will take part including Ruby Wax; Julia Samuel MBE (This Too Shall Pass, GriefWorks), Robert Macfarlane (The Lost Words, Underland), Sarfraz Manzoor (Blinded by the Light; Newsnight); Kathryn Mannix (With the End in Mind, Listen), Raynor Winn (The Salt Path); Oscar-winning producer Mia Bays; the former Bishop of Edinburgh, Richard Holloway; YouTuber Ryan Arey (ScreenCrush) and actress Isaura Barbé-Brown (Fantastic Beasts: The Crimes of Grindelwald).
Talks during the festival include: Ruby Wax in Conversation with Julia Samuel; The Poetry + Music of Loss with Robert Macfarlane; The Superhero's Guide to Grief; The Secrets + Lies We Leave Behind; The Dead Parent Club; How Nature Holds us in our Darkest Times; Fright Night: Grief in Horror; The Comfort of the Big Beyond: Grief + Spirituality; How to Have Life Changing Conversations.
There will be a series of short Grief Chats, curated by The Grief Gang host Amber Jeffrey, bringing together two people with a shared experience of grief to tell their stories including: people from the refugee and LGBTQ communities; two people with learning disabilities; two people who are caring for loved ones with dementia; and women who have been through miscarriage.
The festival will also feature a wellbeing area with workshops for those who are going through grief, including breathwork, mindfulness, yoga and sound healing. And there will be a number of Death Cafes hosted by Memorial Woodlands throughout the weekend.
It's free to attend all events over the festival weekend. Recordings will also be available to watch on-demand after the festival on The Grief Channel, with closed captioning available. Sign-up to the Grief Channel for just £20 for one year and you will have access to over 150 previous Good Grief events at your fingertips.
Dr Lucy Selman, Founding Director of Good Grief, from the Palliative and End of Life Research Group and Centre for Academic Primary Care at the University of Bristol, said: "We are delighted to announce the line-up for our latest festival. Grief affects us all, yet can be really difficult to talk about. Bereaved people are at particular risk of social isolation and loneliness, and that has worsened during the COVID-19 pandemic*. The Good Grief Festival aims to bring people together to learn about grief and its effects, share experiences and support each other. By bringing grief out into the open we hope we can normalise this universal and yet often devastating experience."
Good Grief is a collaborative event led by the University of Bristol and supported by charity partner Marie Curie. Good Grief online events are all free to attend. To sign up visit goodgrieffest.com.
Further information
About the Centre for Academic Primary Care, University of Bristol
The Centre for Academic Primary Care (CAPC) at the University of Bristol is a leading centre for primary care research in the UK, one of nine forming the NIHR School for Primary Care Research. It sits within Bristol Medical School, an internationally recognised centre of excellence for population health research and teaching. Follow us on Twitter: @capcbristol.