View all news
More research needed to understand the usefulness of mistletoe as a complementary therapy for cancer patients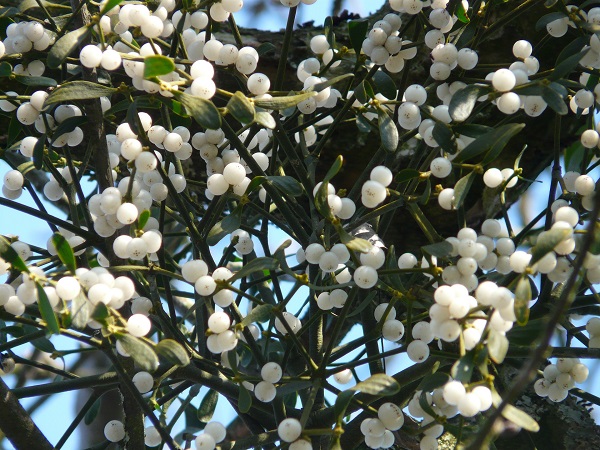 22 December 2021
Researchers at the University of Bristol's Centre for Academic Primary Care have conducted a systematic review of the evidence for the use of herbal mistletoe as a complementary therapy. They found gaps, biases and weaknesses in the research but concluded that further research for its use in cancer patients is warranted.
Mistletoe has been used as a medicine since prehistoric times and modern Western herbal practice continues to use mistletoe. There is some evidence that it stimulates the immune system through an anti-inflammatory mechanism, and it is used as a supportive therapy in cancer patients to alleviate some of the side effects of cancer treatments, such as chemotherapy- and radiotherapy-related fatigue. However, there is not enough relevant, high quality evidence for mistletoe as a supportive therapy to be recommended in clinical cancer care guidance.
The review, which looked at data from 31 trials and 10 systematic reviews between 1996 and 2020, found that the majority of clinical trials focused on the role of mistletoe therapy in cancer care, with almost half focused on breast and gynaecological cancers. The most common mode of application was injection under the skin and a range of different mistletoe products were used.
Mistletoe therapy was found to be safe under health professional supervision but the evidence for its impact on patient quality of life and fatigue was contested. Surprisingly, none of the studies asked patients about their experiences of mistletoe therapy. Most trials were carried out in Europe, mainly in Germany, and most studies were commercially funded.
Dr Alyson Huntley, Senior Research Fellow in Evidence Synthesis at the Centre for Academic Primary Care, University of Bristol and senior author of the study, said: "Cancer patients suffer a wide range of physical side effects from chemotherapy and radiotherapy with a significant impact on their wellbeing. Many use supportive therapies as a form of self-help. Randomised controlled trials have shown that mistletoe therapy is safe for cancer patients to use, if supported by health professionals but more research is needed so that we can be confident of its effects.
"Important next steps are research to decide on the best formula of mistletoe therapy and how it is best given, taking into account patients' viewpoints and preferences. There could also be a greater focus on research into the use of mistletoe therapy in cancers other than breast cancer."
Paper: Profiling mistletoe therapy research and identifying evidence gaps: A systematic review of conditions treated, mode of application and outcomes by Q. Chen, F. Wright, L.J. Duncan and A.L. Huntley. Published in European Journal of Integrative Medicine. December 2021.
Further information
About the Centre for Academic Primary Care, University of Bristol
The Centre for Academic Primary Care (CAPC) at the University of Bristol is a leading centre for primary care research in the UK, one of nine forming the NIHR School for Primary Care Research. It sits within Bristol Medical School, an internationally recognised centre of excellence for population health research and teaching. Follow us on Twitter: @capcbristol.