View all news
Personalising care for people with multiple health needs - invitation to study launch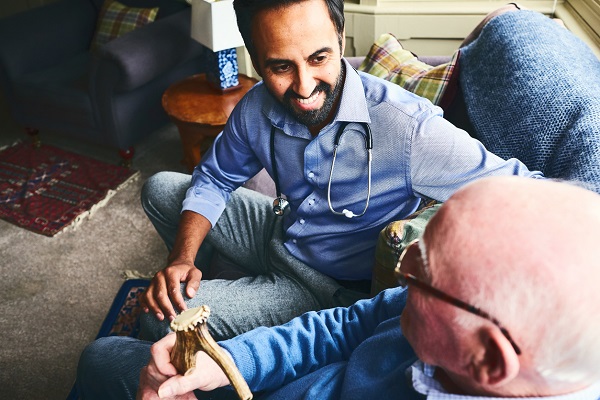 9 September 2021
GP practices working in areas of deprivation in Bristol are warmly invited to a webinar to launch the MaPP Study (MaxWELL in Pilot Practices) on 12 October 2021 from 18:30 to 19.30.
Updated 6 October 2021
About the MaxWELL intervention
The MaxWELL intervention (Maximising Wellbeing in Everyday Life with Long-term conditions) is personalised care for people with multiple long-term conditions (multimorbidity). It is a new way of organising long-term condition reviews, co-developed with Dr Charlie Kenward, Adowa Webber, Dr Geeta Iyer, Bev Haworth and the primary care development team at Bristol, North Somerset and South Gloucestershre Clinical Commissioning Group.
It is based on the Year of Care approach to Care and Support Planning (CSP), with learning from the 3D Study. The MaxWELL intervention will be piloted in the MaPP study beginning next year. ​
In the MaxWELL intervention, the role of the Health Care Assistant is extended and the whole process is made more efficient, freeing time for the practice nurse/GP. The patient is more involved and care is more proactive and joined up.
Among the new things MaxWELL introduces are:
preparing the patient for their annual review. This includes a health care assistant doing all tests in advance of the appointment with a nurse or GP and a process to share the results with the patient including topic prompts and information
a combined, adaptive template for multi-morbidity that guides the health care team through the process. Only the relevant diseases are displayed for each patient
a clear plan agreed with the patient and focused on their priorities.
The MaxWELL intervention is a service change that the University of Bristol team, with their partners Year of Care, will support and train you to implement and will evaluate. It contributes to meeting several key PCN Objectives 2021/22 and 2022/23.
Improving prevention and tackling health inequalities. Comprehensive, holistic annual reviews for people with multimorbidity, who often experience health inequality, will take place to identify patient priorities, unmet health need, such as previously unidentified cardiovascular disease, and create a plan to address these in the coming year. The team from the University of Bristol, in collaboration with CCG VCSE locality leads, will work with the local community in deprived areas to understand health need related to multimorbidity and will co-produce implementation of the intervention in each practice.
Support better patient outcomes in the community through proactive primary care. The MaxWELL reviews consider the whole health picture and encourage social prescribing to address broader health needs in the care and support plans.
Deliver better outcomes for patients on medication. The MaxWELL reviews incorporate a holistic medication review.
For 2022/23, the most significant contributions will be to Tackling Neighbourhood Health Inequalities, Personalised Care and Anticipatory Care. Practices will be trained to deliver personalised care in a structured way and with enhanced skills in shared decision-making and care and support planning, that (based on previous experience) optimises resource use and time efficiency.
About the webinar
In this webinar, you will have an opportunity to reflect on your challenges in providing care for people with multiple long-term conditions, who are also experiencing health inequalities, and hear about Year of Care Partnership's training and support to deliver personalised care. Their fully accredited training will be available to you and your team free of charge in the MaPP study.
Part 1 will be an introduction to the MaxWELL project from the study team: Chris Salisbury, Professor of Primary Care, Rachel Johnson, Clinical lecturer and GP, Cindy Mann, Research Fellow and MaPP study lead, and Charlie Kenward, Clinical lead for research and improvement BNSSG.
In this part we will:
describe the MaxWELL approach to personalised care for people living with multiple long-term conditions
explain the local evaluation of MaPP and what this will mean for your practice
clarify how this fits with local services and how it is going to be supported.
Part 2 will be a taster of the training that Year of Care will provide for the MaPP project, from the Year of Care Partnerships Team: Lindsay Oliver, National Director of Year of Care Partnerships, Rebecca Haines, Lead GP Year of Care, Glenpark Medical Practice, Gateshead.
This part will:
consider the impact and benefits of Care and Support Planning and the rationale for working differently with people with multiple long-term conditions
create understanding of how Care and Support Planning enhances care and support for people living with multiple long-term conditions
describe the practicalities of implementing Care and Support Planning
provide an opportunity to clarify the commitment required for practice participation.
If representatives of your practice would like to attend, please request an invitation from cindy.mann@bristol.ac.uk
Please also send any queries or requests for further information to Cindy.
Download the flyer and share with colleagues: MaPP study launch invite flyer (PDF, 88kB)
Further information
About the Centre for Academic Primary Care, University of Bristol
The Centre for Academic Primary Care (CAPC) at the University of Bristol is a leading centre for primary care research in the UK, one of nine forming the NIHR School for Primary Care Research. It sits within Bristol Medical School, an internationally recognised centre of excellence for population health research and teaching. Follow us on Twitter: @capcbristol.