View all news
Registration open for South West Society for Academic Primary Care Conference 2020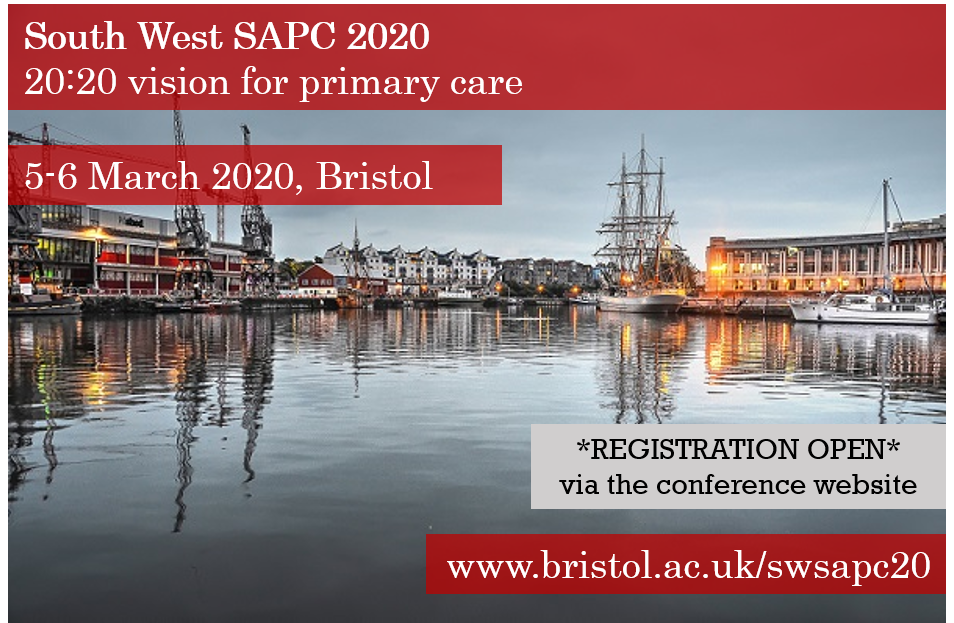 31 October 2019
Registration now open. Abstract deadline: 8 November 2019.
Registration is now open for the South West Society for Academic Primary Care (SAPC) Conference on 5-6 March 2020.
The Centre for Academic Primary Care at the University of Bristol is proud to be hosting this conference and looks forward to welcoming primary care researchers from across the region to Bristol.
The conference will be held at The Bristol hotel next to the city's harbourside. It will bring together clinical and non-clinical academics, researchers and clinicians to share the latest primary care research findings from across the South West and Wales.
The theme of the conference is '20:20 vision for primary care'.
Dr Katrina Turner and Professor John Macleod, joint Heads of the Centre for Academic Primary Care, said: "It is our great pleasure to be hosting this important conference next year. It is a fantastic opportunity to network with colleagues and learn about the wide range of primary health care research projects under way across the region.
"Primary care is on the frontline of NHS services. Notwithstanding the pressures GPs are under, there are momentous changes under way. This conference will give us an opportunity to explore, with fellow clinicians and academics, the implications of this change as we set our sights on the future for primary care research.
"Our focus will be on how primary care research can influence and support this change, both to benefit patients and support the GPs, nurses, pharmacists and other primary care professionals who deliver their care."
Keynote speakers
Keynote speakers for the conference are:
• Professor Sir Sam Everington, MBBS, MRCGP, Barrister, OBE
• Professor David Kessler, MBBS, MRCPsych, MD, MRCGP
• Dr Helen Atherton, Associate Professor of Primary Care Research, University of Warwick
Call for abstracts
The call for abstracts is open and the deadline for submitting abstracts and workshop proposals is 8 November 2019. Submissions can be made through the conference website.
Registration
Because numbers are limited and will be allocated on a first-come, first-served basis, early registration is advised.