View all news
Research on shared decision-making in GP consultations wins South West Society for Academic Primary Care 2019 Conference poster prize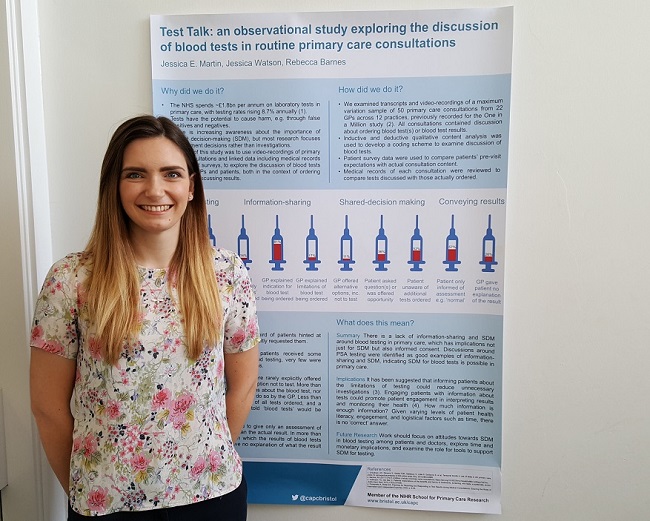 3 April 2019
Researchers from the Centre for Academic Primary Care at the University of Bristol have won the best poster prize at this year's South West Society for Academic Primary Care (SW SAPC) conference in Southampton.
The poster, entitled 'Test talk: an observational study exploring the discussion of blood tests in routine primary care consultations' by Drs Jessica Martin, Jessica Watson and Rebecca Barnes, examined whether and how GPs talk about blood tests with patients in a way that supports shared decision-making.
The team examined transcripts and video recordings of 50 primary care consultations by 22 GPs in 12 GP practices from the 'One in a Million' archive, all of which contained discussions about ordering blood tests or about test results.
Overall, they found a marked lack of information sharing and shared decision making around blood testing in primary care.
Dr Jessica Martin, lead author of the poster, said: "We are delighted to have won this award and that the research has generated such interest so far. Shared decision-making is generally agreed to be a desired goal in general practice but most research has focused on decision-making around treatment rather than tests.
"With the NHS spending £1.8 billion on laboratory tests in primary care, and rates of blood tests rising at a rate of over 8% annually, there is real potential for harm caused by false positive or false negative results. We hope our research raises awareness of the gap in shared decision-making for blood tests and supports GPs to change their consultation practice."
Visit the SW SAPC Conference 2019 website.
Further information
About the Centre for Academic Primary Care
The Centre for Academic Primary Care (CAPC) at the University of Bristol is a leading centre for primary care research in the UK, one of nine forming the NIHR School for Primary Care Research. It sits within Bristol Medical School, an internationally recognised centre of excellence for population health research and teaching. Follow us on Twitter: @capcbristol.
About the Society for Academic Primary Care
The Society for Academic Primary Care provides a clear voice, and a strong presence, for academic primary care in the complex and ever-changing primary care environment. They offer a point of reference and contact for those seeking academic solutions to the problems they face in the provision and study of primary care, and the advancement of academic primary care.