View all news
New Palliative and End of Life Care Research Group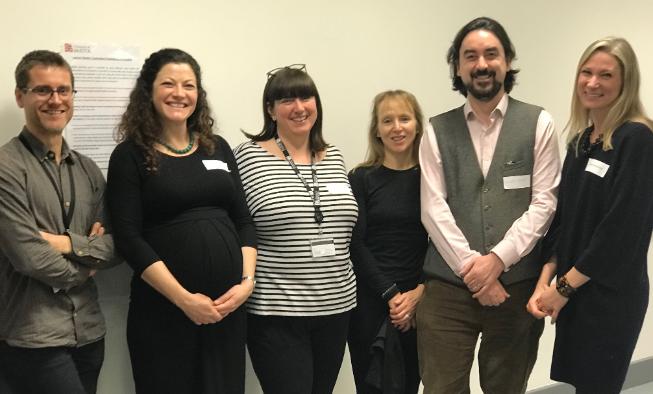 28 March 2019
We are excited to announce that the Palliative and End of Life Care Research Group has been formally recognised by the University of Bristol.
The group, based in Population Health Sciences, will act as a hub for research in palliative and end of life care across the university, with close links to the Centre for Academic Primary Care and the Centre for Ethics in Medicine.
Our new website features news, events, grants and publications.
Group aims
The Palliative and End of Life Care Research Group aims to:
facilitate collaboration and partnering between researchers and clinicians working in palliative/end of life care at the University of Bristol and our GW4 partners, as well as external organisations and members of the public
generate successful collaborative grant applications
increase public engagement, e.g. with debates about futile treatment and care planning
improve the dissemination and impact of University of Bristol research in palliative and end of life care.
Beginnings
The group has grown out of the Palliative and End of Life Care Research Network, which was set up in January 2017 to bring together multi-disciplinary researchers and clinicians from across the South West. The Research Network meets two to three times a year to provide a forum to present and discuss research plans and projects. In 2018, the network held a joint day conference on care planning, decision-making and agency with the Centre for Death & Society at the University of Bath.
We were recently granted funding from the Bioethics, Biolaw and Biosociety Research Strand of the Elizabeth Blackwell Institute (EBI), funded by the Wellcome Trust, University of Bristol, to hold three meetings in 2019. The next will be a public engagement event at Arnos Vale Cemetery on 13 June, with guest speaker Kathryn Mannix. The scheme funded eight additional research activities on the theme of Health, Ageing and Dying Well.
For more information, see our website.
Group leadership
The group is co-led by Dr Lucy Selman, Dr Lucy Pocock and Dr Charlotte Chamberlain.
Dr Selman is a Senior Research Fellow specialising in palliative and end of life care research. She joined the University of Bristol three years ago after ten years at the Cicely Saunders Institute of Palliative Care, Policy and Rehabilitation, King's College London. In 2019 she starts an NIHR Career Development Fellowship entitled Optimising Staff-patient Communication in Advanced Renal disease (OSCAR).
Dr Pocock is a Clinical Academic at the Centre for Academic Primary Care. She qualified as a GP in 2016, after completing an NIHR Academic Clinical Fellowship focused on death in advanced old age. She is currently conducting a School for Primary Care Research GP Career Development Fellowship on the impact of Electronic Palliative Care Coordination Systems (EPaCCS) on end of life care.
Dr Chamberlain is an NIHR Academic Clinical Lecturer in Palliative Medicine. Charlotte qualified as a public health consultant in 2016 after an NIHR-funded PhD evaluating equity of access to non-curative anti-cancer drugs through the Cancer Drugs Fund. Her current research interests include palliative surgery and enhanced supportive care in oncology.
Join us
With funders starting to focus on research into palliative and end of life care, and increasing recognition in the media of the importance of this area, we are anticipating an exciting time ahead for the Palliative and End of Life Care Research Group. Please get in touch if you would like to connect with us and be added to the mailing list for our future events.