View all news
Improving how professionals can identify and support children experiencing domestic violence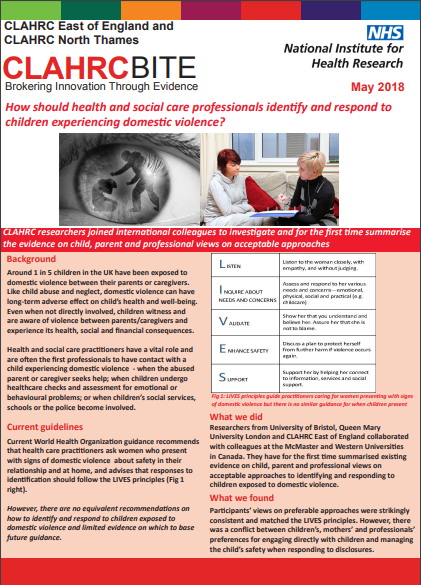 11 May 2018
New research has highlighted a lack of guidance for health and social care professionals who encounter children exposed to domestic violence.
Around one in five children in the UK have been exposed to domestic violence or abuse between their parents or caregivers. Children can be directly impacted – leading to emotional and behavioural problems and risks of physical injury and death when children are caught up in the violence between adults. Even when not directly involved, children's exposure continues through witnessing and being aware of the violence – and through its health, social and financial consequences. Health and social care workers are often the first professionals to have contact with a child experiencing these situations.
In a collaboration with CLAHRC North Thames and CLAHRC East of England and international colleagues from the McMaster and Western Universities in Canada, Dr Natalia Lewis from the Centre for Academic Primary Care at the University of Bristol examined the evidence on child, parent and professional views on acceptable approaches to identifying and responding to children exposed to domestic violence.
The resulting research paper, published in BMJ Open, highlighted conflicting views of children and mothers on the one hand and professionals on the other when it came an ideal response. Children and mothers wanted professionals to talk to children directly and engage them in safety planning. Professionals preferred to engage with children via the parent and they often did not perceive children exposed to domestic violence as patients or clients in their own right.
Guidelines for health professionals who encounter women who have experienced domestic violence provide various questions and prompts they can use in discussions, and a set of principles to follow. There are no equivalent recommendations on how to identify and respond to children exposed to domestic violence and limited evidence on which to base future guidance. Our analysis also revealed that professionals were not happy with the existing safety guidelines for children and mothers exposed to domestic violence and wanted changes.
The research was funded by the Public Health Agency of Canada through funding to the VEGA (Violence, Evidence, Guidance and Action) project. The VEGA Project is part of the Canadian Government's Public Health Response to Family Violence. This research will inform the development of public health guidance, protocols, curricula and tools for health and social service providers. The research was supported by the NIHR CLAHRC North Thames and NIHR CLAHRC East of England.
Resources supporting this new research include a blog in The Conversation by lead researcher Dr Natalia Lewis, and a joint BITE – a summary of the research with key learning for busy professionals interested in this work.
Read the paper
Natalia V. Lewis, Gene S. Feder, Emma Howarth, Eszter Szilassy, Jill R. McTavish, Harriet L. MacMillan, Nadine Wathen.
Identification and initial response to children's exposure to intimate partner violence: a qualitative synthesis of the perspectives of children, mothers and professionals.
BMJ Open 2018. Published in BMJ Open. April 2018. Doi:. http://bmjopen.bmj.com/content/8/4/e019761
Read the BITE sized summary.
Further information
About the Centre for Academic Primary Care
The Centre for Academic Primary Care (CAPC) at the University of Bristol is a leading centre for primary care research in the UK, one of nine forming the NIHR School for Primary Care Research. It sits within Bristol Medical School, an internationally recognised centre of excellence for population health research and teaching. Follow us on Twitter: @capcbristol.