View all news
Complexity approaches and writing for impact: Professor Alex Clark seminars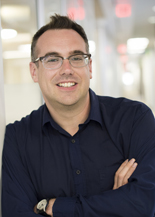 23 November 2017
Free seminar series for health research staff and students: 4 to 15 December 2017
The Centre for Academic Primary Care has secured a Benjamin Meaker Fellowship for Professor Alex Clark (@DrAlexMClark) from the University of Alberta, who will present an open seminar series for those studying or involved in health research.
Professor Clark is internationally known for his research, leadership and mentorship. He is chair of the International Institute for Qualitative Methodology and Corresponding Editor of the International Journal of Qualitative Methods.
He is a dynamic and in-demand public speaker, has provided numerous workshops and keynote addresses throughout North America, South America, Europe and Australia.
His work into heart disease has guided federal healthcare decisions in the United States and been used in guidelines throughout the world. His innovative work drawing on complexity and realist theory has been published in some of the world's most prestigious journals, including the British Medical Journal, Annals of Internal Medicine, Heart, the Lancet, Social Science & Medicine, Sociology of Health & Illness, and Journal of Advanced Nursing.
Via EffectiveAcademic.com he is also a well-known presenter and author on academic productivity, career strategy and workplace effectiveness.
The free seminars will be of particular interest to those interested in intervention development and evaluation, and complexity theory, and to individuals wanting to increase the impact of their publications.
The programme
Public Lecture: complexity and complexity theory in health services research
4 December 3.30-4.30pm
Room LG:08, Canynge Hall, University of Bristol
Seminar: realism and realist theory in health services research
6 December 1-4pm
Room G12, Canynge Hall, University of Bristol
Seminar: Thinking qualitatively: an introduction
11 December 2-3pm
Room G12, Canynge Hall, University of Bristol
Seminar: Present your research better
12 December 2-3pm
Room G12, Canynge Hall, University of Bristol
FULLY BOOKED: Workshop: writing qualitative and mixed method studies for high impact journals
14 December 1-4pm
Room G12, Canynge Hall, University of Bristol