View all news
Hitting the right notes: Bristol a cappella group claims national title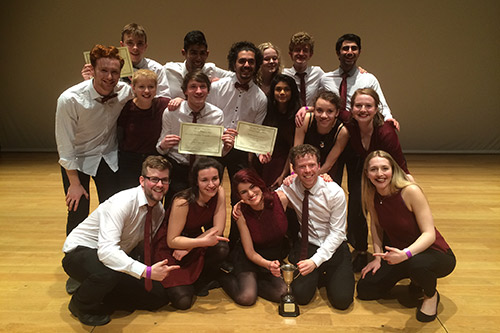 Press release issued: 23 May 2016
An a cappella singing group from the University of Bristol has wowed judges with its tight harmonies and creative choreography to win a national singing competition.
The Bristol Suspensions, whose cover of Uptown Funk filmed in the city went viral last year, beat off stiff competition to be named University A Cappella Champions at the Voice Festival UK.
They battled through three rounds, beating 27 groups, before clinching the title with a catchy mash-up of The Jackson 5's I Want You Back with Iggy Azalia's Trouble in the final.
The achievement was all the more impressive given that the group was only formed 18 months ago.
Joe Pickin, Co-Musical Director of Bristol Suspensions, said: "We worked really hard and are incredibly happy and overwhelmed with the result. It was a really close competition – anyone in the final could have taken it. It was so crazy to hear that we won.
"We entered last year and made it to the semi-finals, but we were still quite a new group then, so to come back and win this year was unbelievable!"
The judges, who are all singing professionals, were looking for first-class vocals, musicality, performance and choreography.
The Bristol Suspensions had 12 minutes to impress on stage in the final, held at Hampton School in London. Songs which featured in their set also included a medley of songs from the band Everything Everything and a mash-up of Madness by Muse and Magic by Coldplay.
Their full performance can be seen on the Voice Festival UK's YouTube channel.
The Bristol Suspensions, made up of 17 students, released their debut album Take It to the Bridge last year and are currently working on their next music video and are preparing to take their show Netflix and Trill to the Edinburgh Fringe Festival this August.
The University of Bristol's Alumni Foundation, which supports students' extra-curricular activities, has helped fund The Bristol Suspensions.