View all news
International students awarded scholarships for 2011-12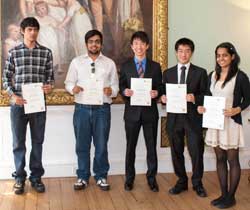 12 April 2012
On 28 March, many of the 30 students who were successful in winning a 2011-12 International Scholarship attended a winners' awards ceremony, hosted by the International Office at Royal Fort House. The winners were congratulated by the Director of Communications and Marketing, David Alder, who awarded the certificates.
Each year, the International Office rewards the highest achieving international students with scholarships that contribute towards the cost of their tuition fees. For 2011 entry, 11 undergraduates and 19 postgraduates from across all faculties were awarded scholarships. Winners this year are from Canada, Hong Kong, India, Japan, Jordan, Malaysia, Mauritius, Nigeria, Russia, Singapore, South Korea, Sri Lanka, Thailand, Turkey, USA and Vietnam.
The students pictured at the awards ceremony are as follows:
Undergraduate students, from left to right: Joseph Gillette (Mauritius); Atish Mathur (India); Jonathan Pang (Singapore); Michael Yan Yitt Ung (Hong Kong); Shanali Pethiyagoda (Sri Lanka).
Postgraduate students, from left to right: Phuong Mai Pham (Vietnam); Artem Goncharov (Russia); Himali Mishra (India); Preethi Ravikumar (India); Ntese Olivia Anwana (Nigeria); Neha Tomar (India); Elizabeth Martin (Canada); Polat Ari (Turkey); Pranshu Saxena (India); Parveena Khanijou (Thailand); Gowri Shanker Sivabala (India); Cyril Jacob (India); Nam Anh Nguyen (Vietnam); Santhosh Venkataramanappa (India).
Scholarship winners not in attendance were Aankhi Mukherjee (India); Abhay Dhar (India); Akash Bajoria (India); Ayah Snober (Jordan); Ayaka Shibasaki (Japan); Caitlin Stroud (USA); Kent Kian Xsim Khor (Malaysia); Mi-Jin Yoon (Korea); Nikolaos Koundouros (Canada); Virginia Atkins (USA).
More photographs of the event and profiles written by the scholarship winners will soon be available on the International Office website.