View all news
New book published on Catherine of Siena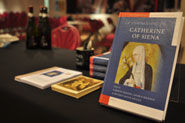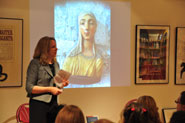 21 March 2012
Dr Carolyn Muessig and George Ferzoco of the Department of Theology and Religious Studies have recently published A Companion to Catherine of Siena, the most comprehensive scholarly English-language resource available about this fourteenth century theologian and saint.
Edited by Dr Muessig and Mr Ferzoco with Professor Beverly Kienzle of Harvard University, the book offers a substantial introduction to the world of Catherine of Siena (1347-80), her works and the way her followers responded to her religious leadership and legacy.
Dr Muessig said: "Catherine of Siena died in 1380 at the age of 33, but she affected not only her city and her people, but also all of Christendom. She almost single-handedly changed the course of the papacy, and her theological writings are of such authority that she was made a Doctor of the Church in 1970."
Although much scholarship has dealt with Catherine's visionary reputation, this volume highlights her image as a church reformer, peacemaker, preacher, author, holy woman, stigmatic, saint and politically astute person.
It also assesses the manuscript tradition of works by and about Catherine of Siena. Few overviews of the historical and cultural circumstances of Catherine exist in English. This book, therefore, makes accessible hitherto elusive details of this Sienese saint's life and works.
The book was launched at an event at Foyles bookshop in Bristol. Around 50 people heard short addresses by Dr Muessig and Mr Ferzoco, as well as by Emily Rhodes and Eliana Corbari. An authentic renaissance hymn in praise of Catherine was performed by Rosie Buggins.
A Companion to Catherine of Siena is published by Brill. There is a 40 per cent discount (code 50169) until 31 March, if purchased by e-mailing: brill@turpin-distribution.com