View all news
Arthur Potts-Dawson takes on Food Waste Challenge at Students' Union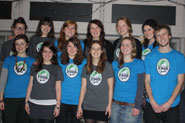 Press release issued: 5 March 2012
Chef Arthur Potts-Dawson from the Channel 4 Series 'People's Supermarket' will rise to the Food Waste Challenge on Wednesday 7 March when he rustles up a three course meal for 120 students using ingredients that would otherwise have been thrown away. The event takes place at the FoodCycle Student Restaurant run by University of Bristol volunteers.
The event, a carnival-themed celebration for the second birthday of FoodCycle Bristol, will take place at the FoodCycle Student Restaurant, run by University of Bristol volunteers.
This is the latest in a series of challenges posed to professional chefs that transforms this highly popular, student-run, fortnightly restaurant into a fine dining experience, complete with wine and entertainment. Past Challenges have seen the likes of Clarke Oldfield of the Albion in Clifton, and chefs from Zazu's Kitchen and Jamie's Italian all cook up a storm.
Using unknown ingredients that would normally have been discarded that morning, Arthur will create a three course culinary masterpiece, with each course being served by a band of FoodCycle volunteers and punctuated by poetry from Martin Powell, Capoeria, features from Student societies, a raffle and live music.
The Chefs Against Food Waste Campaign is an initiative set up by Foodcycle Bristol.
Amy Hale, FoodCycle Bristol Co-ordinator, said: "These events increase awareness of the food waste epidemic and food poverty throughout the UK. The campaign seeks to gain support from chefs by not only getting them to take part in fund raising events like this but also to act as FoodCycle ambassadors and integrate our philosophy into the wider community."
FoodCycle Bristol, established in 2009 and run by students, was the first FoodCycle project outside London. Since its foundation in 2008, the national charity has established several community kitchens utilising local food waste actively tackling food poverty within the community.
The Bristol kitchen is located in Easton Community Centre and operates on a weekly basis providing free, three course vegetarian meals to less fortunate members of the community. It aims to alleviate food poverty and provide an environment for people to meet, socialise and strengthen community bonds.
The running of FoodCycle Bristol is completely co-ordinated by volunteers from throughout the community who either help run the kitchen or transport the waste food to the kitchen using bicycle trailers. Since it began the project has served over 2,000 meals.
The Student Restaurant that sets the stage for the chef challenge on Wednesday 7 March runs separately from the community kitchen and operates as a social enterprise raising awareness of the impact of food waste, whilst securing overall financial stability for FoodCycle Bristol. The fortnightly event also provides a platform for student ethical and environmental societies.
A few months ago FoodCycle Bristol launched a catering arm for conferences and events as an additional fundraising stream. They have recently begun putting on food waste assemblies and workshops for school children and are also starting a community garden and food waste project with single parents in Easton.
According to the British Association for Parenteral and Enteral nutrition (BAPEN), an incredible three million people suffer from malnutrition across the UK. This is set to increase as the recession bites, resource depletion continues, food prices soar and food donations decrease. BAPEN estimates this malnutrition costs the NHS £13bn each year. Malnutrition causes a huge range of health problems and prevents people from living full and healthy lives. Many of those on extremely low or no income eat very little or no fresh fruit and vegetables.
Such shocking food poverty becomes far starker when considered alongside the enormous amount of edible food disposed of in the UK. Defra figures show that between one third and one half of food produced for the UK is wasted. This figure represents only the tip of the iceberg, wastage in supply chains is currently unmonitored. Forty per cent of UK fruit and veg is rejected on cosmetic grounds.
There is a great need to increase the efficiency of use of food resources in the UK, both to feed those stricken by malnutrition and to protect the environment. Food waste is becoming ever higher on the international agenda; the European Commission is planning to make 2014 the European Year of Food Waste.
Buy tickets for the event.
Further information
Please contact
Amy Hale
for further information.