View all news
'The law gives you the chance to make a difference': Q&A with Alumnus John Ward OBE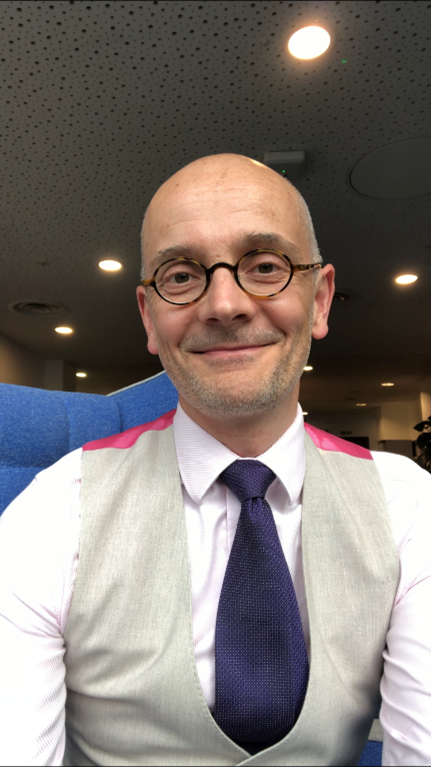 20 June 2022
Law School alumnus John Ward (LLB 1993) was awarded an OBE for Public Service earlier this year. We caught up with John in a Q&A about his award, his work as Deputy Legal Director in the Government Legal Department, his time studying law at Bristol and his words of advice for students today in terms of carving out a successful career.
Huge congratulations on your OBE award! You must be delighted?
Thank you. It was a lovely surprise. One of the nicest things about it, is receiving messages like this from all sorts of people I have worked with over the years. If you had said to me as a Bristol undergrad struggling (if I am honest) to get my head around land law, that I would get an OBE, that I would work behind the big black door at 10 Downing Street as Legal Counsel to PM Theresa May, or that I would lead the legal team that helped deliver Universal Credit on time to millions of our fellow citizens who needed it most during a global pandemic, I would not have believed you.
Please tell us about your current work at Defra Legal Advisers.
I'm a Solicitor in the Government Legal Department and the Deputy Legal Director (so, the No.2 legal adviser) co-leading around 120 people advising on everything that the Department for Environment, Food & Rural Affairs does. We deal with the essentials of life, with an ambition of ensuring that the environment is left in a better state than when we inherited it, whilst enhancing our farming and fishing industries and rural communities, protecting animal welfare, and managing plant and animal disease outbreaks. It's really basic stuff – if we get our relationship with our natural environment right, we can all thrive.
How did your early career lead you to your current position?
I got a training contract with SJ Berwin, a medium-sized City firm. But my secondment in DG Competition at the European Commission just after I qualified made me realise that my passion lay in public sector law. So I joined the Government Legal Profession in 1997 working in the Office of Fair Trading on competition law. Since then I have had a varied career in Defra, the Home Office, the Department for Work and Pensions and as Legal Secretary to the Advocate General for Scotland (one of the UK Government's Law Officers alongside the Attorney General) and as Legal Counsel in No.10 just after the 2016 referendum.
Why did you choose to study law, and what made you decide Bristol was the university for you?
It's a long story. As a gay man (although I wouldn't have admitted it to myself back then, let alone anyone else), I wanted to do a vocational degree – I had to know that I would have a means to support myself whilst serving others. Families and friends often would shun people who came out in the 1980s and 1990s. And I know the same still happens today. Law at Bristol was my best chance of surviving into the future. As it happens, my friends and family did not reject me (I'm really lucky still to be close to my sisters and their families) but I didn't know that at the time. Looking back, I learnt to love the way we think as lawyers, the interaction between the law and so many parts of the way we live, and the ability to do something amazing. The rule of law underpins our democracy and our economy. And as lawyers, with our duty to the court, we have an important role in maintaining the rule of law.
What did you find most inspiring about your time at Bristol?
Alongside some life-long friends and things I did outside my studies, it was the passion that lecturers had for their different subjects which really inspired me. In my first year, criminal law lectures with Chris Clarkson were a real highlight of the week. Chris loved it and so did we. I will never forget Vernon Hewitt's visionary development politics (we could do an option in the politics department). In my fourth year (I went to KU Leuven on Erasmus) Brenda Sufrin's enthusiasm for trusts meant tutorials with Brenda were a joy. And I loved mooting too.
What words of advice would you have for students studying here today in terms of carving out a successful career?
Have an open mind. The City is alluring for sure and for some people it is the place to go. But there are lots of different ways to have a successful legal career. And the more you do it, the more interesting the law becomes. Throughout my time in the Government Legal Profession, my job, every day, is to try and help make the world a better place to live in. I don't always succeed in this– but that is what we try and do. And it's also endlessly academically stimulating – so many of the legal problems we have to solve are novel or unique. I love my work, and it doesn't feel like work as a result. So, keep an open mind as to what you want to do with your life. The law gives you the chance to make a difference. And, by the way, the Government Legal Department now has an office in Bristol too!