View all news
CIL reading group discuss the 'Sentimental life of International Law' with Gerry Simpson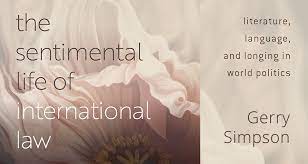 24 May 2022
On 28th April, Gerry Simpson, Professor of International Law at London School of Economics, joined the Centre for International Law reading group to discuss his latest book, 'The Sentimental Life of International Law'.
Gerry discussed his motivations for writing the book and reflections on its reception to date. Members of the Centre shared their thoughts on its relationship with Gerry's earlier work, on the literary themes explored throughout the text, and on their own positionality as international lawyers.
The event was a brilliant opportunity for discussion of the role of international law in the modern world and how we, as international law academics and practitioners, may be constrained by linguistic and conceptual framings common to our field.
The Centre reading group will continue to meet over the summer and welcome academics from across the school and faculty to join. If you would like to join, then please email the Centre Co-Directors.
Contact Details
If you would like to contact the centre regarding the above news item, please contact the Centre Executive Assistant, Paige Spicer.