Student experiences - Poland
Kinga Jabczyk - MPhil Russian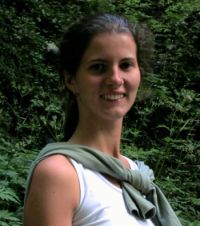 I am a postgraduate student in the Russian Department at the University of Bristol, having completed my undergraduate course in Poland studying Slavonic Philology with Czech as a main language. Following this, I spent last year on a Socrates-Erasmus programme at Palacky University in Olomouc in the Czech Republic. Due to the fact that I was then looking for postgraduate study in the area related to Czech language, I chose Bristol University, which offered me this opportunity.
At present, I am embarked upon M.Phil. research and am working on my dissertation about the concepts of Central Europe defined by Czech intellectuals in the Communist and Post-Communist period. I am in regular contact with my supervisor, Dr Rajendra Chitnis, whose knowledge and academic experience helps me with my project.
As a research student, I can choose any units which would support my thesis. From a great number of subjects offered at the University of Bristol, I have chosen to study languages; Russian at undergraduate level and a Lifelong Learning course of French at the University of Bristol Language Centre. Apart from languages, I have also broadened my knowledge about Prague writer, Franz Kafka's, prose. To aid me in all this as an international student, I have found it helpful to develop my study skills by taking part in workshops like critical thinking and reading, better essay writing, presentation skills and time management, organised by The Student Development Unit. Moreover, the Conflict and Culture Study Group and the School of Modern Languages organise further the seminars which give new students the possibility to make the acquaintance of the academic staff and other postgraduate students.
From the very beginning, Bristol has seemed friendly to students. There is easy access to libraries, the computer centre, and information about academic and social activities. In the Methodist International House, where I live (situated in a charming area of Clifton Village, near a park, the suspension bridge and the zoo), I have attended many events like the welcome evenings, trips and celebrations of international holidays. Living in a hall of residence which has a mixture of nationalities, cultures, languages and traditions also means that I can get to know a lot about other countries, learn how to respect differences, and most importantly, make new friends.
In my spare time, I work as an event volunteer in the Bristol Museum because of my interest in arts, and also enjoy lunchtime concerts in the Victoria Rooms, which offer various types of music such as jazz, opera and classical. Apart from all this, I also regularly visit the gym and the swimming pool, where I try to keep my body in as good a health as my mind.
In future, I would like to apply what I have learnt and experienced at the University of Bristol to the further study of a PhD and work in an academic environment.