Student experiences - Brazil
Marcelo Cabral de Mello - BA Music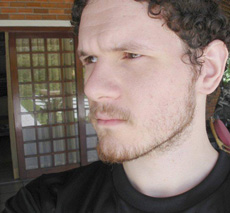 I have been learning the English language and culture since I was nine years old, when my parents enrolled me in an English Language Course. I realised that learning another language and getting to know another culture gave me a different and wider view of the world and, since then, I have developed an incessant desire for learning languages and getting to know other cultures; and I have always thought that studying abroad would be the best way of doing it.
My musical studies have always run parallel to other studies; first school and then university. After finishing secondary school at the age of 18, I enrolled myself in a Journalism course at UNICAP. However, music has come to occupy an ever-increasing part in my life and I decided it had to come in first place. For this reason I decided to undertake undergraduate studies in Music.
I could do this in my home city of Recife; however, over the last three years I have developed a strong, even passionate interest in aspects of British culture and, especially, music. This, allied with the fact that music courses offered by British institutions are well-known for their quality, is the reason I applied for a course at a university in the UK. I started looking for some information about the institutions and their courses, and the web is the best place to find it. That is how I found out about the University of Bristol. Their website is very good and I could find all the information I needed; and if there was anything else I wanted to know, all I had to do was to contact them. Everyone was very helpful.
The University of Bristol is a bit different from the other universities I know. Its campus is not in a big field away from the city centre, but actually formed by several buildings in one of the best areas of Bristol, which is amazing because everything is quite close to the University. Bristol is one of the best places I know in the UK. It's got all the good things a big city has, and yet it is a calm and safe place. I really like the fact that it is just a couple of hours away from London, because I can get there easily whenever I want. The city has good coach and train stations and even an airport where you can catch direct flights not only to other cities in the UK, but also to many other cities in The Continent.
I am enjoying my course and have been learning many new things. The Music Department has one of the nicest buildings in Bristol and is very well structured with good rooms, instruments and many excellent lecturers. There's a lot of orchestras, bands and choirs for students to join and you can really feel, among students and professors, an enthusiasm and commitment to make music. Studying in Bristol has been a priceless experience and I'm sure it will contribute enormously to my career as a musician and to my personal life.