Student experiences - Argentina
M. Carolina Martinez Gondra - MA Film and Television Production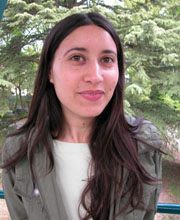 As a cinephile I often read up about films, directors, producers and screenwriters. One day I was looking into a biography about British director Michael Winterbottom and I came across the fact that he had studied film at the University of Bristol following his undergraduate degree. At the time I knew very little about British universities and I wanted to familiarize myself with different academic options so out of sheer curiosity I decided to browse through the university's film programmes. It wasn't until a year later when I started my applications in earnest that I decided to give the university another look.
I had never been to Bristol before I moved here, so even though I had read up on the city I wasn't entirely sure what to expect. I knew it was a medium sized city so I was a little worried it might be a little dull in contrast with Buenos Aires, which is where I'm originally from. Fortunately, my fears proved to be unfounded. The first night I arrived I took a walk up Park Street and to my amazement it was full of bustle and life on just a Wednesday night so I felt reassured. In addition I get to enjoy world renown graffiti artist Banksy's work on a daily basis as there is a humorous Banksy sketch towards the bottom of Park Street. As Banksy originally hails from Bristol there are other works of his dotted throughout the city like on Stoke's Croft. It's always fun to spot one of his graffiti's when you least expect it. There are other parts of Bristol that I find particularly pleasant to walk through due its aesthetic value. I like the architecture in Clifton and I enjoy walking around Whiteladies Road as well as Woodland Road, which is strewn with a series of tasteful university buildings.
I came from a background in Media Communication and Psychology (double major) and so when I arrived I came with a passion for film but with an open mind as to which film discipline I wanted to pursue in the future. As the MA is a generalist programme my stay at the university of Bristol has allowed me to explore and consider the different fields within film such as; cinematography and its ramifications, sound, editing, producing, directing and so on. Being on the programme has helped me find my niche within the different film options.
The MA in Film and TV Production at the University of Bristol is unique in that it allows entry to students who can show an interest in film but who are not necessarily highly versed in the technical elements of filmmaking. As a result, my peers and I come from a wide range of academic backgrounds such as; classics, drama, advertising, history, painting, design, business and so on. Roughly half the course is made up of Brits (6) and a little over half (8) is made up of foreign students such as myself. Eight out of 14 of us are female and the other 6 are male. As we come from diverse academic backgrounds and we are of different nationalities and genders I think we are a good blend. The melting pot dynamic is enriching to the course. There is camaraderie between the students and we help one another on each other's shoots. While it can sometimes be frustrating to work in groups at least you never get lonely and it really does make working on projects a more dynamic and interesting experience as everyone has something to bring to the table. Most of my fellow students are passionate and committed to filmmaking so that has been an ideal aspect to the course as well.
So far I can say that moving to the U.K. has been a positive experience. The vast majority of the people I've met, be it International or British people, have been really friendly. I particularly enjoy the self-deprecating and ironic British sense of humour. Despite it's sometimes unsavoury reputation I've enjoyed tasting some traditional British fare like the pies they have at Pieminster. If I ever get homesick I can have a pasty, which is fairly similar to the Argentine empanadas I'm accustomed to.