View all news
Dr Caroline Anne Williams, 1962-2019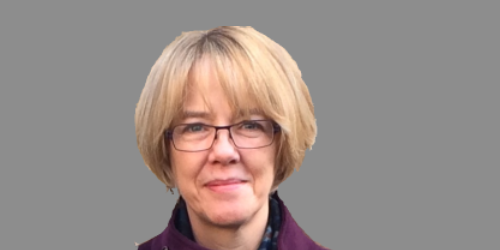 3 September 2019
Dr Caroline Williams, who was at the heart of the life and work of the School of Modern Languages for 25 years and a longstanding colleague at the Cabot Institute, died aged 57 on 9 August. Her friend and colleague Dr Sally-Ann Kitts offers this remembrance, bringing together the many memories and expressions of love sent to her by Caroline's friends and colleagues at the University of Bristol and beyond.
Caroline was much loved by many people and, in the midst of her illness, she said that the one positive thing about it was that she had come to know and feel this love. Very many words of warmth and appreciation have been expressed since her untimely death. They describe her as a wonderful, generous, loyal friend and colleague, an accomplished, insightful and rigorous scholar, a dedicated, supportive and deeply knowledgeable teacher. They speak of her integrity, her wry, ever-present sense of humour, her shrewd and political mind, her warmth and kindness, her empathy and ability to really listen, her common sense, modesty, patience and positive thinking, her courage and determination, her invariable commitment to equality, transparency, compromise and resolution.
Caroline was born in 1962 in Argentina where she lived until she was 18. She studied Comparative American Studies at the University of Warwick and it was there, while both were working at the Warwick Research Institute in 1989, that she met her husband, Dr Richard Williams; they were married in May 1991. After a postdoctoral fellowship at University College, London, in 1994 Caroline joined the Department of Hispanic, Portuguese and Latin American Studies and immediately became a committed and capable member of our multilingual, multidisciplinary team within the School of Modern Languages. 'Caroline represented the best of our community: a rigorous scholar, a committed teacher, and an indefatigably collegial member of the team whose warm and articulate character had the kind of reassuring presence that could make a considerable difference to those around her' (Bradley Stephens). She was promoted to Senior Lecturer in 2000.
Caroline's research focused on three areas: the colonization of indigenous peoples in frontier regions of Latin America; commercial and cultural exchange across imperial boundaries in the Atlantic World; and, most recently, studies on climate and the impact of volcanoes and earthquakes on colonial societies. Her PhD studies under Professor Anthony McFarlane at the University of Warwick in the 1980s explored the interactions of indigenous people with Spanish colonialism in the contested frontier region of the Chocó (colonial Colombia). Her rich and insightful work 'eschewed easy binary moralistic interpretations of imperialism, showing how indigenous interactions with the Spanish state hovered Between Resistance and Adaptation' (2004, Liverpool University Press) (Matthew Brown). It was based on meticulous archival research, an area of expertise also demonstrated in the publication that resulted from her UCL postdoctoral fellowship, From Sail to Steam: Studies in the Nineteenth-Century History of the Channel Islands (Phillimore, 2000). In 2009 Caroline published Bridging the Early Modern Atlantic World: People, Products and Practices on the Move (Ashgate), an edited volume exploring the dynamic interplay of peoples, goods, information and ideas around the early modern Atlantic and illuminated by her substantial, informed and incisive introduction. In 2014, the groundbreaking article 'Living Between Empires: Diplomacy and Politics in the Late Eighteenth-Century Mosquitia' appeared in the prestigious journal The Americas (Cambridge University Press), and was awarded The Tibesar Prize, given annually for the best article showing distinguished scholarship, originality and graceful writing style. Caroline's most recent research in this area focused on the Hodgson family, British settlers on the Mosquito Shore (modern NE Honduras and Nicaragua) in the second half of the eighteenth century. Together with Professor Karl Offen (Oberlin College, Ohio, USA), she was writing a monograph about the men and women in the family over three generations, during their residence in the Caribbean and in Bristol, Bath and London. Karl writes of how much he appreciated Caroline's 'tenacity and incredible sleuthing powers' in uncovering vast amounts of information about these lost voices, 'how she kept stressing our responsibility to bring the lives and times of the Hodgsons to life', and that 'her commitment to scholarly research, her attention to detail, and her method for putting notes into a concise narrative were wonderful to behold'.
Caroline's other current research focused on the relationships between climate and society, bringing together disciplines in a groundbreaking and insightful approach to consider how full explorations of the past can inform the future. Her pioneering work in collaboration with colleagues from the School of Earth Sciences looked at the impact of volcanic eruptions and earthquakes on colonial societies. Together, Caroline, Alison (Rust), Kathy (Cashman) and Erica (Hendy) became the CAKE team, and their collaboration, recognised by awards from major research councils such as the AHRC Network (Risk, Hazards, Disasters and Cultures) 2016-18, for which she was a Principal Investigator, resulted in joint publications, co-supervisions of research students, workshops and conference presentations. It also resulted, as did so many of Caroline's professional interactions, thanks to her open, warm and generous nature, in important and valued friendships. Kathy in particular, as a US citizen, found a strong common bond with Caroline who was herself a passionate and extremely well-informed follower of US politics. She shares a special memory of the Presidential election of November 2012: 'I spent election night with Caroline and Richard... he went to bed first, then me, for a few hours until the election was called, but Caroline stayed up all night watching the votes come in, and Obama ride to re-election.'
Caroline was an inspiring and dedicated teacher who taught a wide range of courses from first-year undergraduate through to master's level, from national histories of Cuba and Argentina to units that were enriched by her research on colonial Latin America. From her first employment at UCL, where she developed three successful short courses on Spanish American History, Caroline informed and refreshed her teaching with the latest research; she had developed two exciting new courses to teach this coming year. Immensely skilled and insightful in using early modern primary sources to approach the perspectives of indigenous peoples and understand the complexities of interaction, Caroline enabled generations of students to work sensitively and confidently with documents from colonial Spanish America. Alison Rust marvels at how 'remarkable Caroline was to get untrained science students to extract valuable science and social science information from the archives', and their former master's student, Allie Hutchison, who has since completed a PhD in earthquake physics at the University of California, Riverside, remembers with fondness the times she worked with her: 'Caroline was such a friendly, insightful and supportive mentor! I remember we would go for wine or coffee and pore over those archival sources, talking about the kinds of hilarious ways that they were written and just about life. I will really miss her... I feel lucky to have worked with her.'
Caroline was a beloved colleague and friend, offering unwavering support and advice to those around her, and bringing a positive and fair perspective to any problems she or any member of the department faced. 'She had it all: intelligence, taste, thoughtfulness, kindness, generosity, a sense of duty and integrity rarely found. And all wrapped up in a wicked sense of humour' (Madalena Pires). Indeed, Caroline was an active and positive force not just in her home Department and School, but in the Faculty and University as a whole; colleagues write of her empathy, sense of justice, integrity, principles, support and collegiality. She was widely admired and appreciated as an active and diligent member of a broad range of Faculty and University committees across her career. Caroline had a comprehensive understanding of the processes and procedures that were integral to her various roles of significance and responsibility; 'Caroline was a superb Education Director and Deputy Head of School. Dynamic and committed, her prodigious hard work, her sure expertise, and her deep insight, allied with resilience, resolve, collegial supportiveness, and boundless good humour (and a sparkling sense of fun), made her an absolute joy to work with, and to know'(Susan Harrow). Caroline also served successfully as Head of Department/Subject Lead, interim Head of School, member of University New Programmes Group and, for the last several years, an academic member of University Appeals Panels.
Caroline's skills, knowledge and experience were also highly valued by the wider academic world. A longstanding member of the Society for Latin American Studies, the UK's scholarly society for the interdisciplinary study of Latin America, Caroline served on its executive committee from 2007 and was elected Vice-President in 2011 before being President during 2013-15. 'Her love of the Society, its informality and friendliness, and her commitment to it were immense. She was always a great strategic thinker, but also an excellent listener, profoundly honest and polite, and always keen to include everybody into deliberations and decision-making' (Jens Hentschke). She was highly respected external examiner at the University of Newcastle, 2012-2016, and from 2018 at the Institute for Latin American Studies, University of London.
Caroline's life outside the department was full of family and friends, gathered together for beautifully prepared meals, friendly laughter, and always a glass or two of good red wine. Jo Crow fondly remembers the way Caroline and Richard opened up their home, with generous hospitality, 'be it Sunday afternoon gatherings with several of us sat around their dinner table enjoying the food, wine and each other's company, or smaller evening catch ups when conversation - about all sorts of things from university marking criteria to children's tantrums, from new tapas restaurants in Bristol to global politics - could often go on well into the early hours.' All who knew her will assuredly have many happy memories and stories to tell of joyous gatherings and wide-ranging conversation, always with a bit of politics thrown in for good measure. Indeed, Caroline was deeply interested in politics; it was a frequent joke that if she were to leave the world of academia she would make a brilliant politician, putting the world to rights with her down-to-earth, deep understanding of the issues, always expressed in the most articulate way. She was a fond visitor to cool, northern places for holidays with Richard, loving the Shetland Isles and Scandinavian cities such as Stockholm and Aarhus. They also enjoyed gripping TV dramas like 24, The Bridge, Luther and Killing Eve, but especially the series Borgen with its strong female lead, which chimed with both her Danish roots and her fascination with politics.
Perhaps most representative of Caroline's kind spirit and care for those around her was the great effort, thought and time she spent remembering and celebrating the birthdays of family and friends. She was an intensely thoughtful gift-giver and really enjoyed the process of shopping for just the right present. It was a part of who she was, a material illustration of her generosity and great care for the people around her. It is with poignant fondness that I remember our tradition over many years of birthday lunches out with Caroline, Chris MacLeod, Kirsty Reid and myself, a group that in 2012 shared fun adventures together searching for the Loch Ness monster on a sonar boat trip and seal-watching at Findhorn, despite her terrible cold at the time! Anita Suarez and Aris Da Silva too speak of the 'extraordinary and amazing' person that Caroline was: 'she welcomed us to the department with a smile and warmth that we will never forget, she made us feel at home'. They became very close in the last few years; 'you are family now' she told them 'and that's exactly how we felt about her, Richard and Steffi.' Her extended family was hugely important to Caroline and she often spoke proudly of the lives and achievements of her nephews, nieces, cousins and godchildren as well as of the beautiful, close and very special relationships she had with her younger sister Stephanie and her parents Erik and Tricia Hansen. Having lost her father suddenly in 1998, she and Richard gave her mother much care and support until her death in 2016, and the bond between them all was a constant source of strength and happiness to her.
'Caroline was the epitome of elegance. She looked so elegant - often with a beautiful scarf as the finishing touch to her style. She spoke elegantly - with warm enthusiasm but also such thoughtfully chosen and beautiful words. She wrote elegantly - carefully and considerately giving human voice to words that needed translating for today's world' (CAKE partner Erica Hendy).
We love you dearest Caroline and you will always hold a special place in our hearts and lives.
Further information
Caroline is survived by Richard, her sisters Felicity and Stephanie, her brother Nick, niece Sanchia, nephews Sebastian, Damian, Tom and Harry, cousins Amanda, Vanessa and Monica, and godchildren Charles, Chloe and Leonie.
An online Tribute page has been set up for people to leave their own personal thoughts and memories of Caroline: https://dr-caroline-williams.muchloved.com