View all news
New Bristol graffiti illustrates our uncertain world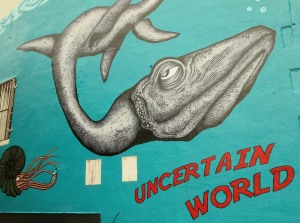 Press release issued: 8 October 2015
A brand new piece of street art has gone up on Park Row in Bristol, thanks to a collaboration between local artist Alex Lucas and the University of Bristol's Cabot Institute.
Lucas' artwork is inspired by the Cabot Institute's Uncertain World research. It is an artistic collision of a potential future world with that of the very deep past – the Jurassic – when carbon dioxide concentrations were as high as they could be by the end of this century. It is hoped that the bespoke artwork will encourage the public to reflect on the topic of uncertainty and show how different life could be with high levels of carbon dioxide in the atmosphere and higher sea levels.
Speaking about why she got involved in the project, Alex Lucas said: "I was excited to work on this project as it was my first experience of illustrating prehistoric creatures, based on their fossils in Bristol Museum and Art Gallery. Due to the mysterious nature of what such creatures actually looked like, I felt I could 'play' with their personalities and provide them with certain characteristics. The ammonites were particular fun as their temperaments seemed to grow with their development on the page and they seem so charismatic!
"It has been a privilege to work with the Cabot Institute as bringing arts and sciences together creates a wonderful dynamic. Not only have I learnt a lot from this project but I have been inspired by the nature and the ethos of it. The relationship between the arts and sciences needs to be successfully demonstrated and integrated into our society."
Director of the Cabot Institute and lead on the Uncertain World research project, Professor Rich Pancost said: "Climatically, the world of the twenty-first century will be unlike anything humans have experienced, but not necessarily unlike anything the Earth has experienced. Alex's art depicts a sea level rise that is unlikely to happen soon – even in a world with 800 parts per million of carbon dioxide, twice that of today, sea level rise of more than one metre will take some time. But it will likely happen eventually."
Patrick Finch, the University of Bristol's Bursar and Director of Estates said: "Alex has really brought to life what was a rather neglected corner of our City Campus. We are keen to promote the use of public art across the Estate. I really hope that this thought provoking piece on a very prominent City Centre site will generate interest and become a talking point for our students, staff and for residents and visitors to Bristol."
The mural can be seen at the corner of Woodland Road and Park Row by the Edwardian Cloakroom.
Further information
About Alex Lucas
Living in a house she painted with birds and flowers, Bristol artist Alex opens her front window every Friday and Saturday to the public, selling her artwork through her 'Window Shop.' Alex graduated with a degree in Multi Media Textile design and an MA in Animation and Illustration and, realising the therapeutic benefits of art, she went on to obtain an MA in Art Therapy; 'Where words fail, the image can bridge the gap.'
In between organising community events such as Picton Street Winter and Summer Fayres and encouraging neighbours to get together, Alex works as a freelance illustrator and artist. Her quirky, humorous designs can be seen across Bristol, including large scale commissions such as Triodos Bank, Deanery Lane; The Bristol Bike Project, City Road and her playing cards on the neighbours' seven foot gates, to the inside walls of Bristol's latest vintage clothing boutique, The Birdcage on Clare Street. Several of Alex's foxes may be spotted in Montpelier and Easton and her tiger in a hoodie design was accepted for the Bristol £5 note.
Alex hopes to bring a smile to peoples' faces and soften the hard image of graffiti by introducing humour and beauty into the world of street art. Alex accepts commissions, large and small, weird and wonderful, please contact her for more information at www.lucasantics.com.
About the Cabot Institute for the Environment
The Cabot Institute drives world-leading research on how we depend on, live with and affect our planet. It stimulates new thinking and strives for new innovations to meet our social and environmental challenges. Its communities focus on six crucial areas: global environmental change, food, water, low carbon energy, natural hazards and future cities and communities. Each community is driven by outstanding academics with government, industry and society partners from across the globe. Working together, they seek radical and integrated solutions to twenty-first century challenges. Find out more at www.bristol.ac.uk/cabot
About Uncertain World
During 2015, Bristol is European Green Capital and through a series of events and activities the Cabot Institute is exploring The Uncertain World: what the world could be like if greenhouse gas concentrations were twice what they are today. The Institute invites you to contribute your thoughts about uncertainty which will inform its future research and discussions on reducing uncertainty; some contributions will be posted on a Graffiti Wall.
Please contribute writings, drawings, photos, poems, videos, or songs to cabot-reflections@bristol.ac.uk.
Visit the Uncertain World website for more information: http://bristol.ac.uk/cabot/uncertain-world/.
This work has been funded by a European Union Advanced Research Grant to Cabot Institute scientists – The Greenhouse Earth System (T-GRES).