Outreach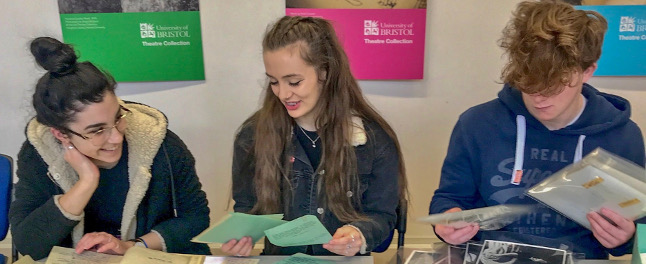 The Faculty of Arts and the Widening Participation team are committed to ensuring that school students of all ages and backgrounds have opportunities to explore, learn and get enthused about studying Arts subjects.
Please see below for an overview of our current projects. If you have any questions or want to get in touch with us about other possible Outreach opportunities, please contact the Arts Faculty Engagement Officers, Ife and Chiara, at arts-outreach@bristol.ac.uk.
For outreach specific to modern languages, please contact Chiara at languages-outreach@bristol.ac.uk.
Virtual resources for students
Virtual Platform of Outreach resources
We have created an online platform of resources for students in Year 11 and 12.
Register your interest here
to gain access to taster sessions on subjects in the Faculty of Arts and our student support sessions on finance, student experiences, study skills, and live engagement opportunities with current undergraduate students.
Find out all you need to know about the University of Bristol at one of our undergraduate open days.
Faculty of Arts projects and programmes 2021/22
Online opportunities
Writing Wrongs
This programme supports students in writing about issues that they care about, giving them the tools to improve their extended writing, as well as informing you about applying to study at the University of Bristol. We will do this through engaging workshops and individual feedback from academics, professional writers, and current students. The programme will run in the Spring term over 4 virtual sessions and one optional on-campus session. Applications are now closed for 21/22 - please visit this webpage for more information and future programmes.
Modern Languages: A-Level Film Webinars
Between the 28th and the 31st of March, we will run a series of academic sessions open to pupils currently taking a language at A-Level, introducing and analysing a film which is part of the A-Level curriculum for that language (with the exception of Russian). Sessions will include French, Spanish, Russian and German. Attendees will get the chance to virtually interact with students and academics from the School of Modern Languages. Please sign up using
this form
by the 20th March 2022.
The Arts Explained series
Want to learn about how the study of the Arts responds to some of the biggest contemporary issues in society? The Arts Explained series gives you a chance to watch an engaging discussion between academics and university students on how they feel the arts responds to big questions about life and society. You'll get a chance to ask questions to the panel and share your own opinions.
The next panel event we are running will be on the 9th of December. If you're interested in attending this event,
please let us know here
and we will get back to you when sign up for the event is live. For more information please contact
arts-outreach@bristol.ac.uk.
Opportunities for Local Students


Unlock the Arts Academy
This programme allows students to learn more about the arts and creative industries. You will receive 6 virtual or physical sessions, including masterclasses from professionals on how to get jobs in industries such as publishing, broadcasting and production. You'll hone your skills as a creative entrepreneur and get to visit some of Bristol's most interesting creative companies. Applications are now closed for 21/22 - please visit this webpage for more information.
Attack the Arts
Our Attack the Arts programme is a series of interactive workshops that help students understand the importance of the Arts and how exciting studying an Arts subject can be. They introduce topics, build on curriculum knowledge, encourage active participation and explain what it's like to study an arts degree at university. If you're interested in booking one or more of these workshops for your students, please
fill in this form
to let us know which workshops you're interested in and your availability. For more information please contact
arts-outreach@bristol.ac.uk.
GCSE Language Support programme
Are you a teacher at a local school offering Modern Languages at GCSE? We are offering up to three sessions of language support in a language already offered at the school, with a choice of Spanish, French, Russian, Portuguese, German and Italian. We can also offer a taster session in languages not currently offered at your institution. Please get in touch with languages-outreach@bristol.ac.uk to let us know if you are interested in running these sessions at your school.
The
hub
provides schools with comprehensive guidance on introducing Classics into the curriculum through events, competitions and workshops for school students across all key stages.
Flagship Widening Participation programmes
Access to Bristol and Summer Schools
Arts subjects such as English, Modern Languages, Film and TV and others feature in wider, multidisciplinary Widening Participation programmes like
Access to Bristol
and our Summer Schools:
Sutton Trust
and
Insight into Bristol
. Participants to these programmes receive a guaranteed contextual offer/interview for entry to the University.