View all news
Children of the 90s health study calls on Weston residents to take part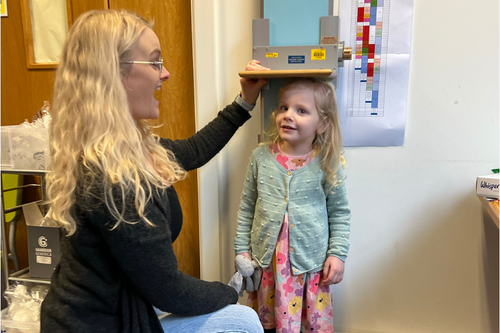 Press release issued: 22 February 2023
Children of the 90s, the world-renowned health study based in Bristol, is calling on Weston people to take part in their latest clinic.
The study recruited more than 15,000 pregnant women from the Bristol and Weston-super-Mare areas in 1991-92 and has followed their health and lives ever since. In Weston alone there are nearly 2,000 people who are eligible to take part.
Participants are now being invited to take part in a 2-hour clinic with appointments available 7 days a week. Families can come together and do a range of health measures such as height, weight, blood pressure and cholesterol tests.
Each participant will get a £40 voucher for taking part, which can be used in many high-street stores, or a bank transfer. Any unusual health results will be fed back to the participants.
The health study is one of the most detailed studies of its kind in the world, and researchers use the data to learn more about cancer, obesity, heart disease, mental health and much more.
Weston residents Heidi and her husband Joe have been part of the study since before birth, and now their daughter Ada takes part in the study too.
Heidi explained: "My mum enrolled in the study when she was pregnant with me, and as a family we have taken part in all the studies. My daughter is now part of Children of the Children of the 90s (COCO90s), and my husband also got back involved after he lost touch with the study in his teenage years."
Heidi explained why taking part in the study is so important to her: "It feels good to contribute to science and help to make a difference! As somebody with asthma and nut allergies, the findings of Children of the 90s research have directly helped develop a better understanding of them. It's great to be part of something so special."
Principal Investigator Professor Nic Timpson said: "This is a great opportunity to be part of Bristol's famous health study. Our @30 clinic runs until December and we have plenty of weekend and evening appointments available. It doesn't matter if you've not been involved for years, getting back in touch will make a real difference to science.".
How to take part
If you or your child were born between April 1991-December 1992 in Weston, Bristol or the surrounding area, you could take part in the health study.
You will get a £40 shopping voucher as a thank you. Spend it online or in many shops – ASDA, Morrisons, Marks & Spencer, ASOS and many more.
Appointments are flexible and available 7 days a week, including evenings and weekends.
To find out if you are eligible to take part, text your name and date of birth to 07772 90 90 90.
It is not a health check, but feedback is given to participants if specific results are different to what we'd normally expect to see.
Come along to meet the Children of the 90s team at the For All Healthy Living Centre on Lonsdale Avenue on Tuesday 28th February, from 10am – 1pm.
Find out more at: www.childrenofthe90s.ac.uk/at30
Further information
About Children of the 90s
Based at the University of Bristol, Children of the 90s, also known as the Avon Longitudinal Study of Parents and Children (ALSPAC), is a long-term health research project that enrolled more than 15,000 pregnant women in 1991 and 1992. It has been following the health and development of the parents, their children and now their grandchildren in detail ever since. It receives core funding from the Medical Research Council, the Wellcome Trust and the University of Bristol. Find out more at www.childrenofthe90s.ac.uk